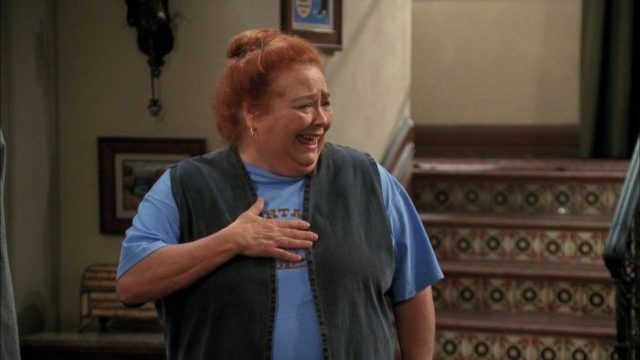 While leading roles are often coveted by actors, character actors can be the highlight of a production. For many people, Conchata Ferrell's portrayal of Berta on Two and a Half Men was the best part of the show. Without this character providing consistent laughs throughout the 12-year run of the show, it may not have achieved such great success.
Ferrell has had a long and distinguished career. However, many fans know her only as Berta the housekeeper. While this is her most notable role, her background and career are highly interesting and deserve just as much attention. To help fans appreciate this incredibly talented actor, here are five of the most interesting facts about Conchata Ferrell.
5. She is well educated
Given Ferrell's long and successful career, it is no surprise that she is a highly intelligent person. While many would assume that she has formal acting training, her education is actually not in her chosen field. Ferrell dropped out of West Virginia University after studying for a few years. Later, she would graduate with a degree in history education from Marshall University. Fans should count themselves lucky that she chose to pursue acting instead of teaching.
4. Conchata Ferrell Net Worth
With a decades-long career in notable television and film productions, it is no surprise that Ferrell has earned a respectable personal wealth. In 2017, her net worth is estimated to be around $7 million. With her talent and resume, she will surely have no difficulty landing parts and continue growing her net worth in years to come.
3. She has diverse interests
While Ferrell has devoted herself to professional acting since the early 1970s, she has maintained several hobbies throughout the years. These may surprise some fans, as her interests cover a wide range of activities. In addition to acting, Ferrell spends her time playing video games. She is especially fond of role-playing video games. As well, she has written a great deal of children's poetry. Clearly, her skills are as eclectic as her roles have been.
2. She is accomplished on stage
Fans likely know Ferrell best from her iconic work on Two and a Half Men. However, some of her most critically acclaimed performances have been on stage rather than screen. This included her breakout performance in Hot L Baltimore. As well, she has received numerous awards for her work on stage. This includes a Drama Desk Award, and Theater World Award, and an OBIE Award. Fans who love her from Two and a Half Men will be happy to learn that she has a distinguished career on stage as well.
1. She was not supposed to last on Two and a Half Men
This will come as a great surprise to Ferrell's fans, but she was not originally supposed to be a regular presence on Two and a Half Men. Instead, Berta was initially intended to appear only in a two-part episode. Clearly, the show's writers realized what an impact she could have on the series and kept the character.
Final Thoughts
Conchata Ferrell is a perfect example of how a brilliant performance in one role can lead fans to neglect the wide range of talents and performances an actor has. In addition to her popular portrayal of Berta, Ferrell has seen great success in theater. She is also highly educated and has a diverse range of skills. Very few actors have seen the kind of success and longevity that Ferrell has enjoyed, which is a testament to her talents and work ethic.