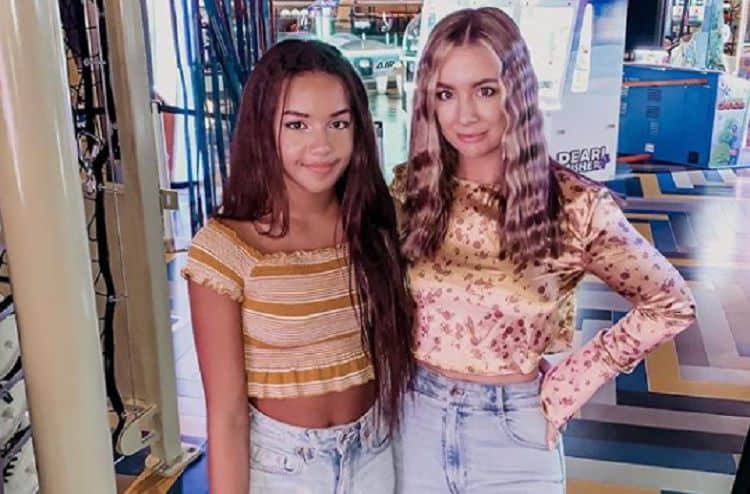 90 Day Fiance is arguably one of the most entertaining reality shows on TV. But while the couples get most of the shine, their family members are often a close second. No family has provided more WTF moments than Jenn "Jaylyn" Davis and her brother, Charlie. Jenn's sister, Elizabeth (Libby), has been a cast member on the show since 2017 and her relationship has been causing lots of family drama since day one. Jenn has been along for the entire ride, and she always has some commentary to share. While Jenn's goal may be to be the protective big sister, many viewers have felt that she and her brother have overstepped their bounds. Keep reading for 10 things you didn't know about Jenn "Jaylyn" Davis.
1. She Doesn't Care What Haters Say
Jenn and the rest of her family have gotten a lot of hate since their time on the show. People are often turned off by the things they say and the way they behave. Even people who don't like Andrei (Elizabeth's husband) often feel that Jenn and the crew go too far. However, Jenn doesn't seem to be bothered by what anyone has to say about her.
2. She's A Mother Of Two
Since the show is focused on Elizabeth and her marriage, we don't get to learn much about Jenn outside of the context of her relationship with her sister and brother-in-law. However, Jenn has a family of her own. She is the mother of two girls, Brielle and Kaelyn.
3. Her Ex-Husband Works In Radio
In earlier seasons of the show, we learned that Jenn was married. Unfortunately though, that doesn't seem to be the case anymore. It appears that Jenn and the father of her children, Orlando Davis, have parted ways. Orlando is a well-known radio personality in the Tampa area.
4. She's Been Arrested
On the show, Jenn spends a lot of time calling attention to Andrei's faults, but she hasn't had the most squeaky clean past herself. She has been arrested a few times in the Tampa area. Some of the things she's been arrested for include driving with a revoked/suspended license and driving an unregistered vehicle.
5. She Doesn't Appear To Have A Job
The fact that Andrei doesn't have a job is one of the main points of contention in his storyline. While Jenn and the rest of the family have been very critical of the fact that he has no job, it appears that she doesn't have one either. We weren't able to uncover any information regarding her having a job. However, there is a chance that she does some work with her father's business.
6. She Likes To Stay Active
Jenn lives in Tampa, Florida where a beach body is a necessity almost all year long. With that being said, she loves to stay active in order to keep herself looking and feeling good. In an Instagram post she said, "I also LOVE working out and always have. I could workout everyday honestly. That's just me. But I force myself to take one day off a week. Working out was never the issue for me. "
7. She Loves Fashion
If there's one thing no one can ever take away from Jenn, it's the fact that she knows how to put together an outfit. Any time you see her on the show you can bet that she's going to be looking good. She loves fashion and enjoys expressing her creative side through her clothing choices.
8. She Enjoys Traveling
Jenn is a jet setter at heart and she loves getting the chance to travel and visit new places. Whether it be a trip to Los Angeles or a a quick visit to another area of Florida, Jenn loves to get out and have fun adventures. If there's one place she doesn't enjoy traveling to, however, it's Moldova.
9. She's Active On Social Media
Being on the show has gotten Jenn lots of followers on social media, she currently has almost 40,000 followers on Instagram and she likes to keep them updated with regular posts. She also has a Facebook page where she posts a little less frequently and an old Twitter account that seems to be inactive.
10. She Was Accused Of Being Culturally Insensitive
After Jenn and her family visited Moldova, they came under fire for making insensitive comments about the country and its culture. Jenn repeatedly made comments about the food and then doubled down on those comments when people accused her of being insensitive. Many viewers were especially concerned with Jenn's inability to be accepting of another culture since her children are half black.