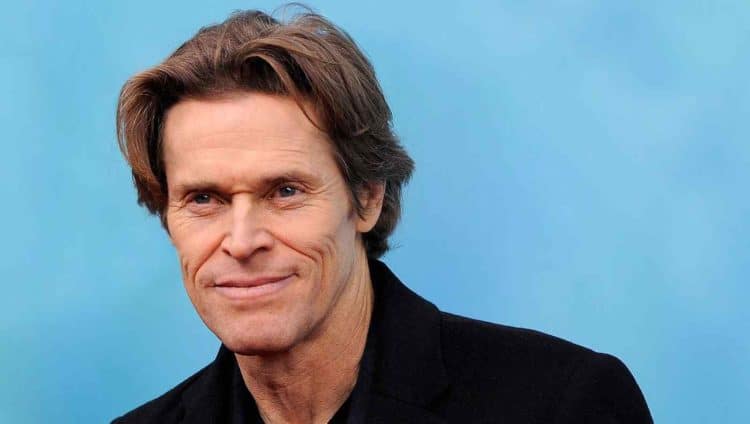 Taking into consideration how many movies Willem Dafoe has been in since his start back in the 80s, it's definitely fair to think that he should have been inducted into the Walk of Fame by now. But it's better late than never since he'll be one of the many that will get to make his mark on the famous walk that houses the names of so many different celebrities and individuals who have made a difference in the history of show business. It only takes one look at Willem's resume to realize that he's a seriously talented individual, but looking deeper and actually watching some of his movies makes it even more obvious since the number of characters this man has taken on makes it even easier to think that his name should be up there as one of the all-time greats that have accomplished more than many in the history of cinema. Seriously, this guy has been around and he's been quite busy for decades now, taking on roles that have given him the reputation for being a little out there since the moment he cracks one of his familiar, crazed smiles it's hard not to cringe, but also enjoy it at the same time.
His role as the Green Goblin in Sam Raimi's Spider-Man is hard to forget since he took the character and did something that people weren't really expecting but still talk about today. Among the many other movies he's starred in during his career, and there are a lot of them, this is one of those in which he kind of went all out and made it nearly uncomfortable, but to great effect. A lot of people have likely thought that watching Dafoe go nuts on screen is a bit like watching Dr. Jekyl turn into Mr. Hyde, and they're not wrong, since the manner in which his facial features shift is utterly terrifying to some folks and definitely unsettling to many others.
But this is one of the main reasons why he's considered to be so great since he's the type of actor that can disappear so easily into a role that the process might look a little creepy, but it comes off as something that's absolutely brilliant in its own right. That's actually why he was so great in The Boondock Saints since he played the part of Agent Paul Smecker, a man who was great at his job but performed his duties in a manner that was, well, kind of awkward, to put it lightly. Watching Willem act is a pleasure, but it's also a surprise at times since unless there's advance notice there's not a lot of warning when he tends to get a little nutty with a role. This is a part of what makes him such a great actor though, he can still surprise the audience and do so in a manner that's accepted without question. The Lighthouse was one of his more recent movies that managed to captivate a great number of people no matter that on one level it was a very simple movie, while on another it made everyone guess at what was going on thanks to the insane imagery and the strange dynamic between Willem and Robert Pattinson's characters.
There's no mistake about it though since no matter how crazy some of his roles have been, Willem has proven himself to be one of the greatest actors of his generation throughout the course of his career. Why he hasn't been inducted into the Walk of Fame yet is kind of hard to imagine, but one would need to ask the people that do the inducting about that to fully understand why it's just happening now. The question might be a moot point though since there are plenty of actors that people would ask the same question about, both past and present. Willem is just one of many that have been deserving of this honor for a while, and it's fair to think that eventually, the walk will reflect the talent of those that deserve it, though many more would no doubt name a literal host of actors that might be deserving of such a place in history.
What's funny to think about is how many people have denied their own star, since it has happened in the past. Some celebrities don't want to see their name on the walk for one reason or another, and while it might sound ungrateful and confusing, it's a personal choice that some folks have made over the years. Those that accept the honor will pay the cost and see their name immortalized on the famous stretch, while others will enjoy the accolades they've earned over the years and be happy with what they've got. It's best to simply congratulate people in one way or another and go on our way.