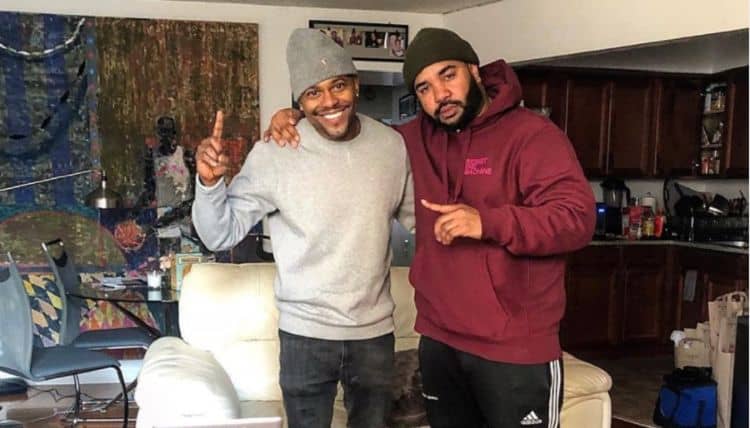 Coodie Simmons is a name you've probably heard a lot lately. As the director of the new Netflix docuseries, Jeen-Yuhs, Coodie has introduced the world to a side of Kanye West that not many people have seen. Not long after meeting Kanye in the late 1990s, Coodie began filming Kanye's journey as an up-and-coming producer who wanted to crossover into rapping. Although Coodie knew Kanye was going to be special, he probably never could've imagined that Ye would eventually become one of the biggest artists in the entire world. Not only did Coodie get to watch Kanye's growth, but he also experienced a lot of his own in the process. Keep reading to learn 10 things you didn't know about Coodie.
1. He's Based in New York City
Like Kanye, Coodie was born and raised in Chicago. He comes from a close-knit family and has parents who have always supported his dreams. Although he will always have love for The Windy City, it's not a place he's called home for quite some time. He has lived in New York City for several years and doesn't appear to have any plans to relocate.
2. He's Self Taught
With the level of talent that Coodie has, some people may be curious about where he studied filmmaking. The truth, however, is that he didn't study the craft in the formal sense. Instead, he learned everything on the job thanks to a public access show he had called Channel Zero.
3. Being Robbed At Gun Point Changed His Life
Once Coodie started filming Kanye, he knew he needed to follow Kanye to New York City so that he could continue getting footage. Unfortunately, though, he didn't have the money to make such a move. Little did he know that getting robbed would eventually solve his problem. He told Reel Chicago, "…one day, I'm driving on the freeway. I get off on North Avenue on the north side of Chicago and all of a sudden, this angel, whom I call angel now, opened my door with a nine millimeter to my head and was like, "Yo, give me the money." He wound up taking my car. But the reason why I called him the angel is because I had a condo and had insured my condo, anything that was in my car and the car was insured. So I got a lump sum of money. And with that, I moved to New York. Everything happens for a reason, good or bad."
4. He Hopes to Inspire Others with Jeen-Yuhs
When Kanye's documentary project began, Coodie wasn't sure when or how the footage would be shared with the world. However, he always felt confident that something would eventually come together. Now that Jeen-Yuhs is out, Coodie hopes it will help people find the courage to chase their dreams.
5. He's A Proud Father
Coodie has accomplished a lot in his career, but work isn't the only thing he is passionate about. Coodie is a devoted dad to his daughter, Ivy. He and Ivy's mother are in a relationship although it's unclear if they are married. When Coodie has time off from work, you can bet that he's spending it with his loved ones.
6. Kanye Isn't The Only Artist He's Worked With
Kanye may be the person who helped Coodie get his foot in the door of the entertainment industry, but Kanye isn't the only well-known person Coodie has worked with over the years. He has also done videos for artists such as Erykah Badu and Pitbull. Additionally, he has worked on other big projects such as a 30 for 30 documentary for ESPN.
7. He Was Kicked Out of College
Being from Chicago isn't the only thing that Coodie and Kanye West have in common. They both ended up dropping out of college after attending for a short time. Coodie spent one year at Northern Illinois University. While there, he studied communications before being kicked out. What may have seemed like the worst thing at the time, actually ended up putting him on the path he's on today.
8. His Faith Is Important To Him
Coodie is a firm believer in God and that is something that he has shared in many of the interviews he's done. His faith in God is what has kept him going over the years, and it's also what allowed him to trust that his footage of Kanye would eventually be turned into something special for the world.
9. Donda West Once Bought Him A New Camera
After spending so much time with Kanye, Coodie also developed a bond with Kanye's mom, Donda. Coodie has fond memories of Donda and her kind spirit. In an article for Complex, he recalled a time that Donda took him to B&H Photo and bought him a new video camera.
10. He's An Entrepreneur
There's no doubt that Coodie has the creative side down, but he's also a businessman. He is the founder of a company called Creative Control, LLC. Along with his business partner Chike Ozah, the two have worked on a variety of projects over the years. They even have a YouTube channel although nothing has been posted in several years.
Tell us what's wrong with this post? How could we improve it? :)
Let us improve this post!