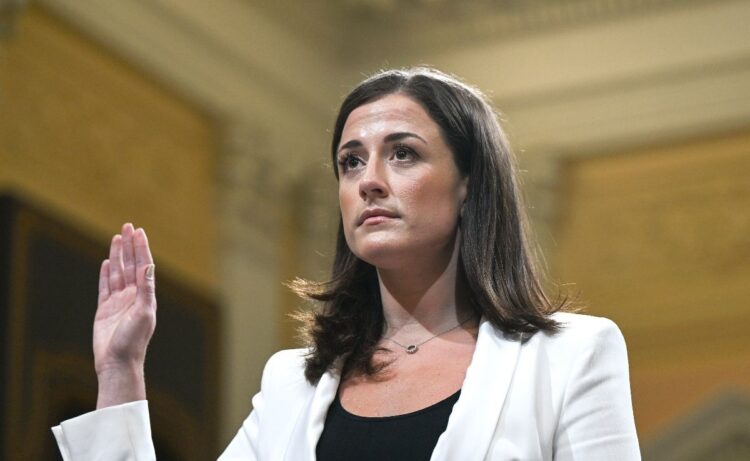 Love her or hate her, you will see her name in the press regularly for the time being. Cassidy Hutchinson went from being a name no one knew to a name that is splashed across the front page of every paper and website in the country as she sat down and spent two hours testifying about the January 6 incident in Washington D.C. Depending on your personal source of news-related information, she was either crucified on the stand or she is the witness the world has been looking for, and that is all you need to know about the news – it's not longer impartial and prone to facts; it's all opinion-based. Here's what you need to know about White House Aide Cassidy Hutchinson that doesn't pertain to her testimony.
1. She is Younger Than You Think
It's easy to assume she is older than she is, but she's remarkably young. Many might be shocked to learn that despite not knowing her precise date of birth, she was born at some point in either 1995 or 1996, which means she's only in her mid-20s as of 2022.
2. She Has a Bachelor's Degree
She went to college following her high school graduation from the Hopewell Valley High School. She graduated high school in 2015, and she went on to become a student at a college most haven't heard of. It's called Christopher Newport University. She studied hard and graduated in 2019 with a degree in Political Science.
She's mentioned on more than one occasion that she's a first-generation college student. We assume this means her family did not attend school and that she is the first in her family to earn a college degree. It's lovely that she's gone on to further her education and break the chains of a long history of people who did not or could not attend college.
4. She Interned
While she was in college, she spent a great deal of her time interning for other politicians. She spent some time as an intern for Senator Ted Cruz, and she also worked for the US House of Representative Whip by the name of Steve Scalise. She also worked for the Office of Legislative Affairs in 2018.
5. She Might be From DC
There are some articles online that state she is a native to Washington D.C., yet she also graduated from high school in the New Jersey area. While we cannot confirm much about her childhood or her life prior to college, we think she was born and raised in New Jersey and only currently resides in Washington D.C. as that is where she worked at the White House until January of 2021.
6. She is Very Private
One thing we can say about this young woman is that she is inherently private. She does not share much about her personal life or what she's been up to since she graduated high school and took on a college degree and a job in politics. We don't know if she is single, if she has kids, or anything like it.
7. She is Thankful For Her Opportunities
It's not a secret that many people who work in the White House are very young college-age graduates who are willing to work long hours because they often have little to no family life, and they want the fame and recognition and a way to make a name for themselves in D.C. so that they can go on to work in bigger and better jobs in politics. She was grateful to be one of the young people chosen to go into this line of work following her college degree, and she did not take the opportunity for granted.
8. She Was an Aide
Her big claim to fame was when she was appointed the aide to White House Chief of Staff Mark Meadows back in 2020. She held the position for a short period of time and was excited to work closely with the administration.
9. She's Looking to Become a Leader
She's outlined her goals many times by telling the world that her goal is to become a leader. She wants to become famous in the political world. She wants to be a person who helps others fight for their own American Dream, and she is willing to put herself out there and do what she feels is going to make her future brighter.
10. She's Potentially Unemployed
We aren't sure what she's doing these days, but we do know that, per the New York Post, she's not held a full-time job since she left the White House in January of 2021. It appears she has not had a job since she left the White House. She said she was slated to become full-time staff for President Donald Trump at Mar-A-Lago, but that did not happen for her, and she's not found a job since.