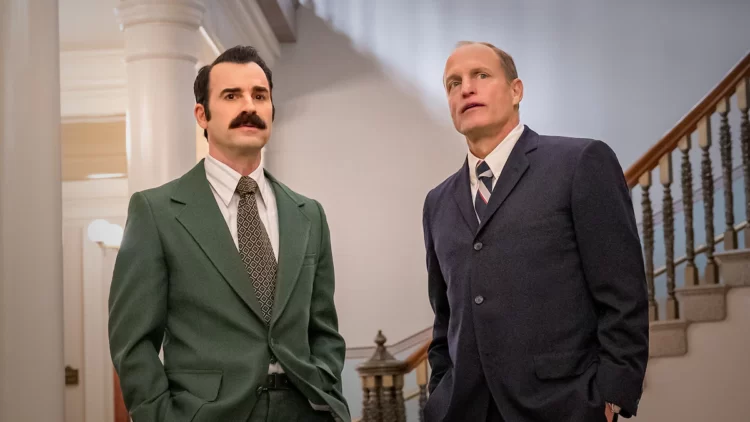 HBO is set to drop a political drama TV miniseries titled The White House Plumbers. Based on the book authored by Egil Krogh and Matthew Krogh, The White House Plumbers, which is an update on the 2007 book Integrity, is created by Alex Gregory and Peter Hyuck. The show will be directed by David Mandel, who previously worked on the political comedy Veep as well as other shows such as Curb Your Enthusiasm and Seinfeld. The upcoming show experienced a few hiccups during its production, caused by an alleged hostile working environment that occurred during the shoot. According to Deadline, Mandel reportedly exhibited unprofessional behavior, which included an outburst towards the show's prop master. In a statement from HBO, the company said: "HBO has received reports of alleged unprofessional behavior on the set of White House Plumbers," the network said in a statement to Deadline at the time. "We take very seriously our responsibility to ensure a respectful work environment on all our productions, and we are investigating the matter fully." It looks like the show has continued its production and will be released on its expected schedule. The show features an impressive cast of A-listers. If you want to learn more about the actors appearing in this series, read ahead. Here are the cast members of the upcoming HBO TV series The White House Plumbers.
Woody Harrelson
Woody Harrelson stars in The White House Plumbers as the real-life intelligence officer E. Howard Hunt. Harrelson is a star of both TV and film. He's received various accolades, including a Primetime Emmy Award and two Screen Actors Guild Awards. He's also received three Academy Awards and four Golden Globe Awards. Some of Harrelson's most recent works include Venom, The Highwaymen, Zombieland: Double Tap, Midway, Kiss the Ground, Kate, and Venom: Let There Be Carnage. He is set to appear in two upcoming films, Triangle of Sadness and The Man from Toronto, both of which are in post-production. On TV, he's recently known for appearing in The Freak Brothers, which he also executive-produced. He played Joe Biden in three episodes of Saturday Night Live and appeared in Curb Your Enthusiasm, playing a fictional version of himself.
Justin Theroux
Justin Theroux will play real-life lawyer G. Gordon Liddy in The White House Plumbers. The actor first gained worldwide recognition for his role in David Lynch's Mulholland Drive. Since then, he's appeared in movies like American Psycho, Charlie's Angels: Full Throttle, Strangers with Candy, Wanderlust, The Girl on the Train, The Spy Who Dumped Me, On The Basis of Sex, and Lady and the Tramp. His last movie was False Positive, a horror movie directed by John Lee. On TV, Theroux has had guest appearances on John Adams, Parks and Recreation, and Alias. He's had main or recurring characters on TV series like Maniac, The Leftovers, and most recently, The Mosquito Coast. For his work as an executive producer on Live In Front of A Studio Audience, Theroux won Outstanding Variety Special at the Primetime Emmy Awards.
Domhnall Gleeson
Domhnall Gleeson will be playing lawyer John Dean in the upcoming series The White House Plumbers. The son of legendary actor Brendan Gleeson, Domhnall has been able to carve a name for himself in show business, earning a Tony Award nomination for his role in the Broadway production The Lieutenant of Inishmore. Most fans would recognize Gleeson for his role as Bill Weasley in the Harry Potter movies. Since then, he's worked on projects like The Revenant, Ex Machina, Brooklyn, Unbroken, Calvary, Goodbye Christopher Robin, A Futile and Stupid Gesture, Peter Rabbit, The Little Stranger, and The Kitchen. His last film work was in the Peter Rabbit sequel Peter Rabbit 2: The Runaway. On TV, prior to joining the cast of The White House Plumbers, Gleeson appeared in Star Wars Resistance, Run, and Frank of Ireland.
Lena Headey
Lena Headey plays Dorothy Hunt in The White House Plumbers. Headey is most prominently known for her role as Cersei Lannister in the HBO fantasy series Game of Thrones. For her role in the show, Headey received a total of five Primetime Emmy nominations and one Golden Globe nomination. Some of Headey's most critically lauded and commercially successful performances include Dredd, The Mortal Instruments: City of Bones, The Purge, 300: Rise of an Empire, Pride and Prejudice and Zombies, Thumper, Fighting with My Family, Twist, and Gunpowder Milkshake. On TV, after her work on Game of Thrones, she continued working on fantasy and animated flicks, appearing or lending her voice on projects like The Dark Crystal: Age of Resistance, Infinity Train, Wizards: Tales of Arcadia, and Masters of the Universe: Revelation.
Kiernan Shipka
Kiernan Shipka plays Kevan Hunt in the upcoming TV series The White House Plumber. The young actress previously appeared in Mad Men, Chilling Adventures of Sabrina, Riverdale, and Feud: Bette and Joan. On the big screen, she's worked on Very Good Girls, One & Two, When Marnie Was There, The Blackcoat's Daughter, The Silence, and Let It Snow. She is set to appear in two upcoming movies: Wildflower and Berlin Nobody.
Ike Barinholtz
Ike Barinholtz has been tapped to play political operative Jeb Magruder in the upcoming series The White House Plumbers. Most fans would recognize Barinholtz in popular comedy movies, including Disaster Movie, Neighbors and Neighbors 2, Suicide Squad, Snatched, Blockers, Late Night, and The Hunt. Barinholtz co-wrote the action movie Central Intelligence and directed, wrote, produced, and starred in The Oath. On TV, Barinholtz has worked on Chicago Party Aunt, The Afterparty, American Auto, and Bless the Harts.
Yul Vazquez
Yul Vazquez will be playing Bernard "Macho" Barker, an undercover CIA operative, in The White House Plumber. Vazquez has appeared in Runaway Bride, Bad Boys II, War of the Worlds, American Gangster, The A-Team, Captain Phillips, The Infiltrator, Midnight, Texas, and Russian Doll. He also appeared in the hit Apple TV+ series Severance.
Other cast members
Other actors expected to appear in The White House Plumbers include David Krumholtz as William O. Bittman, Rich Sommer as Egil "Bud" Krogh, Kim Coates as Frank Sturgis, Liam James as Saint John Hunt, Nelson Ascencio as Virgilio "Villo" Gonzalez, Gary Cole as Mark Felt, Toby Huss as James W. McCord Jr., Zoe Levin as Lisa Hunt, John Carroll Lynch as John N. Mitchell, Zak Orth as Alfred C. Baldwin III, Tony Plana as Eugenio "Muscolito" Martinez, Tre Ryder as David Hunt, Kathleen Turner as Dita Beard, Judy Greer as Fran Liddy, Corbin Bernsen as Richard Kleindienst, Alexis Valdés as Felipe De Diego, and J.P. Manoux as Robert Mardian.
Tell us what's wrong with this post? How could we improve it? :)
Let us improve this post!