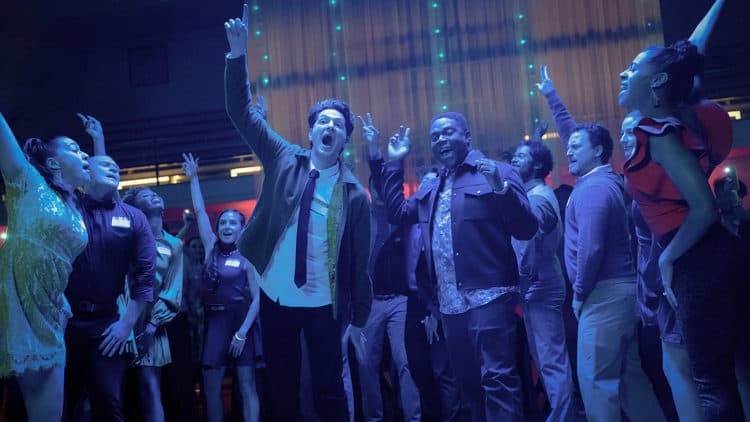 The American murder mystery comedy streaming television series The Afterparty premiered on Apple TV+ on January 28, 2022, and wrapped up with the first season recently. The series was created by Christopher Miller, who co-directed and wrote films such as The Lego Movie, 21 Jumpstreet, and co-produced Spider-Man: Into the Spider-Verse with his film-making partner Phil Lord. The Afterparty features an ensemble cast that includes Tiffany Haddish, Sam Richardson, Zoë Chao, Ike Barinholtz, Ben Schwartz, Ilana Glazer, Jamie Demetriou, and Dave Franco. The series is set at a high school reunion after-party where the death of superstar Xavier, played by Dave Franco is investigated by Detective Danner, played by Tiffany Haddish. Each episode features the perspective of each character about how the night played out as Detective Danner interviews each person present at the after-party. Los Angeles Times described the series as "an exceedingly delightful, cleverly constructed, adeptly acted comedy-mystery set around a 15-year high school reunion". In a review published by IndieWire, they praised the murder mystery series saying, "Watching anyone play the same scene over and over could grow tiring, but each iteration feels distinct thanks to the combination of new looks (courtesy of Miller, director of photography Carl Herse, and production designer Bruce Hill, among the rest of a dexterous crafts team) and deft adjustments by the cast." If you enjoyed watching the entertaining comedy series and you're into true crime or murder mysteries, here are five other shows you can binge as we wait for the next season of The Afterparty.
Only Murders In The Building
Just like The Afterparty, the mystery-comedy series Only Murders in the Building adds humor to a whodunit mystery series. The series was created by Steve Martin, who also stars in the show, and John Hoffman and it premiered on Hulu last August 31, 2021, with ten episodes for its first season. The main cast also features Martin Short, Selena Gomez, Aaron Dominguez, Amy Ryan, and recurring roles of Tina Fey, Nathan Lane, Jackie Hoffman, Jayne Houdyshell,
Da'Vine Joy Randolph, and a lot of guest appearances including Sting and Jane Lynch. The plot follows three residents of the Upper West Side apartment building, the Arconia, played by Steve Martin, Martin Short, and Selena Gomez, who discover they share a great interest in a true-crime podcast. When a mysterious death occurs in the Arconia, the three strangers decide to start their own podcast about their investigation of the death. In an article by Vulture, they praised the series for being more than a mystery-comedy saying, " Maybe the most pleasant surprise in Only Murders in the Building, though, is that it turns out to be more than just a pleasant, diverting mystery-comedy," pertaining to the show delving into topics of breaking the generational gap showcased by the lead roles. They added, "Only Murders expresses an appreciation of podcasts and what they can achieve, leaning in a more earnest direction than a truly critical one."
Murderville
Unlike The Afterparty which offers a deeper plot, the murder mystery series Murderville created by Krister Johnson for Netflix features a different case to investigate for each episode and includes improvisation from its guest stars. The series is based on the BBC Three television series Murder in Successville. In each episode of Murderville, a guest star plays the role of a rookie detective as a designated partner Detective Terry Seattle, played by Will Arnett. The guest stars in the show play as themselves and are not given a script and must improvise as they solve the murder case presented to them. The guest stars featured in the six-episode series include Conan O'Brien, Marshawn Lynch, Kumail Nanjiani, Annie Murphy, Sharon Stone, and, Ken Jeong. If you just want to have a laugh while enjoying solving murder mysteries, Murderville is definitely for you. In a review published by Variety, they praised Marshawn Lynch's improv skills and wrote, "The unequivocal highlight of the six-episode season, is former NFL star Marshawn Lynch. The second he walks into Terry's office, Lynch brings something different, confident, and genuinely hilarious to the table."
The Flight Attendant
If you want a murder mystery that combines humor and depth, the American comedy-drama mystery thriller The Flight Attendant which is available on HBO Max might be a good choice. The series was developed by Steve Yockey based on the 2018 novel of the same name by Chris Bohjalian. It stars Kaley Cuoco in the title role as the care-free flight attendant, Cassie Bowden. The plot follows Cassie as she gets entangled in a murder mystery when she wakes up with a hangover in a hotel room in Bangkok next to the body of a dead man who was a passenger on her last flight. In a review by The Guardian, they wrote, "The script is a thing of wonder: propulsive and credible despite its fundamentally incredible premise. It even nails the hardest thing of all: convincing workplace banter". In the same article, they praised Cuoco's performance saying, "She gives charm, wit and true confidence to a character who would otherwise be a hot mess we would neither care about nor believe in."
Search Party
Search Party is a dark-comedy television sitcom created by Sarah-Violet Bliss, Charles Rogers, and Michael Showalter. It stars Alia Shawkat, John Reynolds, John Early, Meredith Hagner, and Brandon Micheal Hall. The plot centers on a group of friends who get involved in the mysterious disappearance of a woman, who is a former college acquaintance. Town & Country Magazine praised the series's plot and themes saying "The series, which, to put in a simple sentence, is a biting parody of millennial culture, has delivered so many twists and turns, and countless spectacularly out there pivots in both genre and tone, over the course of its critically acclaimed run." In an interview with New York Times, Sarah-Violet Bliss, one of the show's creators shared her thoughts about Alia Shawkat's performance in the lead role saying she outperformed their expectations. "The comedy was on the page, but when I had imagined the character, she was a little bit less self-possessed. What Alia brought was intelligence and maturity — she made her grounded and real."
Psych
The American detective comedy-drama television series Psych, which lasted for eight seasons running from 2006 to 2014, is an entertaining mystery series that has garnered a cult following even after the show has ended and had three TV movies so far, Psych: The Movie (2017), Psych 2: Lassie Come Home (2020), and Psych 3: This Is Gus (2021). In a review by The Guardian, they wrote, "Once you acclimatise to James Roday's manic performance as Shawn, the comedic tone begins to feel like a welcome corrective to the grim police procedurals clogging up the schedules." You will certainly enjoy watching Shawn solve the cases with his keen observation. The series was created by Steve Franks and it stars James Roday, Dulé Hill, Timothy Omundson, Maggie Lawson, Corbin Bernsen, and Kirsten Nelson. The plot follows Shawn Spencer played by James Roday as Santa Barbara Police Department's crime consultant who pretends to be a psychic because of his heightened observational skills, which he learned through his father's training, who is a former police officer. Together with his best friend Gus, played by Dulé Hill, and some assistance from his father, Shawn helps the police department solve cases.
Tell us what's wrong with this post? How could we improve it? :)
Let us improve this post!