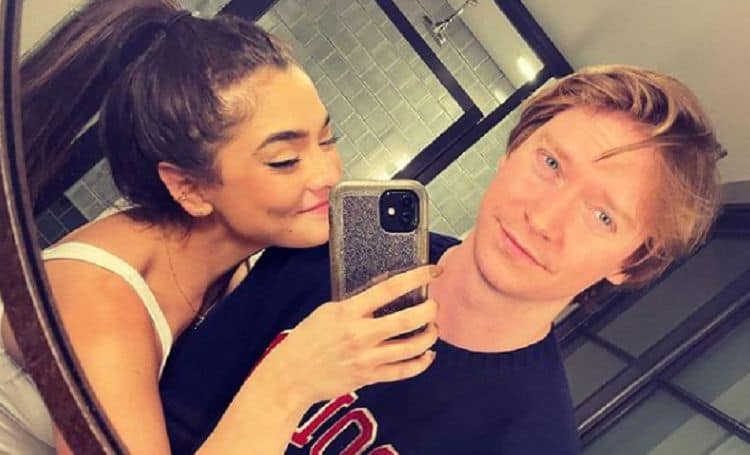 Calum Worthy is in his early 30s, but he's already accomplished more in his career than some people will in an entire lifetime. The talented actor has built a very impressive resume and he has worked with some of the biggest names in the industry along the way. Many people will recognize Calum from his role in the Disney series Austin & Ally as well as his portrayal of Nick Godejohn in the miniseries The Act. In addition to the things he's already done, Calum is keeping the momentum going. He is a cast member in the new Netflix series Pieces of Her, and he also has some other projects in the works. If Calum continues to progress the way he has been, he could become one of the most successful actors of his generation. Continue reading to learn 10 things you didn't know about Calum Worthy.
1. He Has Behind-The-Scenes Experience
Those who are already familiar with Calum probably know about many of the things that he's done in front of the camera. What those people may not know, however, is that Calum has also spent a significant amount of time behind the scenes. He made his debut as a writer in producer in 2013 with the TV series The Coppertop Flop Show. Since then, he has also written and produced several other projects. As his career continues to grow, it seems likely that we'll see Calum continue to do things behind the camera. Perhaps one day he'll even get into directing. The fact that he has so many talents makes him a very valuable asset to every project he's a part of.
2. He Is In A Relationship
Calum's career isn't the only area of his life where things have gone well for him. He has also found love. Calum is in a relationship with actress Celesta Deastis. It's unclear exactly how long the two have been together, but their relationship seems to be going strong. Celesta has been in the entertainment industry for around 15 years and she has made more than a dozen on-screen appearances. She is probably best known for playing Francesca Cavallo in the soap opera General Hospital. According to her IMDB page, her most recent on-screen role was in 2018 and she doesn't appear to have any projects in the works at the moment.
3. He Was Nervous About Doing Some of The Scenes In The Act
Playing the role of Nick Godejohn in The Act was a very challenging experience for Calum. Due to the sensitive subject matter of the story, there were quite a few scenes that were somewhat difficult for Calum to film. During an interview with Gold Derby, Calum said, "A lot of these scenes, I was nervous to do in the past, especially scenes with nudity and revealing so much of myself, but because I was working with [Joey], who was so fearless in those scenes and with these incredible directors, they made me feel comfortable to go to that place and take that leap and it didn't feel like I was revealing anything; it felt like I was exploring." The fearlessness Nick felt while filming can definitely be seen in his performance.
4. He's Passionate About Several Causes
Acting isn't the only thing that Nick has done with his time in the spotlight. He has also used his platform to raise awareness of the various causes that are important to him. He is a strong believer in the importance of human rights and he has spoken out about things like racism, LGBTQ+ rights, and education. In the caption of an Instagram post in 2020, Calum wrote, "Young people are on the front lines of racial injustice, climate change, gender inequality and every other global threat. They are informed, they understand what's at stake, and they have the courage to speak truth to power. In 2020, it's hard to be optimistic but when I see how effective the next generation is at making real change – I am convinced we will solve these issues."
Calum is also very passionate about educating others on the dangers of climate change. Not only does he encourage people to be knowledgeable on the subject, but he also encourages them to get involved. The link in his Instagram bio is for the Climate Reality Project which is dedicated to catalyzing "a global solution to the climate crisis by making urgent action a necessity across every sector of society."
5. He Went to Great Lengths to Prepare For His Role in The Act
Getting into character is probably one of the most challenging things about being an actor. This is especially true when an actor is playing someone who exists in real life. This is something Calum had to deal with when he was cast in The Act. In order to prepare for the role, he wasn't afraid to get a little extreme. He also worked to gain a better understanding of autism which is a condition that Godejohn has. Calum told Vanity Fair, "I just decided that I really had to fully commit myself to the research leading up to it, and I had to ask as many people that are specialists all the questions that I had." He also said, "I wrote an essay—that was pretty much five pages long—about Nick, based off all of my research, and I spent time at a center that works with adults with autism. I read five books about autism, because I knew that I wouldn't be doing the autistic community justice until I'd exhausted every resource for research."
6. He Truly Loves the Art of Storytelling
If you ask 100 actors what they love about acting, you'll probably get close to 100 different answers. For Calum Worthy, however, it appears that being able to tell stories is his favorite thing. Calum was quoted as saying, "I really believe in the art of storytelling and as an actor, I think it's such a great opportunity to be able to do what we do because so many people are trying to do that and I've worked for so long to try to get interesting opportunities that I just wanna make sure I do the character justice. I guess you could call it method in many ways but for me, it's just trying to commit to the character in the best way possible, whatever that entails, whether it's giving yourself acne or diving into a very dark place".
7. He Is An Award Winner
No matter what field a person works in, there's nothing better than knowing that their hard work isn't going unnoticed. After all, it can be frustrating to feel like the things you do aren't appreciated. In the entertainment industry, this appreciation typically comes in the form of an award and Calum is proud to say that he's already won a few. Most recently, he won a Leo award in 2010 for Best Performance in a Youth or Children's Program or Series. Prior to that, he won two Young Artist Awards. Hopefully, there will be even more awards in his future.
8. He Started Acting In Elementary School
Calum has been acting for almost his entire life. He started taking acting lessons when he was just fours year old and it didn't take those around him long to realize that he was a very talented kid. Calum was just nine years old when he made his first TV appearance in a TV series called Mysterious Ways. It didn't take long for his career to start gaining traction and by the end of the 2000s, he already had some very impressive credits on his resume. While we've all heard horror stories about how hard things can be for child actors, particularly once they start getting older, it looks like Calum has done a great job of avoiding the dreaded child star curse.
9. He Is A Voice Actor
Calum's live-action roles are what has made him famous, but as a man of many talents, you should know that he doesn't always need a camera to shine. Calum has also done a good amount of voice work over the years. While some may think that voice acting is easy, it requires lots of skill to be able to bring characters to life by just using a voice. Most notably, he was the voice of Taylor in the animated TV series Pacific Rim: The Black. It seems likely that we'll see Calum do even more voice projects in the future, but it'll be interesting to see which kinds he gravitates towards.
10. He Likes to Travel
Calum was born and raised in Canada, but thanks to his acting career he has gotten the chance to visit places all over the world. Some of the countries he's been to include Tanzania and France. In the coming years, Calum is probably going to get to visit even more awesome places. Not only is traveling a great way for Calum to expand his career, but it has also been the perfect opportunity for him to make some cool memories along the way.
Tell us what's wrong with this post? How could we improve it? :)
Let us improve this post!