Netflix's Bridgerton has enjoyed above-average ratings since it premiered on December 25, 2020. With two successful seasons, a prequel spin-off (Queen Charlotte: A Bridgerton Story), and a greenlit third and fourth season, Bridgerton is one of Netflix's most-watched original series. While several historians and scholars have noted numerous historical inadequacies, Bridgerton creator, Chris Van Dusen, has maintained the show's screenplay is more for entertainment than a history lesson.
Much of Bridgerton's success has been its ability to raise new and rising stars. For most of Bridgerton's top cast, their characters became their career breakthrough roles. Focusing on the cast of the main series (excluding the prequel spin-off), here's a comprehensive cast guide of the stars of Bridgerton.
Adjoa Andoh as Agatha/Lady Danbury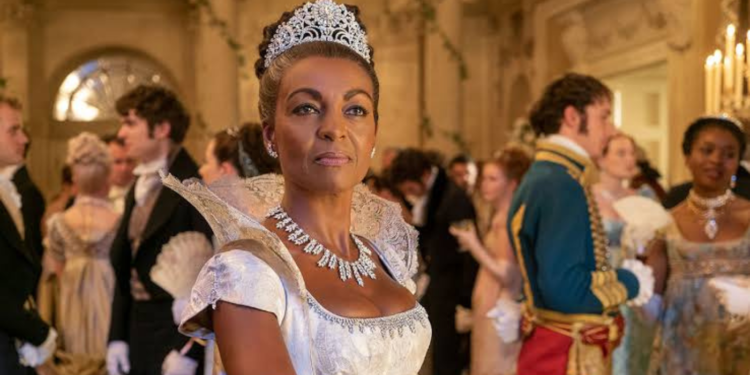 Lady Danbury is one of the most influential characters in Bridgerton. Lady Danbury is one of a few characters that have appeared in all produced seasons of the show. British actress Adjoa Andoh has continued to breathe life into the character. Although not the lead character in any season so far, Lady Danbury has continued to play an important supporting role in the fictional London ton and the franchise in general.
Andoh is no small actress in film and television. Her career began in 1984 and saw her appear in over 35 productions before being cast as Lady Danbury in Bridgerton. A few notable works of hers include Casualty (1993, 2000–2003), Doctor Who (2007–2008), Invictus (2009), M.I. High (2009–2011), Law & Order: UK (2011), Fractured (2019), and Thunderbirds Are Go (2015–2020).
Ruth Gemmell as Violet/Dowager Viscountess Bridgerton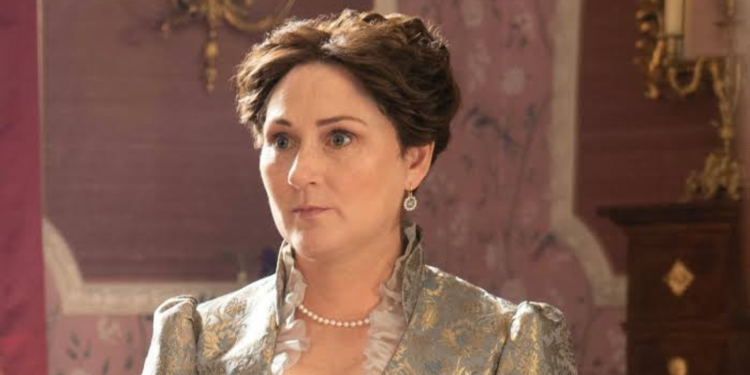 Ruth Gemmell plays the matriarch of the Bridgerton family, Violet Bridgerton. She's the mother to all eight Bridgerton children and wife of the late Viscount Edmund Bridgerton. Like Adjoa Andoh, Ruth Gemmell has appeared in all seasons of Bridgerton. Dowager Viscountess Bridgerton is close friends with Lady Danbury and Queen Charlotte.
Ruth Gemmell is an English actress with credits in film and television. However, most of her works have been on television. Some of her works before Bridgerton include Fever Pitch (1997), EastEnders (2009), The Expelled (2010), Offender (2012), Utopia (2013–2014), and Home Fires (2015–2016).
Golda Rosheuvel as Queen Charlotte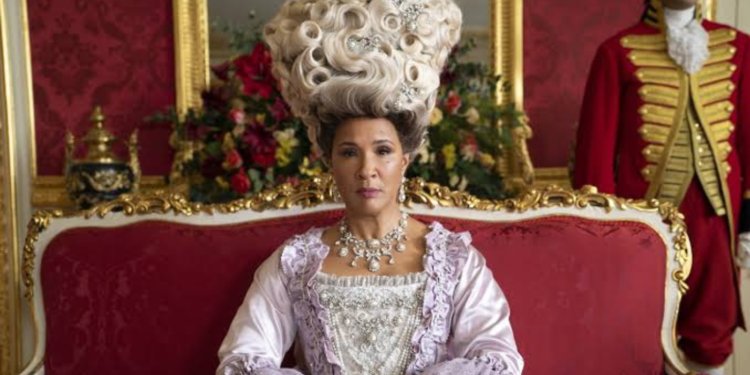 Golda Rosheuvel's portrayal of Queen Charlotte in Bridgerton has been captivatingly amazing. Queen Charlotte is the Queen of England and the wife of King George III. With her preference for ornate gowns and elaborate hairstyles, Queen Charlotte is an unmissable presence in Bridgerton. Between fighting her boredom, throwing parties, and keeping the ton in peace, Queen Charlotte is obsessed with revealing the identity of Lady Whistledown.
Golda Rosheuvel is a British actress and singer whose career began in 2000. Before being cast in the famous role of Queen Charlotte, Rosheuvel had worked extensively in television. Some of her works include Coronation Street (2012), EastEnders (2015), and Lady Macbeth (2016). She also played Shadout Mapes in Denis Villeneuve's epic science fiction film Dune (2021).
Julie Andrews as Lady Whistledown (Voice)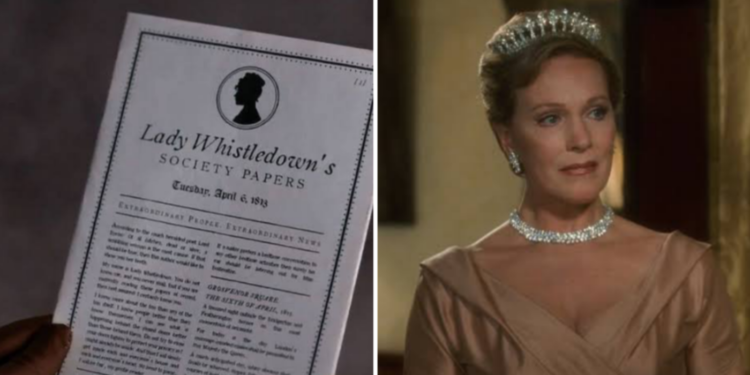 Julie Andrews was cast as voice of Lady Whistledown and the narrator of Bridgerton. Lady Whistledown is the author of the scandalous newsletter. Although most members of the ton would not agree, Lady Whistledown's reputation and influence has grown over the years. While the face of the author wasn't revealed until the last episode of season 1, Andrews has voiced the character with much gusto and grace. Julie Andrews is more fondly remembered for playing Maria von Trapp in The Sound of Music (1965). She also starred in The Princess Diaries film series, Eloise at the Plaza (2003) and Eloise at Christmastime (2003).
Phoebe Dynevor as Daphne Bridgerton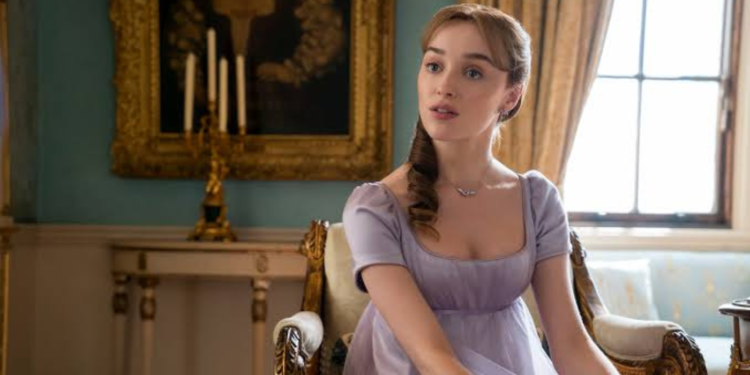 In season 1, Daphne Bridgerton was the lead character. She's the fourth child in the Bridgerton family and was chosen by Queen Charlotte above other debutantes. Phoebe Dynevor played Daphne Bridgerton, a naive lady who falls madly in love with the Duke of Hastings. After her marriage to the Duke, Daphne is known as the Duchess of Hastings. The character only appears in seasons 1 and 2.
Although Phoebe Dynevor made her film debut after Bridgerton, she had starred in several TV shows in the past. Dynevor was a series regular in Waterloo Road (2009–2010) and played recurring roles in Prisoners' Wives (2012–2013), The Village (2014), Dickensian (2015–2016), and Younger (2017–2021). She also played Lottie Mott in Snatch (2017–2018).
Regé-Jean Page as Simon Basset, Duke of Hastings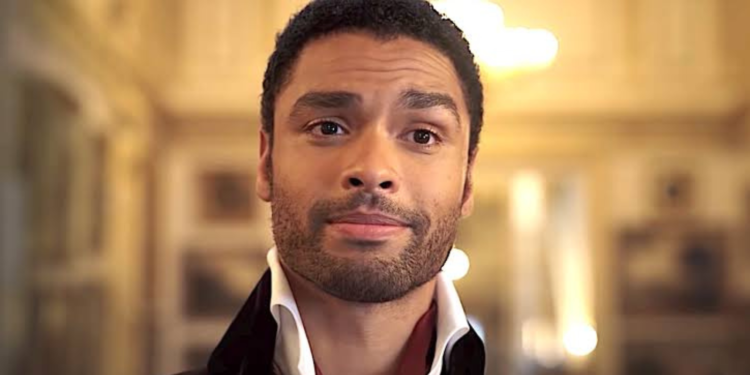 Simon Basset was the love interest of Daphne Bridgerton (and a significant number of viewers). He's introduced as a young family friend of Lady Danbury who doesn't want to have children. His love story with Daphne Bridgerton was the highlight of the season. English actor Regé-Jean Page played the character.
However, Regé-Jean Page was only available to play the role in season 1. Although the character wasn't killed off, it has not made an appearance ever since. Before Bridgerton, Page starred in Waterloo Road (2015), Roots (2016), and For the People (2018–2019). Since his exit from the series, Page has starred in The Gray Man (2022) and Dungeons & Dragons: Honor Among Thieves (2023).
Jonathan Bailey as Anthony, Viscount Bridgerton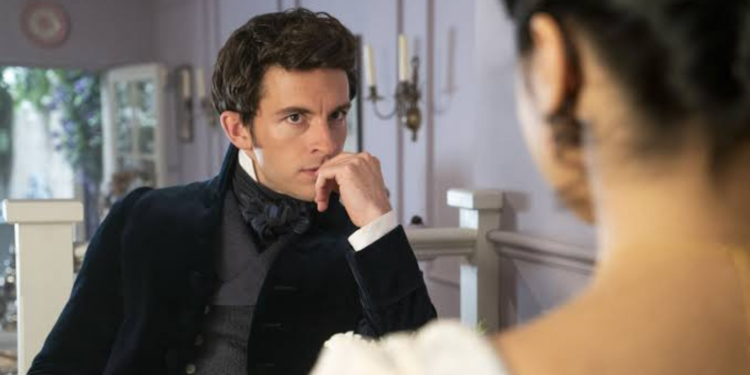 Jonathan Bailey plays the character of Anthony, 9th Viscount Bridgerton. In season 1, he plays a supporting role as the eldest child and head of the Bridgerton family. After witnessing his father's death at a young age, Anthony has had to take on the responsibility of managing the family's estate. His father's sudden death from a bee sting left him traumatized and unwilling to settle for love and start a family. Season 2 was about his love and eventual marriage to Kate Sharma.
Jonathan Bailey had an extensive theater, film, and television career before appearing in Bridgerton. Some of Bailey's television credits include Baddiel's Syndrome (2001), Off the Hook (2009), Leonardo (2011–2012), Me and Mrs Jones (2012), and Groove High (2012–2013). Others are Broadchurch (2013–2015), W1A (2014–2017), Crashing (2016), and Jack Ryan (2018). In film, he played Herod in The Young Messiah (2016).
Simone Ashley as Kate Sharma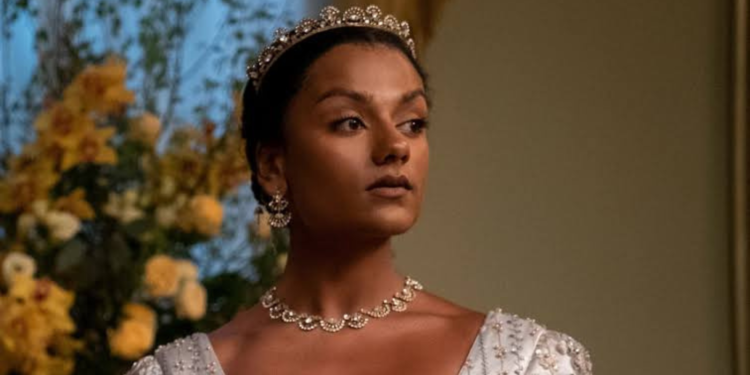 Simone Ashley was cast as Kate Sharma, a love interest and eventual wife of Viscount Anthony Bridgerton. The character is introduced in season 2 when she arrives with her mother and half-sister from India. Now known as Viscountess Bridgerton, Simone Ashley will reprise the role in season 3. Ashley had a few works in film and television before being cast in season 2. She starred in Detective Pikachu (2019) and Sex Education (2019–2021).
Nicola Coughlan as Penelope Featherington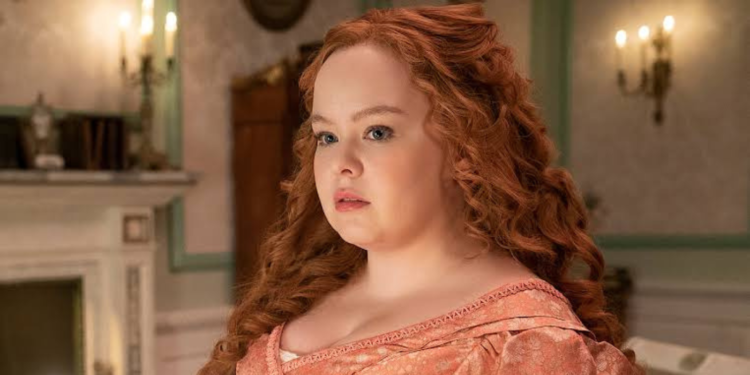 Penelope Featherington is the youngest child/daughter in the Featherington family. Often neglected and unnoticed, she uses being a wallflower to her advantage in getting all of the ton's gossip. At the end of season 1, Penelope is revealed to be Lady Whistledown, the author of the scandalous newsletter. She has deep respect and infatuation for Colin Bridgerton. Nicola Coughlan, who plays Penelope Featherington, is an Irish actress. Before Bridgerton, her only major on-screen role was playing Clare Devlin in Derry Girls (2018–2022). She played Diplomat Barbie in Greta Gerwig's 2023 Barbie.
Luke Newton as Colin Bridgerton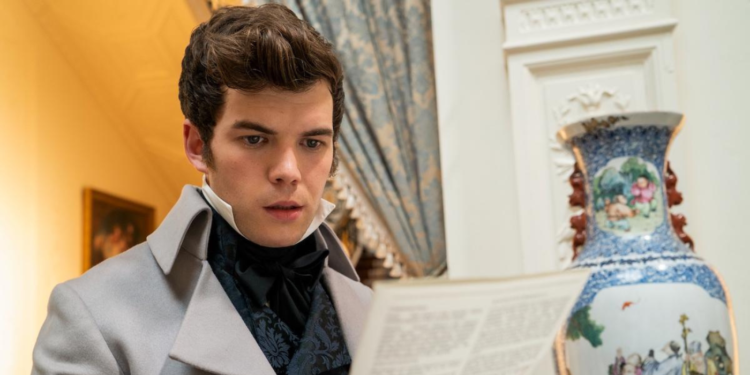 English actor Luke Newton plays Colin Bridgerton. Colin is the third child and son in the Bridgerton family. His position in the family leaves him with a lack of purpose. To help kill boredom and stay motivated, he spent time traveling. He's close friends with Penelope Featherington and seems to be the only one who noticed her. However, he only sees and considers her as a friend. Luke Newton is a television and stage actor. He starred in The Cut (2010) and The Lodge (2016–2017) before getting cast in Bridgerton.
Claudia Jessie as Eloise Bridgerton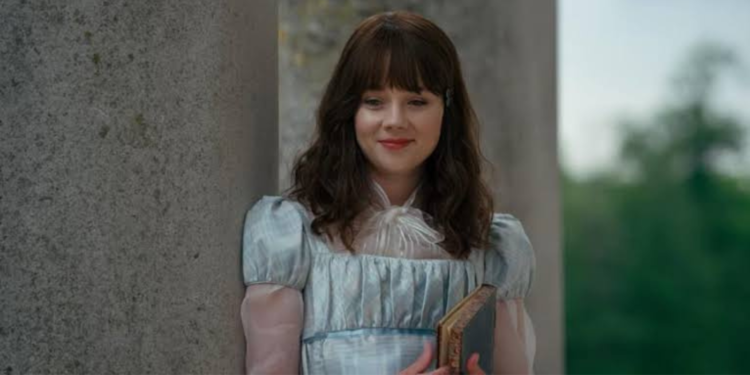 Eloise Bridgerton is the fifth child of the Bridgerton family. She's also the second daughter and was frightened to be a debutante after her older sister, Daphne, married. She's the smartest daughter in the family, spending lots of time reading to educate herself. Eloise displays her frustration with the limits the society has placed on women. She later discovers who Lady Whistledown is, threatening her relationship with her only true friend, Penelope Featherington. Claudia Jessie, who plays Eloise Bridgerton, is more of a television actress. She starred in several TV shows before Bridgerton. These include Doctors (2014), WPC 56 (2015), Jonathan Strange & Mr Norrell (2015), Line of Duty (2017), Porters (2017–2019), and Defending the Guilty (2019).
Ruby Barker as Marina Thompson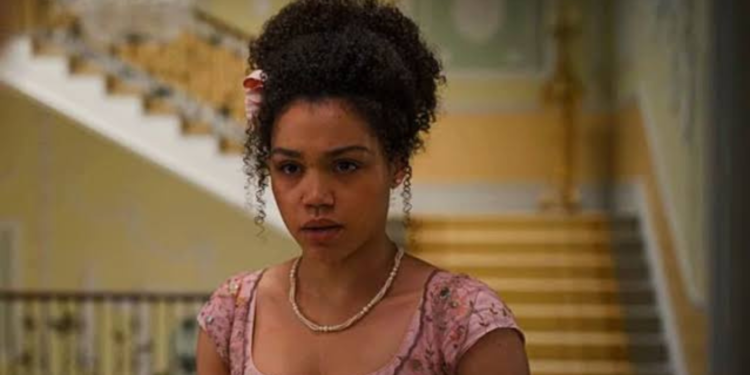 Ruby Barker joined the cast of Bridgerton from season 1. She made a guest appearance in season 2. Barker played Marina Thompson, introduced as a Featherington cousin who came to live with them from a rural gentry family. Her story revolved around trying to hide her pregnancy and pin it on Colin Bridgerton. At the end of season 1, Marina married her late lover's brother, Sir Phillip Crane. Besides a recurring role in Wolfblood (2017), Bridgerton is Ruby Barker's biggest acting credit.
Charithra Chandran as Edwina Sharma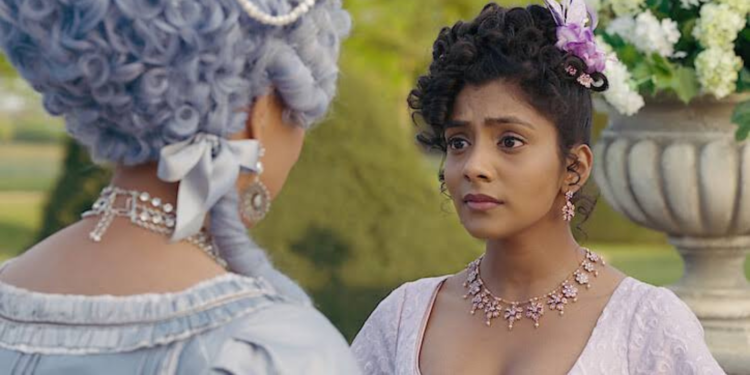 Edwina Sharma became Queen Charlotte's "Diamond of the season" in season 2. Edwina refused all other suitors and chose Anthony Bridgerton. However, she later discovers she is in a love triangle with Anthony and her half-sister, Kate. Although it initially causes a rift between the sisters, Edwina chooses to forgive and bless their union. Bridgerton was Charithra Chandran's second work on-screen as a professional actress. Before she was cast on Bridgerton, Chandran played Sabina Pleasance in the British spy thriller TV program Alex Rider (2021).
Polly Walker as Portia, Dowager Baroness Featherington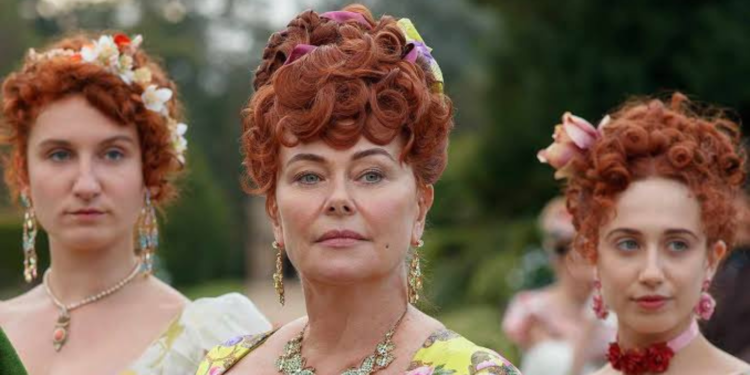 Polly Walker's character, Portia, almost always competed with the Bridgertons. As the matriarch of the Featherington family, she made it a duty to ensure one of her daughters was chosen as Queen Charlotte's Diamond. When that failed, she schemed ways to marry them off. Portia does her best to save face when she discovers her husband has gambled away her daughter's dowries. Her resilience to keep the family's name and pride earned her respect from viewers. Polly Walker is an established actress in film and television. Some of her notable on-screen appearances include Patriot Games (1992), Robinson Crusoe (1997), Rome (2005–2007), Cane (2007), Caprica (2009–2010), Clash of the Titans (2010), John Carter (2012), Prisoners' Wives (2012–2013), and Pennyworth (2019–2022). Polly Walker will reprise her role in Bridgerton season 3.