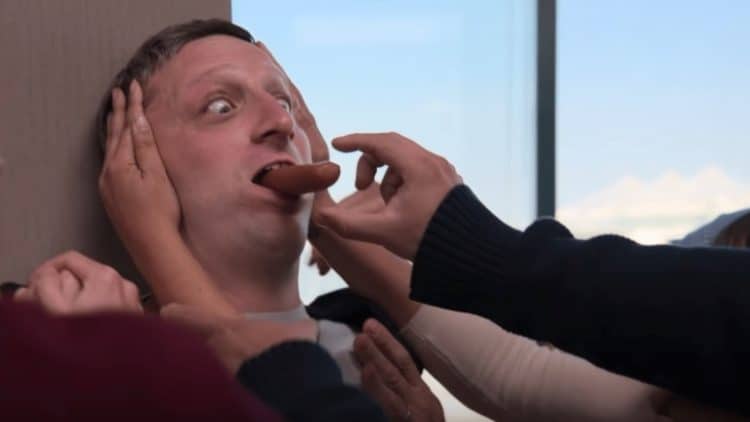 Sketch shows generally prey on the common oddities within our lives and create a connection that helps us laugh at the absurdities that are our lives. Very few use the absurd as a jumping off point– I Think You Should Leave With Tim Robinson is grounded in the absurdities of everyone's darkest most hilarious imaginations. With a relatively unknown cast of characters, lead by Tim Robinson and Zach Kanin (the show's creators) each episode is packed with sketches that might make you laugh, make you think, and absolutely make you wonder how they came up with the ideas that they put on screen. Much of the comedy within I Think You Should Leave rests on a typical sketch arc. There is a commercial or a sitcom, the relationships and problems are developed with a hint of a solution, then before your eyes you witness everything unravel into the kind of events someone dreams of but never dares to tell anyone because of how insane it became.
For example, in the first season one sketch begins as a commercial for laser spinal surgery, highlighting patient's lives and how they have changed because of their improvement of quality of life due to the laser procedure. The plot then twists when on of the commercial's character's says, "Laser spine surgery changed my life and now I can fight my wife's new husband!" After some docile, mocked-up fighting, the man's estranged relationship with his ex-wife and son are made apparent and the comedic element seems to come to a close. It is at this point that the show displays its genius: instead of leaving the sketch there, the camera then follows the depressed dad to a shady cement building where he confronts a supposed record producer about not hearing the music he recorded on the radio. Clearly a fraudulent operation preying on the dull-minded fancies of men past their prime, the record producer then begins to argue with another angry recording artist of a similar demur situation, ultimately getting the two men who think they are artists to argue over who will get to sing on a track called "Palm Tree Girls", which is guaranteed to be a hit. If you are confused, that is a good thing. The show does not try to reign in the chaos of a ridiculous situation, it captures all of it to show that every situation is just one sentence away from being absolutely absurd.
Much of the show relies on what is undiscussed or said in relationships. Making comedy for the sake of it seems to be a lost art. Where most shows fall victim to recreating the old tropes of how conversations between friends and families should go, I Think You Should Leave takes a direct approach to what is funny. Whether it is by a group of young women blatantly calling one another horrible names at Sunday brunch "as a joke", or a work excuse for being late gone too far, Robinson and Kanin have put much thought into how people think but do not act.
In an interview on Late Night with Seth Meyers, Tim Robinson and Meyers discuss the premise of the show being about people that "will not admit that they are wrong." This is a very linear way of describing what happens within the confines of each sketch, but ultimately is the overlapping theme of each idea that comes to life. Robinson thrives on reanimating skits that would otherwise not be considered in other shows and making them strange enough to be funny. Nearly every skit pushes the envelope a little too far for most viewers' comfort levels. In season two, one of the featured skits on promotional material and featured as a late-night guest clip was a bit about a show called "Coffin Flop", wherein (fake) live footage of people falling out of coffins is the premise for this reality TV series. The skit is inherently hyperbolized by a man trying to persuade viewers to call and complain that the show "Coffin Flop" is being taken off the air due to its off-putting nature. This wild imagination when it comes to comedy from the terrifically bizarre and funny writing of Tim Robinson and Zach Kanin.
From 2013 to 2017 Robinson and Kanin were writers and cast members of Saturday Night Live where they wrote and pitched sketches to be performed. Throughout the week leading up each SNL show, the writers are responsible for pitching the ideas to the cast, producers, and celebrity guests, and often these sketches do not make it to the show come Saturday. This is where Robinson got his start with his most ridiculous ideas. In an interview on Jimmy Kimmel Live, Robinson reflected on some of his attempted sketches saying, "There was a leather life-jacket for when cool guys fall off boats." They are not all winners, but the guy knows how to write a quality joke.
The second season of I Think You Should Leave was released on July 6th, 2021. As of right now Netflix has not confirmed that the show is cancelled or has renewed it for a third season publicly. The show has a strong following and popularity within social media. Since the debut of the first season on April 23rd, 2019, there has been a frame taken from one of the sketches of Robinson dressed up in a hotdog costume after crashing his hotdog shaped car into a storefront. The sketch revolves around this hotdog character commiserating with the patrons and workers of the store saying, "We have to find out who did this!" The irony has not be lost, as many people have used still frames from this sketch to create mems about people (usually out-of-touch pop-culture figures and politicians) not taking responsibility for their wrongful actions.
Though the show is in series-limbo now without a concrete announcement of moving forward, there is a show with some of the same creators and stars as I Think You Should Leave, and that is Detroiters on Comedy Central. Written by Zach Kanin, Joe Kelly (creator, Ted Lasso), and Sam Richardson, Detroiters follows a similar style of comedy. The show follows Sam and Tim, played by Sam Richardson and Tim Robinson, two friends who inherit an advertising business in Detroit and the hijinks that follows when two ill-equipped people inherit a company they know little about. The two familiar faces, Richardson and Robinson from I Think You Should Leave, make a great comedic duo in both shows, displaying impeccable timing and a knack for embracing awkward moments to make an audience uncomfortable. Richardson and Robinson met at the famous Second City Chicago where they honed in their skills in comedy and improvisation. You can stream I Think You Should Leave season one and two on Netflix while we await the announcement of a possible third strangely hilarious season.
Tell us what's wrong with this post? How could we improve it? :)
Let us improve this post!