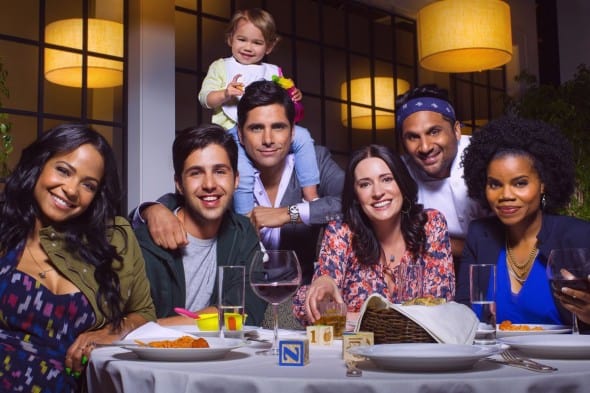 It's amazing how quickly a network will cancel a show not that long after accepting it into their embrace. Grandfathered was a show all about a wealthy restaurant owner and bachelor that suddenly finds out he not only has a son, but a granddaughter as well. You can easily imagine, if you didn't watch the show, that his life would get seriously turned upside down as a result of figuring out that he now has a family that he has to look over and pay attention to. The role of the bachelor is usually played very well by John Stamos since even when he's playing a married man there's no shortage of women that swoon over him thanks to his inescapable charm. Unfortunately the show was given a first season of 22 episodes and then unceremoniously dumped before they could be considered for a season 2.
Let's see what happened to the cast.
Kelly Jenrette
It kind of seems like Grandfathered might have been a minor bump in the road to Kelly since she went on to several other projects right after the show. In fact it's safe to think that she had these projects working at the time that Grandfathered was going on, or at the very least was quick to start talking to people once it was clear that the show wouldn't be moving forward. That's the rule in acting however, if you want to work you've got to hustle.
Ravi Patel
So far it really seems like the end of the show wasn't much of a big deal for anyone as far as their careers were concerned since Ravi, like Kelly, went on a tear after the show and continued to act in several different projects as his career continued to climb. In fact he's going to be appearing in the next Wonder Woman movie when it comes out, so you can honestly state that his career hasn't been hurt at all in the past few years by the cancellation.
Christina Milian
Christina's career seemed to be experiencing a lot of ups and downs for a while, with far more descents noticed by many people than anything. After all when she came on the music scene she was smoking hot and expected to go as far as she possibly could. Then when things cooled off she got into acting, and even that didn't seem to take off for a while. But as of now her career seems pretty stable for the time being.
Paget hasn't slowed down either since the end of the show but she's done a lot more voice work and single episodes than anything else. At the very least however she's still acting and has taken the cancellation in stride along with everyone else. In many ways it seems Grandfathered was one big swing, and despite the miss it didn't really jeopardize anyone that played a part in it.
One great thing about the actors on this list is that they were all well-established and had enough on their plates to deal with when it came to Grandfathered that they weren't in any danger of losing their reputations the moment it was cancelled. Too many people that don't have a lot to move towards would have to hustle like crazy to try to find work once a show is taken off the air, but with solid reputations behind them these actors managed to pick up and just move on. Peck has experienced as much forward motion in his career as anyone and has continued to do what he's good at.
John Stamos
As far as film and TV goes he hasn't been super-busy since Grandfathered but as far as being seen and meeting the public John is the kind of guy that's always going to be welcomed since he has that kind of charm and the smile to go with it that drives people nuts. His acting, well, his acting isn't bad but depending on who you talk to he's either legendary or just shy of it. But he's John Stamos, which means that he's going to draw a crowd wherever he goes just because of who he is. He didn't suffer a drawback any more than any of the other cast members since he can bank on his reputation alone and make good on it.
The show might have been something that bordered on touching and even endearing but at the same time it seems like it was something that might have been done before, the kind of family-friendly tale that has been told in so many different ways that the network didn't think it would be something they could continue to endorse. Whatever the reason for getting rid of the show, the cast didn't seem bothered by it too much.