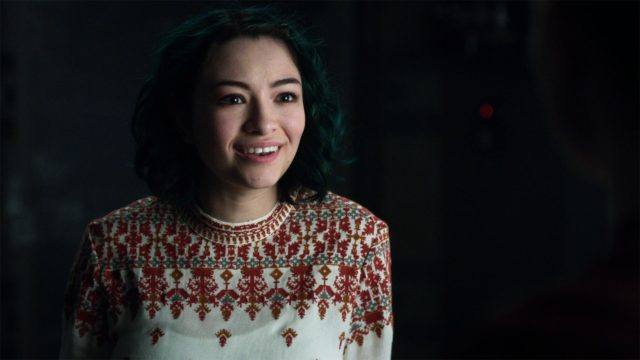 Canadian-born actress Jodelle Ferland is becoming somewhat of a horror movie legend. Her credits include Silent Hill, Case 39, The Tall Man, The Unspoken and many more. To top it all off, she played Bree Tanner in the ultra successful Twilight film series. Undoubtedly her resumé helped her secure the role of "Five" on the SyFy TV series "Dark Matter." And although Jodelle's profile is rising in Hollywood there's still a lot of things fans don't know about her.
Let's countdown a few of them…
1. She's the youngest Emmy Award nominee in history
At the age of 2, Jodelle appeared in her first TV commercial. By the age of 4, she was making her movie debut in the made-for-TV movie "Mermaid." She did such an outstanding job in her role that she received a Daytime Emmy Award nomination. She currently still holds the title of the youngest nominee in Emmy history.
2. She's didn't read the script before she took the role of Bree Tanner in "The Twilight Saga: Eclipse."
By the third Twilight film, it was clear that the franchise was taking the world by storm, which is why Jodelle took the role in the film without even reading the script. She stated in an interview with Canada.com: "Usually I read the script before I take a role, but I haven't read this one, it's Twilight, of course, I'm going to take it." Can't really argue with that line of thinking. Twilight is still one of the most successful movie franchises in history.
3. She loves working in the horror genre
The Horror genre is Jodelle's favorite genre to work in. In a 2016 interview, she said she believes that's why she was cast in so many horror films early in her career. No shock here, when it comes to the Horror genre Jodelle is a natural on screen.
4. She enjoys doing her own stunts in movies
In an interview with Fangoria about her movie "The Unspoken" Jodelle was asked was she physically ready for all the stunts in the film or did she have to go through training? She replied:
"I'm quite used to having to do stunts here and there on shows that I've done. There always seems to be something I'm doing. It wasn't too difficult. I definitely enjoyed it. Those are always the most fun to film."
5. She played the zombie Patience Buckner in the film "The Cabin in the Woods."
I love that movie…and I love Jodelle Ferland …So how did I not know this! Patience Buckner was one of the members of the zombie family awakened when the lead character Dana Polk read the Latin verses in Patience's diary. Honestly, I had to go back and look at this, and it's definitely Jodelle as a tough one armed zombie.
Conclusion
Jodelle Ferland is young, beautiful, ultra talented, and has a filmography to back it all up. All of those things combined will without a doubt lead to a long career in Hollywood for Jodelle. I for one can't wait to see what the future holds for this actress.