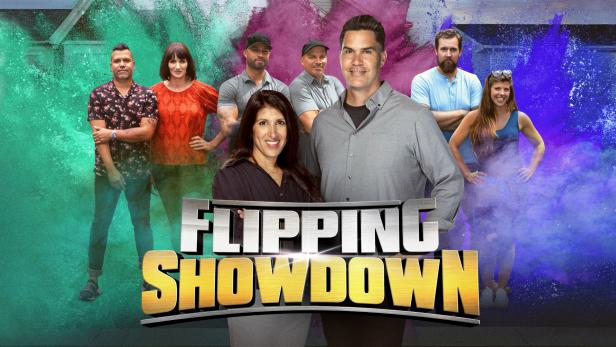 When Tarek El Moussa and Christina made their television debut years ago on their hit show, "Flip or Flop," the world had no idea what was happening. The couple was still married, they had a baby girl, and they were just trying to make ends meet when the real estate market crashed. Both realtors had to find a way to do something to keep them afloat in expensive Orange County, California, and they began buying and flipping houses hoping they could make a buck. They did, and then they became the most famous faces on HGTV. Now, they've inspired spinoffs of their own show across the country. That's where we get to Anita Corsini, the star of the Atlanta version of "Flip or Flop," alongside her own husband. Who is she? What's she's like? Here's everything you need to know.
1. She's Been Married a Long Time
She and her husband, Ken, are darling. She calls him the total package. She finds him tall, dark, handsome, funny, enjoyable, and so much more. They've been married approximately 17 years now, and they are more in love now than ever before. She is still enamored with her college sweetheart.
2. She is a College Graduate
She met her husband at her alma mater, too. They were both in their third year of college at the University of Georgia when they met through her husband's roommate. They went on a date, she wasn't sure she'd like him, and then it all just worked out. They graduated together from college, and it's the sweetest story.
3. She Was a Teacher
Following college, she did not go into the real estate market. She went into education. She was a math teacher who taught AP Calculus, and she loved it. She loves math. While some of us do not love math, she is just one of those women who does love math so much, and she went into math as a career.
4. She Has her Master's Degree
She has a bachelor's in mathematics, but that was not enough for Anita. She really loves math, so she went back to school to obtain her master's degree in math education. She's what you might call a nerd, but she is very proud of her math nerdiness.
5. She is a Big Kid
At the end of the day, she calls herself a big kid. She is an adult, of course, but not at heart, and that is probably what will have fans so excited to get to know her better. Her fun-loving personality makes her so enjoyable to all of us.
6. She Loves People
Being with people is what makes this woman happy. She loves people, she loves being with them, and she always loved her students. They'd make her laugh, and she appreciated the time she spent with them in the classroom before changing careers.
7. She Found A Very Cool Item in One Flip
When she and her husband were filming for this show, they found something wonderful in an attic. It was a box of memories. When her husband found the box and called her upstairs to see it, she realized it was a box of memories from a student she once taught. She was able to find him, contact him, and she was able to give him all of his childhood photos and keepsakes.
8. She's the Mom of Three
Since she and her husband wed 17 years ago, they've welcomed three kids to the family. They have their kids spend time helping in the family business, and they love it. They love spending time with their kids, and they love having the kids involved in this aspect of their career.
9. She Loves Pens
She's not a pen collector of any sort, but she still likes pens. She's always got more than a few pens in her handbag. She has more pens than anything else in her bag. She loves colored pens, fun pens, just having pens in general since you always need one and can rarely find one. Here's hoping she's the person next to me the next time I need a pen and cannot find one!
10. She's In Her Element
She might be a math teacher at heart, but her heart has two very strong passions because she's good at what she does now. She got her real estate license when she was pregnant with her first child. She was teaching regular school, summer school, and making a nursery for their first all while working on her real estate courses. She is, if you ask us, the gift that keeps on giving.