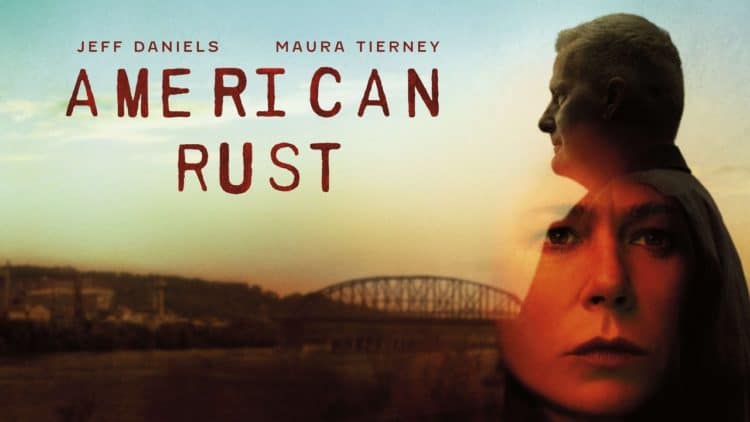 After going through an extended period of time where there was a shortage of new content, it now seems like new shows and movies are coming out every day. The Showtime series American Rust debuted in September of 2021 and was positioned to be the network's next hit. The series centers around a small-town police officer named Del Harris (Jeff Daniels) who finds himself playing on both sides of the law when his girlfriend's son is accused of killing a former police officer. Along the way, Del also finds himself in the middle of a major drug investigation that leads to the discovery of some interesting secrets. Keep reading to learn 10 things you didn't know about American Rust.
1. The Show Is Based On A Book
American Rust is based on a novel of the same name written by Philipp Meyer. The book was released in 2009 and earned several accolades including being named a New York Times Notable Book. Interestingly enough, some of the names in the book were changed for the series.
2. The Show Was Originally Supposed To Be On A Different Network
Even though American Rust debuted in 2021, plans for the show actually began in 2017. At that time, the show was being developed for the USA Network. However, after some hiccups, the series was eventually redeveloped to become part of the Showtime lineup.
3. The Show Has A Low Rating On Rotten Tomatoes
Lots of viewers really seem to be loving American Rust. Unfortunately, though, lots of critics don't feel the same way. As of now, the series has a 28% on Rotten Tomatoes. Anyone who knows anything about the grading scale knows that a number this low is a solid F.
4. The Show's Future Is Uncertain
The end of season one of American Rust ended in a way that left many viewers eager to see what's next. However, the harsh reality is that they may never find out. The series has yet to be renewed for another season, and there are some people who don't think it's coming.
5. The Show Was Filmed In Pittsburgh
American Rust is set in a fictional town in Pennsylvania called Buell. In the show, it is mentioned that the town isn't too far outside of Pittsburgh. In real life, the show was filmed in different areas in Pittsburgh. Filming in the area definitely adds to the authentic feel of the show.
6. Jeff Daniels Is Also An Executive Producer
Not only is Jeff Daniels one of the main stars of the show, but he is also involved behind the scenes as well. He is one of the show's executive producers and he's incredibly happy to be a part of the project. Jeff has been a fan of the book for many years and he believes the story is an important one to tell.
7. The Show Initially Had A Tough Time Finding A Lead Actor
After the show was announced in 2017, the casting process began. However, there was difficulty finding an actor to take on the role of Del Harris. In fact, after making offers for several big-name actors, the casting team hit a dead end and this was a major factor in USA deciding not to move forward with the show.
8. You Can't Follow The Show On Social Media
Now that social media has become a major part of many people's TV daily lives, there are lots of TV fans who enjoy following their favorite shows. Sadly, American Rust fans won't have that opportunity. The series doesn't have official social media accounts on any platform.
9. The Show Will Make You Think Differently About Small Town America
When most people think about small towns, they get an idyllic image of what it's like to live there. In reality, though, small-town life isn't always perfect and safe, and that is something that American Rust really highlights. That said, there are still some elements of Buell that tap into the stereotypical image of small-town America.
10. The Show Has Been Compared to Mare of Easttown
Almost immediately after its premiere, American Rust began drawing comparisons to the HBO Max series, Mare of Easttown. Both shows follow the lives of a local police officer living in small-town Pennsylvania. Murder is at the center of both shows, and both officers are dealing with some issues in their love lives. That said, many of the reviews of Mare of Easttown have been much more favorable. Needless to say, if you like American Rust, Mare of Easttown is a show you should definitely check out.
Tell us what's wrong with this post? How could we improve it? :)
Let us improve this post!