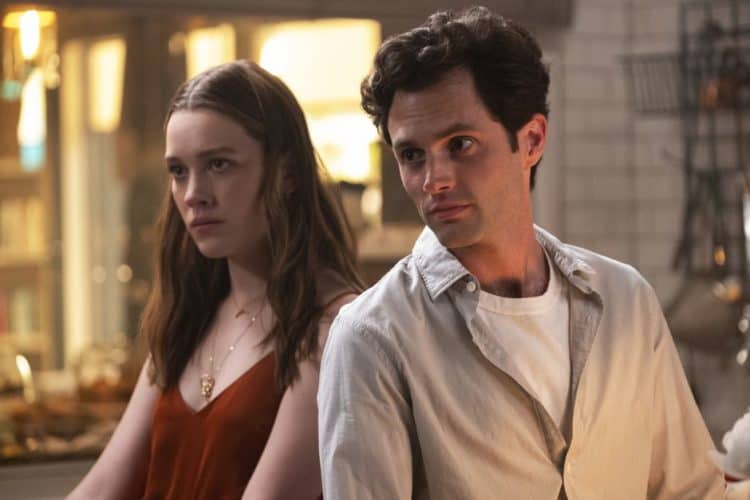 'You' is a psychological crime drama revolving around Joe Goldberg's inner life and psychological problems. It ticks the boxes of elements that make up an excellent psychological thriller, lies, paranoia, and flawed memories. The appropriate timing of the release of this television series is impeccable as the world is going through its psychological traumas. It is pretty relevant and relatable. Who doesn't like a dose of romance and crime wrapped up in one?
Season 2 Ending
Hold up. Before we delve into what to expect in the upcoming season, let's recap how season two ended. We were all left unsure of what would happen next with the cliffhanger that was the last episode of the last season. Joe Goldberg finds himself in a predicament of sorts, with him not so settled in Suburbia, living with his pregnant partner, Love. She is no saint, and Joe considers this whole situation a punishment for all the sins he has committed in the past. A means for atonement for all he had done. Love is a murderer, just like him, since she killed Candace and Delilah in a fit of passion and rage. It seems like the two do belong together, but can a serial killer truly love a fellow serial killer?
Netflix ordered the third season of this psychological thriller television series on January 14th of 2020. The season came as a welcome surprise to undying fans of the deranged Joe Goldberg and his newfound love, Love. Production began in February 2020 but stopped due to the COVID pandemic. It resumed in November 2020. The two previous seasons borrowed inspiration from two books, You and Hidden Bodies by Caroline Kepnes. However, it is unclear whether her third book, published on April 6th of 2021, will influence You's third season. Sera Gamble (co-producer and showrunner) stated that some episodes in the crime drama might highlight some aspects of the book.
The Twisted Plot
The drama and tension that ensued by the end of season two were just the tip of the iceberg. Season 3 promises more tension-packed scenes as Love and Joe try to make their family work in a new town with their newborn baby boy. Joe isn't very settled, though, and in no time, he spots their neighbor Natalie, who becomes a new subject of his obsession. Love doesn't take well Joe's new obsession since she is bent on making her relationship work. Natalie wants to be the only one Joe sees. Does she succeed, or will she have to murder someone else to get Joe to see her truly?
Production Crew and Cast
You was written by Greg Berlanti, Sera Gamble, Caroline Kepnes, April Blair, Adria Lang, Kelli Breslin, Neil Reynolds, and Michael Foley. Greg Berlanti also doubled up as the Executive Producer. In this new season, we see Sera Gamble take up the role of Co-producer and Showrunner. Most of the actors in Season 2 will be reprising roles, such as Victoria Pedretti (Love) and Penn Badgley (Joe Goldberg). Others are:
Jack Fisher, who plays young Joe
Saffron Burrows (Dottie Quinn-Love's mother)
Mauricio Lara (Paulie-Joe's close friend in his formative years)
Scott Michael Foster (Ryan- Reporter and single dad who's a recovered addict)
Shannon Chan-Kent (Kiki-a life coach)
The New Faces
Shalita Grant (Sherry) – A "mom-influencer" who pretends to be friendly and down-to-earth. Sherry befriends Love, and we later discover that she is very mean.
Travis Van Winkle (Cary) – He comes in and befriends Joe, making him a close member of his inner circle.
Scott Speedman (Matthew) – He plays a successful CEO, husband, and psychologically absent father. He is reserved, mysterious, and always appears withdrawn.
From these character descriptions, it seems there will be more presentation of derangement and psychological issues as if Joe's and Love's were not plenty enough. Sources have confirmed that John Stamos will not be joining the cast for the third season. He played the role of Dr. Nicky that many fans will be sad to see leaving the show. Undeniably, it is no doubt that the previous plus new cast is out to give us a run for our money when it comes to stellar performances. 'You' has a storyline that requires top-notch acting, character development, and casting. In this case, all these were done perfectly to achieve this superb outcome.
For a show that was shot during the pandemic, Sera Gamble spilled that they had to conduct 32,000 COVID 19 tests because, as we all know, You contains several vital romantic scenes and murder-type contact. The plot wasn't going to be compromised at the expense of the show's success. Production ended on April 23rd of 2021, and the cast and crew achieved what no other production has managed to do in the pandemic; maintain the lowest number of positive cases.
Release Date
'You' is expected to come in hot and fresh on our TV screens in October of 2021. The 15th, to be specific, on Netflix (who made the official announcement). The ten episodes are entirely captivating to keep viewers at the edge of their seats once again after an outstanding two previous seasons. The show that previously aired on Lifetime seems to have attracted the viewers' attention across all spheres and has become the talk of the town as more and more people rush to watch the previous two seasons" episodes in waiting for season 3. If you enjoy an excellent psychological crime drama, You is undoubtedly for you! I promise you'll feel all manner of emotions as the previous episodes didn't disappoint in the delivery of tension, anger, love, romance, and revenge. In the words of Joe Goldberg, "See you soon, neighbor."
Tell us what's wrong with this post? How could we improve it? :)
Let us improve this post!