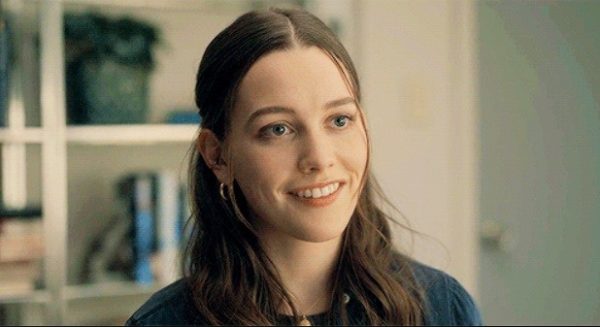 You know Victoria Pedretti from her role in the very popular Netflix series, "The Haunting of Hill House," but also for her role in the very exciting series, "You," in which she makes us all feel good about her skills and talents as an actress. What you don't know about her is that she's young, she's vibrant, and she's still up-and-coming in a way that will make her name a household name before much longer. She might not be the type who has changed the world just yet, but she is getting there. She's got a long career ahead of her, and we cannot wait to see what else she's going to do. On that note, we thought we might learn a bit more about her.
1. She Grew Up in Pennsylvania
Born and raised in Pennsylvania, she was a child who didn't move around much as a child. She as born on March 23, 1995, which means she's still quite young. She went to high school near the home she grew up in. She spent her childhood in a very familiar location, which is a nice feeling for some kids who get to say they have a hometown.
2. She Studied at Carnegie Mellon
When she finished high school, she began the art of acting at Carnegie Mellon. She took her studies to the School of Drama there, and she worked hard to refine her skills and talents, which is something she's very good at doing. We appreciate her desire to be better and to do better. Carnegie Mellon is a prestigious school, and it's one that takes their drama lessons very seriously, as you can see by her skills.
3. 2017 Was A Big Year for Her
When 2017 rolled around, she was doing some big things and making some big changes in her life. She was taking on the role of graduate in her real life. She finished her studies and earned her Bachelor's Degree from Carnegie Mellon that year, and she also finally got her big role in her first Netflix series. It was a big year for her, and it's one that she will likely credit one day as being the biggest year of her life, the year that began it all and gave her a foothold into a career that doesn't really allow that man people to come in and earn so much fame.
4. She's Taking A Lead Role
In 2019, she was offered the role of a lifetime. She's going to become the main lead actress in the hit series "You," on Netflix. If you remember correctly, this is the series in which former "Gossip Girl," star Penn Badgley works for a bookstore, and he likes to find and fixate his love and entire being on one woman. He follows her, sneaks into her life, kills people who make her unhappy, and does everything he can to make her feel like she is the most important person in the world — until he kills her for being suspicious of him. Now she's the next girl, and this should be some good stuff.
5. She Becomes the Role
She doesn't walk onto a set and hope for the best. She likes to take the role and make it her life for a while so that she can make things work better. She did that for her new role in "You," which makes her a grocery store manager who dreams of becoming a famous chef in LA, and she's nailed it. She moved there. She did all the LA things. She became the woman.
6. She's A Family Girl
She might not put much of her personal life out there for all of us to see — because she likes her privacy — but her social media accounts tell us a different story. They tell us that she loves things like her life and her family, and she is very close to them in a way that makes he feel good about posting photos. It looks like she grew up happy and with people who cared deeply for her.
7. She Loves Dogs
Who doesn't love a person who loves dogs? If you needed a reason to like her a bit more, this is your reason. She's a dog lover and a woman who likes to make sure she shares that with the world. People who love dogs tend to be good, down-to-earth, happy people who like to make the world a better place. They are the kind who like to do things that make them happy, and loving dogs does that for her.
8. She's A Pasta Lover
Okay, so on top of loving dogs, she also loves pasta? We cannot help but love that about her in every manner of speaking. She's your everyday girl next door kind of girl with loves like that, and we are not upset about it. She's a person who loves to have what she loves, and she doesn't shy away from things like that in an effort to be herself.
9. She Doesn't Like Scary Movies
Ironically enough, she's not a fan of the scary movie situation. She doesn't really watch them. She doesn't know much about them, and she's never been into them. She says she finds that the world in general is a scary enough place, so she didn't feel the need to make it scarier by involving more fear into her life. But, she's the scream queen these days, so we guess that worked out for her.
10. She Loves Penn Badgley
We loved him as Dan on "Gossip Girl," and we also loved him and his creepy ways on "You," because the found the perfect balance of being a totally amazing and loving boyfriend who supports his girlfriend all the way through — except for the whole creepy stalker and killer thing — and we cannot help it. She can't, either. She loves him and his personality. She finds him warm and sweet, and an amazing actor. She said that he was in a weird place being the only really original character left from the last season, so they were 'new' together.
Tell us what's wrong with this post? How could we improve it? :)
Let us improve this post!