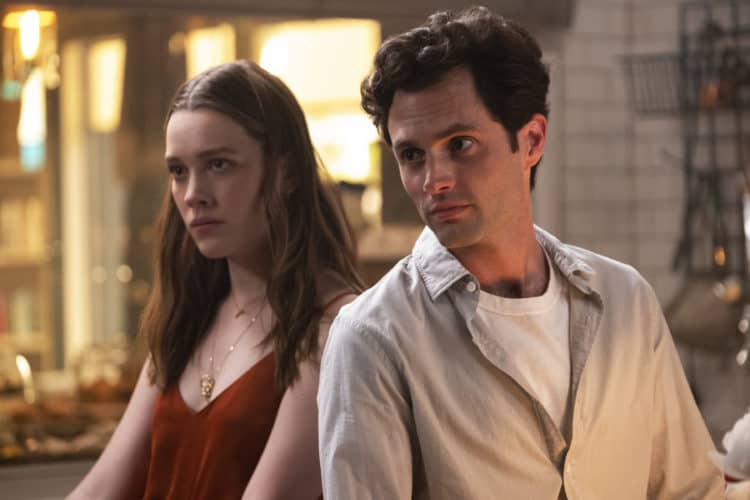 One of television's favorite stalker-slash-serial-killers is back with a vengeance. Netflix's hit psychological thriller series, You, has returned for its much-awaited season 3, and it is more intense and deadlier than ever. The season might have received mixed reviews from viewers, but it still makes up for an entertaining and binge-worthy watch. Here are the five reasons why we think the season 3 of You outdid its past seasons:
5. The change of setting is a breath of fresh air
The season is set in the idyllic Californian suburb of Madre Linda. Joe Goldberg, portrayed by Penn Badgley (Gossip Girl), together with his wife, Love Quinn-Goldberg, portrayed by Victoria Pedretti (The Haunting of Hill House), and their newborn son, Henry, are determined to have a fresh start after escaping a dark past in Los Angeles. Little do the athleisure-wearing and Keto diet-loving residents of Madre Linda know what's about to shake up their own tiny posh bubble. Joe and Love try their best to fit in with their neighbors. They attend birthday parties, and try making friends. Seeing them attempt to live normal lives is interesting and thrilling, as you'll never know what can trigger them, and set them off on another killing spree. The series is known for its unpredictability. This new environment adds a whole lot of layers to the show, and gets the element of surprise going.
4. We see "growth" as an ongoing theme this season
We see Joe and Love attempting to become better versions of themselves this time around. They acknowledge their past mistakes, and make an effort to make their marriage work for the sake of Henry. This is a far cry from the events that transpired in season 2. Even though it does no take long for the characters to go back to their old ways, we are able to witness the conscious effort to change. After all, old habits die hard. The season progresses with Joe more in control of his emotions, while Love struggles with her impulsiveness. This contrast in characters is a highlight of the season, and leads to a gripping chain of events.
3. The new characters are more unpredictable than ever
Apart from Joe and Love, the long-time residents of Madre Linda are also composed of the most interesting personalities. There's the famous mom influencer, Sherry Conrad, portrayed by Shalita Grant (Santa Clarita Diet), and her charismatic husband, Cary, portrayed by Travis Van Winkle (Accepted), who scream modern-day millennial couple from every aspect. There are also Joe and Love's next-door neighbors, The Englers, who are composed of real estate agent, Natalie, portrayed by Michaela McManus (One Tree Hill), her mysterious CEO husband, Matthew, portrayed by Scott Speedman (Animal Kingdom), and Matthew's son from a previous marriage, Theo, portrayed by Dylan Arnold (Halloween). The complications start when Joe falls prey to Natalie's charms. This quickly catches up on Love's radar, and the madness unfolds. The season progresses with more lives becoming intertwined. Theo develops a serious crush on Love, while Joe finds the next apple of his eye in the form of his colleague and head librarian, Marienne Bellamy, portrayed by Tati Gabrielle (Chilling Adventures of Sabrina). These are just some of the character connections to watch out for. Joe and Love are known to be relentless in their pursuits. It's safe to say that Madre Linda will never be the same again.
2. The different types of relationships are explored in the most unique of ways
The season explores different kinds of relationships. Joe and Love try their best to settle down, and give Henry a normal childhood, while Love's erratic and grieving mother, Dottie, portrayed by Saffron Burrows (Mozart in the Jungle), continues to wreak havoc in Love's life. There are also a couple of flashbacks from Joe's childhood that allows viewers to get to know him, and understand him more. The next type of relationship that is explored is the romantic kind. The characters in the series are revealed to have past traumas of all sorts. This heightens emotions, and brings passion to a whole new level. It doesn't matter whether the relationships are rooted on love or lust, the characters are all single-minded on their goal to get what they want.
1. The sustained momentum that kept us all at the edge of our seats
The show's creators have mastered the art of cliffhangers and plot twists, you'll never know what's about to hit you next. This is what makes the series appealing, and keeps the viewers wanting for more. Luckily for the show's fans, the series has been renewed for a fourth season. The new season will then again take its viewers to a whole other setting, or continent, for that matter. The stakes are at an all-time-high, and the next chapter of their lives is a blank canvas. The show knows suspense like the back of its hands. Leave it to the creators to come up with another unusual plotline that will leave us all astounded once again.
Tell us what's wrong with this post? How could we improve it? :)
Let us improve this post!