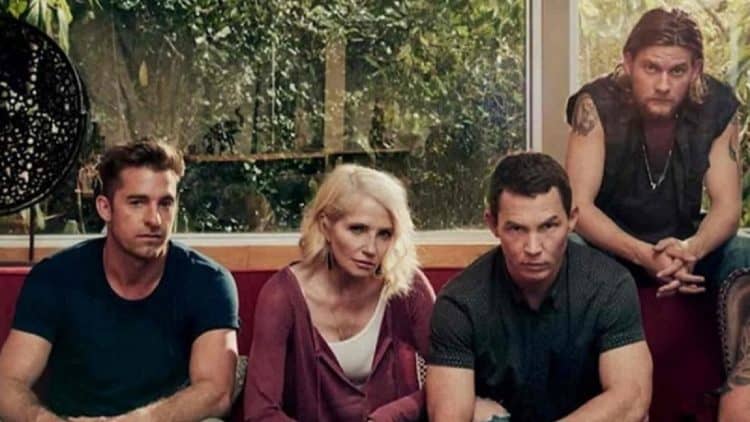 Back in 2010, "Animal Kingdom," was nothing more than a film being made in Australia. Now, it's one of the biggest shows on television. The hit TNT show follows the Cody family. They're known criminals who do not make good choices. When a teenage boy loses his mother, he has no choice but to go live with the family he has no relationship with. The Codys are known for their criminal ways, and he and his mother did not have much in common with them. The show aired in the summer of 2021 for a fifth season, and it was also renewed for a sixth (and final) season. Here's everything you need to know about the season five cast.
Leila George as Young Janine Cody
She's Australian-American, and she's famous for her very short marriage. She married famed actor Sean Penn in 2020, and they filed for separation in September of 2021. In October of 2021, George filed for divorce after more than five years together. She plays the young version of Smurf, the matriarch of the Cody family who is borderline creepy with her own family. Her version of the character allows us to see how the character of Smurf got her start in the criminal world and why she's been the way she's been for the past four seasons.
Shawn Hatosy as Pope
He plays the role to perfection. He's the eldest son in the Cody family, and he suffers from severe mental illness, including OCD. Hatosy has been active in the acting industry since 1995, making him well-known and highly practiced at the craft. He's known for roles in shows such as "Southland," and movies such as "Alpha Dog".
Ben Robson as Craig
Being the middle child is tough in any family, but being the middle child in a crime family might be the worst. He's got a relationship with drugs and trouble, and no one ever knows what he might do in any given situation. Robson himself is an English actor known for his roles in films such as "Dracula: The Dark Prince," and more. He has really made a name for himself in this role.
Jake Weary as Deran
He's the baby of the family, and he will do anything in his power to stay as far away from the family as possible. He wants to run his business as legally as possible, to distance himself from the craziness that is his legacy, and he just wants to enjoy his life surfing and looking for love with the right man. Weary is well-known as an actor. He's starred in "As the World Turns," "Chicago Fire," and more. He has been an actor since 2002.
Finn Cole as J
He's the kid the show follows. His mom died, and he has to go live with Smurf, the grandmother he hardly knows. J's mom was Pope's twin, and she did all she could to distance herself and her son from her family. However, J is not familiar with his family overly much from being away from them so much, and so he's not that afraid of his crazy grandmother – he challenges her and makes her crazy – which is something her own kids will not do. Cole is an actor from England who got his start in the hit BBC show "Peaky Blinders," before taking on this role.
Jon Beavers as Young Jake
He was a recurring character in the fourth season, but he's making his presence well known in the fifth. He's the kid who was once a friend – and former lover – of Smurf. They ran in the same gangs she was creating when she was younger, and he is a major part of how she got her start in the criminal world. Beavers is a writer who has created some wonderful works, and he is happy with the way his career has progressed thus far.
Rigo Sanchez as Young Manny
Young Manny is a former recurring character from season four, but he's a main in season five. He was the man who led Smurf's gang in the 70s, but we will get to see how things turn around for all of them as he continues to show us how he was back then. He had a ruthless mindset and was not afraid of anything, but we all know Smurf is crazy and that he likely should have been very afraid of her in the day. Sanchez's very first role on television was a guest appearance on a hit show called "The Shield" and it only propelled him further in his career.