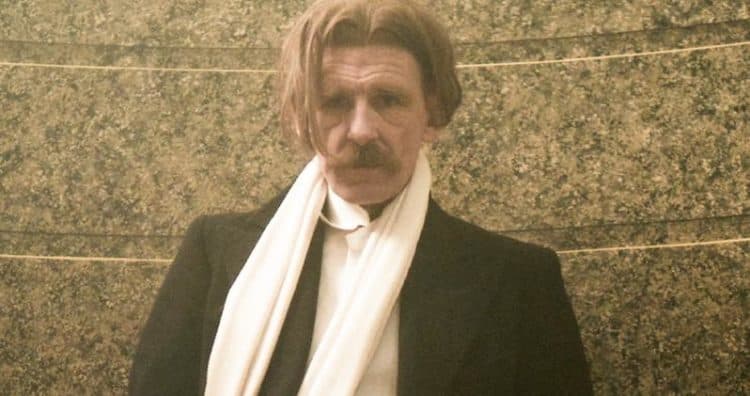 Arthur Shelby is by far one of the most strung-out looking individuals to ever grace a TV show, and Paul Anderson creates this look so perfectly that one can barely recognize the guy when he's not in character. From season 1 all the way to the upcoming season 6, which will reportedly be the last season of the show, Arthur has been the hotheaded Shelby brother that's constantly been on the verge of snapping and going one way or the other since between his PTSD and his illicit habits he's been a loose cannon that Tommy has had to deal with repeatedly in several ways. In season 6 it's fair to say that he's already looking disheveled and less than sure of himself as always, but for some reason, this still isn't rock bottom since Arthur is simply the type of guy that can look dapper and sure of himself and then look as though he's been on a bender for several days in the next instant. The character has a head full of loose wiring to put it lightly and it's been interesting to watch him over the course of five seasons as he continues to unwind only to straighten back up and then unwind again, kind of like a fishing reel that catches a snag every now and then. He has been a dependable brother at times and he is a good person to have about in a fight since the guy can go absolutely savage in an instant if he needs to. But Arthur has been a huge liability over the past several seasons as well, and if it was only him that posed a problem to the Shelby's then it might be easy to handle or take care of, however, the family decided to handle him. But the truth is that the rest of the Shelby's have their own unfortunate quirks as well, and there's a lot of the pot calling the kettle black that goes around the family from time to time.
Paul Anderson returns as Arthur Shelby in #PeakyBlinders series 6.

📷 Robert Viglasky pic.twitter.com/Qc9FJPVwaK

— Peaky Blinders (@ThePeakyBlinder) May 14, 2021
Arthur has been more or less loyal to his brother Tommy for much of the series, as his adherence to the family often pains him even though he comes back for more. To his family, he's been everything from a stone around their neck to a valuable asset to a brother they love but can't always deal with. The thing is, when Arthur is lucid he's actually quite useful and is able to work with Tommy and pretty much anyone in the family without fail. But when he's drinking or high he becomes a huge liability and could do pretty much anything, which is a problem sometimes when his impulses don't align with the will of the family. To say that Arthur has had a rough go of it is definitely putting it lightly since the guy is one of the strongest members of the family, but he's also one of the most unpredictable. Trying to control Arthur isn't hard if one has the means and the wit to do it, since Aunt Polly and Tommy have been able to handle him more or less over the years. But they've also been careful with what they say to or do around Arthur since they know how volatile he is and the fact that he could easily flip if given half a chance. How he'll end up by the end of season 6 is hard to say, but if he's still around for the spinoffs that might come or the movie, then it's bound to happen that he'll meet up with someone that will be the end of him eventually. With Arthur, it really feels like a matter of time to be certain.
https://twitter.com/ThePeakyBlinder/status/1382711153948778500?ref_src=twsrc%5Etfw%7Ctwcamp%5Etweetembed%7Ctwterm%5E1382711153948778500%7Ctwgr%5E%7Ctwcon%5Es1_&ref_url=https%3A%2F%2Ftvweb.com%2Fpeaky-blinders-season-6-paul-anderson-arthur-shelby%2F
Another character who will be returning is Lizzie, Tommy's second wife and mother of their daughter, Ruby. Lizzie has certainly risen throughout the ranks over the course of the show, as initially she was going to marry Tommy's brother John but was dissuaded by Tommy since her profession as a prostitute made her appear unfit for marriage in Tommy's eyes. Eventually she would become his secretary, and then later on his second wife. Lizzie has had to put up with a lot while working for the Shelby's and it's hard to believe she's been there for so long. But money is a great motivator, and at some point, loyalty becomes at least part of the equation. But with Tommy still haunted by the memory of his first wife, Grace, it's yet to be seen how things are going to shake out and how Lizzie will deal with the fact that she has to contend with a memory so often. The show has been gaining more and more traction with the last few seasons, so it's fair to say that people are now excited to see how it will end.