After taking a week off for the President's State of the Union address, we welcome back our favorite new TV family. If you missed the last new episode, "Fifteen Percent," check out a recap here.
Tonight's episode of Modern Family, "Moon Landing," explored how people worry about how the outside world views their family, and how that view reflects on them personally. The episode begins with the Dunphy clan making breakfast. Alex is collecting bottles for a charity that builds schools in Africa. A school made out of bottles sounds really cool to Luke. "That would be a special school. Hear that parents? I said 'special'," Alex says as she gestures toward Luke. This brother/sister mocking is the least of the family's problems. Haley reports the she just broke up with Dylan. "Noooooooo!!!" Phil bemoans. He'll just have to text Dylan later to make sure he's OK. Claire tells them she is going to meet her old coworker, Valerie, for lunch today. The kids are incredulous that their mother used to work. Oh yes, Claire used to wear sneakers to the office and change into pumps and everything. It was very Working Girl. "Ah, that movie so clutch!" Phil notes. Anyway, Claire quit because she wanted to focus on starting a family, so she married Phil. "And five months later…," Phil starts, but realizing what he is about to admit to, corrects his math, "…we were four months from having Haley." A (more?) uncomfortable conversation is avoided for the moment.
Mitchell and Cameron head over to Jay and Gloria's. Gloria has enlisted Mitchell to represent her after she got into a minor car accident. Cameron is very proud of Mitchell's skill as a lawyer. He wants Mitchell to become a Supreme Court justice. "Why, Cam?" Mitchell wearily implores Cameron. "So I can say my partner is one of the Supremes!" While Gloria takes Mitchell out to the scene off the accident, Jay and Cameron are off to the gym to play racquetball. Both are avid players so Cameron (as former Toganock, Missouri Recreation Center two-time champion) has challenged Jay to a match. Jay has tried to avoid the match-up for months. See, one of the reasons Jay goes to the gym is for the locker room atmosphere. How is he supposed to handle the locker room with a gay guy? To Jay, it's just a locker room, but to Cameron, it's a show room. Jay relents though, and agrees to the showdown. In the locker room, Cameron registers his surprise that Jay wears boxers; he's always pictured Jay in tightie whities. "Next time you picture me, leave out my underwear," Jay requests. The two shed their underwear, and accidentally touch butts! Jay freaks out. Was that really, Cameron wonders, Jay's first "moon landing?" "You have a name for it?" Jay incredulously asks. " Of course. When it happens after a shower it's called a 'Splashdown.'" Jay is left mortified.
On his way home from work, Phil pulls over when he notices one of his real estate bus bench ads has been defaced. It has been "Tom Sellecked," with a burly mustache drawn on Phil's picture. He, at first, complains about his ad's treatment, but then becomes mesmerized by the 'stache's allure. It doesn't take a genius to see where this is going. Back at the Dunphy home, Haley is still yelling at Dylan on the phone while Phil, too, is on the phone trying to assuage the fears of a client. When they both get off the phone, Phil turns to offer his daughter advice on Dylan, and reveals a good "ol' soup strainer" on his upper lip. He dug the mustache out of the Halloween costumes as a way to improve business. "Do people want real estate advice for someone who leads or someone who follows?" He thinks mustaches are making a comeback. It's best to buy low and sell high on the trend. Clients are going to see his 'stache and say, "That guy is high!" Indeed. A construction worker with a gorgeous fu manchu mustache knocks on the door. He tells Phil that due to some work on the water main, the water will be shut off for the next couple hours, so the family will have to use the port-a-john outside. Phil says thanks and compliments the guy on his mustache. "You too, brother." Elated, Phil basks in his acceptance into the brotherhood.
At a restaurant, Claire shows Valerie (played by Minnie Driver) a picture of her family. She has wonderful children, and things are good with "Phil the Thrill," as Valerie remembers him. Valerie clutches Claire's hand so tight as Claire goes on about her family, that Claire can only assume Valerie is jealous of the life Claire has built for herself. Valerie continues complaining (or is she bragging?) about work, even though she is now one of the executives at the hotel company she and Claire used to loathe. She points out that Claire would have had her job had she stayed. To this realization Claire only has one response: chugging down a full glass of chardonnay.
Across town, Gloria takes Mitchell and Manny on a survey of her accident site. She explains that, out of nowhere, a car leaped out and cut her off. Mitchell can't stand how inconsiderate some drivers are. He's been much more considerate now that he has Lily. He used to not let people in, but now he does — this metaphor does not go unnoticed. Manny, it seems, was the only witness to the accident, but stammers that it all happened so fast, he doesn't know what really occurred. As Gloria crosses the street to get a table at the Cup 'n Cakes Cupcake Cafe, Manny stays behind with Mitchell to tie his shoelace. Manny, who has clearly watched too many spy movies, rats out Gloria: the accident was all her fault. "Don't look at me. Take some pictures. She'll know something's up!" Manny warns Mitchell. He continues, "She's a terrible driver. She's a danger to us all!" Gloria can't take criticism about her driving. In fact, one time a 90-yr old woman yelled at her, and Gloria got so mad,that she honked at the lady so long , the horn ran out. Manny ends the dime-dropping, "I can't say anything more," and crosses the street to meet his mother. Mitchell is left bewildered, asking Lily, "Are you hearing this?"
Meanwhile, Cameron is opening a can of whup-ass (no pun intended) on Jay on the racquetball court. Jay complains that he's too distracted about what occurred in the locker room. It's unnatural. Gay guys might be comfortable with it, but Jay is not. "Sure, when you're gay you just walk around giving butt bumps to everybody. It's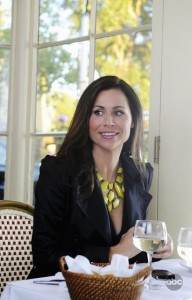 like a high five. A low two," Cameron says. Jay wants to prove he lost only because of his distraction; he wants an immediate rematch. "You want to go up against me again?" Cameron playfully asks. "Yes…No…Damnit!" Mitchell interrupts the commencement of the rematch when he calls Jay to find out if he knew Gloria caused the accident. "Yes. She's a horrible driver. If she hit ten cars I wouldn't be surprised," Jay nonchalantly tells his son. Then why did Jay get Mitchell involved? "Someone has to tell her…and better you than me." "It doesn't bother you in the least that your gay son is the only one tough enough to stand up to your wife?" Mitchell mockingly asks. Not in the slightest. "Go get 'em, Rocky," Jay says and hangs up.
At lunch, Claire asks Valerie if she's regretted not settling down and finding someone serious. Nope, it's fun being single. As she checks her phone again, Valerie explains she's waiting for a phone call. She's waiting to hear about a possible promotion to the "Paris job" (head of the hotel's international division), the most coveted job in the company. It would be great for Valerie because one of her lovers is in Paris. Claire "doesn't know what jumps out of that sentence more. 'Lovers' or 'one of.'" Valerie explains she has a lover in Paris, one in New York, one in Miami, one in…..somewhere that she just can't quite remember. As she tries to figure it out, Claire mentions that she vacuums under the dust under the refrigerator. The awkwardness is broken by Valerie's cell phone, during which Claire confides she's not a "lover" of Valerie getting the job everyone covets. Despite her feeble attempts to hide it, Valerie announces she got the job. Claire wonders why Valerie didn't just tell her when immediately. When Valerie doesn't answer Claire comes to a realization: Valerie isn't jealous of Claire. Valerie pities her! What Claire wants to do is invite Valerie over the house to show her what she's missing in her "childless, husbandless life," but she's going to take the high road. "Why don't you come over?" she asks Valerie, before starting on how wonderful her kids are. "San Francisco. That's where my other lover is," Valerie remembers, cutting off Claire.