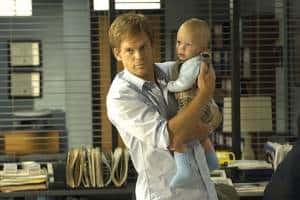 It's tough being a single dad. A difficult balancing act between work, relationships, and "me" time. Especially when that "me" time involves stalking your next murder victim and pulling corpses out of a barrel.
After last week's stellar return, 5.02 had a tough act to follow. It had its moments, but was rather sluggish, as is typical of early episodes in Dexter seasons as they start to build all the pieces that will come crumbling down later.
Dexter (Michael C. Hall) was back to his absurd rationalizations as he unsuccessfully attempted to focus on the kids. To be a better father, he would have to be a better killer. Kind of like saying the best way to get sober is to stop drinking and pick up heroin.
It had to end this way though, didn't it? No way we were going to see Dexter dragging Astor (Christina Robinson) and Cody (Preston Bailey) around all season long. Count me as grateful, as some of the scenes between them were a bit painful to watch (and not in a good way). Telling Astor that he loved her was another big step for Dexter. But did anyone really believe him when he told Deb (Jennifer Carpenter) that he had genuinely tried to make it work?
Meanwhile, Batista (David Zayas) and Maria (Lauren Velez) stole more valuable time from us. I loved these characters until they started eye-humping each other. Now they have absolutely nothing to do. It was tolerable last season. But tonight was just silly. Dexter is not a show to explore why men get so insecure when women have more money than they do. There's so much the writers could do with these two. It's just that so far nothing they've done has amounted to anything. I trust these writers, however. They've never let us down in previous seasons and I don't expect them to here. I just hope we get to see something come of it soon.
Boy, does Dexter have luck finding serial killers! Of all the moving van companies… Dexter's new prey, Boyd (Shawn Hatosy) scores high on the creep meter (there's something extra disturbing when you throw the killing of animals into the mix), but after Trinity, it still seems like child's play. Of particular enjoyment was Boyd's self-help tape. "Do you want to have control in your life? If you want something, take it!" (If anyone knows where I can get this self-help series please send me a tweet.)
Every kill teaches Dexter a valuable lesson about his own internal struggle. Dexter believes that the only way to control his life his to continue killing. Perhaps Boyd will teach him a thing or two about how much further you can get by trying to let go.
And of course, "Fat Sausage Fingers" (Desmond Harrington) is the only one who can recognize Dexter in those sketches. Maria, apparently, is too busy rolling around in her pile of cash to notice that it looks exactly like him.
Let's keep Masuka (C.S. Lee) as the blood splatter analyst for awhile. The brain matter was priceless.
Favorite Dexterism: "Is he CSI'ing me?"
Grade: B-
Tell us what's wrong with this post? How could we improve it? :)
Let us improve this post!