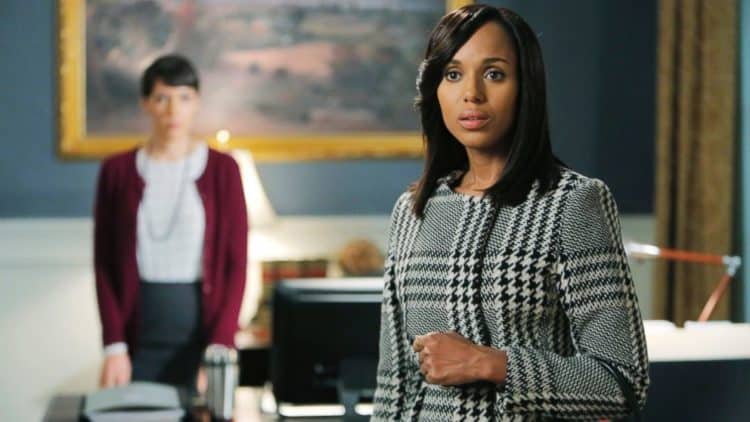 Throughout Scandal's seven-season run, we saw Olivia Pope ( Kerry Washington) at her best and worst. During the lowest moment, she was kidnapped and tortured, thanks to Vice President Andrew Nichols' ( Jon Tenney) attempt at starting a war. During her highest moments, she was the tough-talking, jaw-dropping boss who put her work above everything else and left us with hard-hitting one-liners to decode. Here are some of Liv's famous lines:
1. " It's Handled."
Right off the bat, Olivia Pope was a no-nonsense woman who got the job done. Whether she was cleaning up the mess of some Washington big shot or juggling between her different love interests, the power and ease with which she handled difficulty only proved she was a chip off the old block. As Rowan Pope (Joe Morton) would put it, the apple did not fall far from the tree, no matter how poisonous it could have been. When anyone walked through the doors of Olivia Pope & Associates, they knew they would get the best of her and her team. One of her most famous one-liners came from a mess that hit close to home. Amanda Tanner (Liza Weil) claimed to have had an affair with President Fitz ( Tony Goldwyn). Prior to taking on Amanda as a client, Olivia ripped her to shreds at a park, citing her sexual history and family issues. At the end of it all, she walked away from a disturbed Queen Perkins who was clearly shocked by how ruthless Olivia was. " It's handled," Liv said over the phone.
2. " You Have To Be Twice As Good."
Even though Olivia Pope owed much of who she became to her dad, Rowan, things were not always rosy between the daddy-daughter duo. One of their earliest confrontations came when Rowan volunteered to clean Olivia's mess. Not one used to being on the other end of the cleanup, Olivia tried to fight Papa Pope. All lovers of Scandal understand that, when it comes to a war of words, Eli Pope is not the one to go head to head with. He owned Olivia to say the least. At that moment, she wasn't the fixer we'd all known her to be. She was Rowan's daughter. And he was ready to pay for her to get away from the madness, even if it meant buying the silence of the pilot. Pope, knowing the ins and outs of the government, made her reiterate what he had told her all along. " You have to be… what?" He asked Olivia. Almost as if she was lost for words, Olivia fumbled as she repeated Rowan's teaching. " Twice..as..good." Rowan knew the game of power all along. And it was about being twice as good as them to get half of what they have.
3. " If You Want Me, Earn Me!"
The relationship between Fitz and Liv had its twists and turns. Even though the pair got the happy ending they deserved, preferably somewhere in Vermont, it's hard not to consider the ups and downs and Jakes in between. Olivia herself was torn between being in the woods with Fitz or standing in the sun with Jake ( Scott Foley). In one of those moments when she was going back and forth with Fitz, he wanted her to go to the White House, but Olivia was adamant about not showing up. She changed her mind when Fitz said he would come to her instead, and showed up at the Oval, infuriated. Like the boss that she was, Olivia thought that Fitz assumed she didn't have a life and was always at his mercy. She was quick to point that out. " You do not summon me!" she yelled. According to Liv, their relationship had run its course. She was tired of Fitz's game of getting her hopes up, only to disappoint her. " I am not a toy you can play with when you are bored or lonely, or horny. I am NOT the girl the guy gets at the end of the movie. I am not a fantasy. If you want me, earn me!" Liv told an astounded Fitz.
4. " My White Hat Is Bigger Than Your White Hat."
Olivia had her fair share of foes. Some of her closest friends like Cyrus Beene (Jeff Perry) eventually became foes, but her longstanding battle of white hats with the other person who stood more for the truth than she did, David Rosen ( Joshua Malina), stole the show a few times. Unlike Rosen, Olivia Pope ran a different kind of law firm. A type Rosen was not particularly fond of. " I am the good guy. The law is on my side. I am the law. The law is me." Rosen would say. The best show of their rivalry came when Queen Perkins was introduced to Olivia Pope and how they operated. OPA was assigned the task of handling the case of Travis Harding (Michael Cassidy), who was accused of rape. Olivia and her team Sabotagd Rosen's attempt at getting Harding to face the law, making him threaten to arrest Olivia right there. " You could, but, being an upholder of the constitution, you'd need an arrest warrant, wouldn't you? Do you have one of those? My white hat's bigger that your white hat." Liv boldly proclaimed.
5. " A Woman In Power Is A Nasty Woman."
It's not every so often that a man's former mistress would find themselves heading the presidential campaign of their nemesis, the man's ex-wife. In the world of Olivia Pope, this was very likely true. One really wouldn't know what to expect. One minute she'd be playing the first lady, talking chinaware with other presidents' wives, and the next moment she'd be in her office, going over a draft of Mellie's (Bellamy Young) book. It was, therefore, no surprise when Mellie chose Olivia to lead her presidential team. The pair had a couple of powerful moments, transitioning from enemies to power sisters who run the White House together. As to who was the actual boss, that's a no-brainer. One time, Olivia hit Mellie with one of her most powerful speeches yet: "…It's not over. You have never been and never will be anyone's puppet. You are about to be the first female president of the United States, do you have any idea how incredible that is? How impossible? They almost handed this job to a man who had been in prison over giving it to you. Why? Because a woman in power is a nasty woman."
Tell us what's wrong with this post? How could we improve it? :)
Let us improve this post!