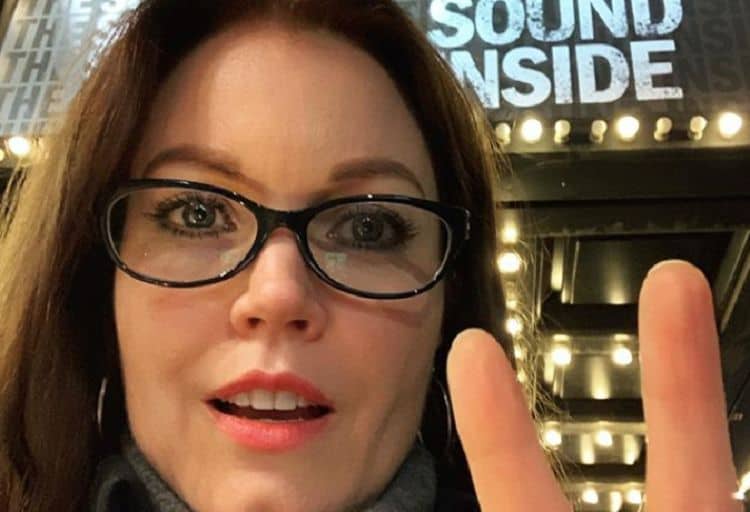 It might have taken Bellamy Young a little longer than some to land a starring role, but she's more than made up for it since. Best known for playing First Lady Melody "Mellie" Grant in the ABC drama series Scandal, the 49-year-old actress has been making waves again recently in her new role as Jessica Whitly on Fox's Prodigal Son. Find out more about the actress with these ten quire-fire facts.
1. She was adopted
Young was born Amy Maria Young in Asheville, North Carolina. She was given up for adoption after birth, spending 6 weeks in foster care before finding a permanent home with her adoptive parents. Although she never knew her birth parents, they had an impact nonetheless. "We only had two lines on my dad and a paragraph on my mom," the actress told People. "It said she loved to sing, so my (adoptive) mom would find any way to let me perform." After her adoptive dad died when she was 15, his best friend, Bill, took on the role, proving such an influence that when it became time for Bellamy to choose her stage name, she chose Bellamy (a combination of Bill and Amy) in tribute to him.
2. She started her career on stage
After graduating from Yale University, Young spent a summer at the British American Drama Academy before beginning her career in earnest. Her first steps were on stage, and by the mid-1990s, she had several on- and off-Broadway productions under her belt, including the original production of The Life, Stephen Sondheim's musical Merrily We Roll Along (1994), and Randy Newman's Faust (1995—1996).
3. She made her TV debut in Another World
After deciding to widen her career to include TV and film, Young made her small screen debut in 1995 with the recurring role of Dr. Courtney Evans on the daytime soap, Another World. For the next few years, she had numerous guest starring roles on shows such as Law & Order, The Drew Carey Show, Nash Bridges, The X-Files, The District, ER, and Frasier before picking up her next big gig with a recurring role on For the People. Since then, she's made her name on the likes of American Dreams, Scrubs, CSI: Miami, Criminal Minds, and most famously, Scandal.
4. She was named Breakout Star of 2014
In 2014, two years after starting her 6-year tenure on Scandal, The Daily Beast named Young the show's "Breakout Star". It wasn't only the Beast she impressed: as the First Lady Melody "Mellie" Grant, Young drew rave reviews all round, with Robert Rorke of The New York Post writing "In Mellie, the show has its most fleshed-out character and in Young, its most compelling performer", and the award jury at the Critics Choice Awards handing her a Best Supporting Actress in a Drama Series title.
5. She's a vegan
We might all be jumping on the vegan bandwagon these days, but Young's been living the cruelty-free life since 1988. Her animal-rights advocacy doesn't end there: as well as saying "No" to meat, Young's said a decided "Yes" to PETA, even participating in their 2016 campaign "Being Vegan Keeps Me Young."
6. She a chronic migraine sufferer
Young began experiencing migraines when she was a teenager, and still suffers from the condition to this day. In 2015, she partnered up with GlaxoSmithKline for Treximet to spread the word on the condition and has spoken openly in interviews about how debilitating it can be. "You lose days," she shared with Fox. "Until you know how to deal with [migraines], you lose time and opportunities, and it's completely debilitating."
7. She's committed to charity
Young's charitable works don't end with PETA. She's long been involved in the domestic violence nonprofit organization 'Helpmate', and thanks to her fundraising endeavors, she currently holds the title of their honorary chair. She's also willing to put her wits to the test for good causes, as we saw in 2015 when she appeared on Celebrity Jeopardy! Showing the benefits of an Ivy League education, the Yale graduate destroyed the competition, winning a total of $50,000 for Operation Blankets of Love (a charity which provides blankets to animals living in shelters) in the process.
8. She's a registered democrat
While some entertainers prefer to keep the political affiliations private, Young has no hesitation in pinning her colors to the mast. In 2016, she showed where her loyalties lie when she (along with several other Scandal co-stars) headlined at a fundraiser for the then presidential hopeful, Hilary Clinton. Her relationship with the Clinton's didn't end there: that same year, she was announced co-ambassador of the Trust for the National Mail alongside Hilary's daughter, Chelsea, and has openly admitted to being a fan of the entire clan. "Everything they've contributed to our country, to the world… I'm a bit a-gog," she told People.
9. She's helping educate people about lung cancer
Given that Young's adoptive father died of lung cancer, it's little wonder the subject is so close to her heart. In 2016, Young began her mission to educate people on the importance of early diagnosis and biomarker testing when she teamed up with the pharmaceutical company, Merck & Co. "One of the most important parts of the lung cancer journey is becoming informed about what you and your loved ones are facing," Young explained to Business Wire. "When my father was diagnosed with lung cancer, we felt helpless and confused. I'm honored to be a part of a campaign designed to provide people impacted by NSCLC with information that can empower them to make informed treatment decisions."
10. She's released an album
In 2015, Bellamy made her first foray into music, releasing a 10-track album covering songs from everyone from Pink and Ryan Adams to Fleetwood Mac. "We picked songs that are a little sad, and a little down, and a little bit about death," Bellamy explained to CVLux, "I am so proud of this album" "It's almost more than I can take in," she added, "it's such a gift."
Tell us what's wrong with this post? How could we improve it? :)
Let us improve this post!