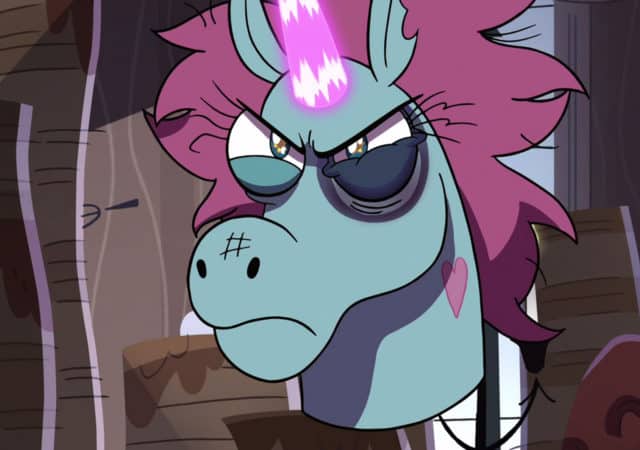 Star Vs. The Forces of Evil is easily one of the greatest serialized cartoons out there right now, and this week's episode was an excellent example of this fact. No stone is left unturned and no thread is left hanging, especially in season three, which seems to be building up to an explosive and climatic finale.
The first episode of this week was "Skooled!" which started off as a fun adventure with Ponyhead, but turned into something far more crazy and epic. When Princess Ponyhead shows up at St. Olga's to party, she is eventually turned away for not following their rules. Just as she is about to leave, Miss Heinous, A.K.A. Meteora crashes upon the school's grounds. After wreaking havoc on St. Olga's, Meteora finds what she came there fore, St. Olga herself, a robot who had been deactivated for quite some time. Upon Meteora's request, St. Olga reveals and confirms what we already know, that Meteora was denied her royal birthright, and upon learning this, she plans to take it back.
The second half of this episode was great, but the moments leading up to it were a bit off. Though Ponyhead has her moments, she didn't serve particularly well as the vehicle for the main plot of the episode and took up a bit too much time that could have otherwise been used on Meteora, her story, and the very rushed sequence at the end where she executes both of her henchmen.
However, once the first half was out of the way, things picked up tremendously. Meteora's further transformation into a monster is simultaneously haunting and awesome, we are seeing this once "prim and proper" uptight headmaster transforming into a visually appealing monster-mewman hybrid, the process serving as metaphor for Meteora coming out of the shell instilled upon her by her dark past. Even more badass was Ponyhead, who was ready to stand and fight for St. Olga's in a rare moment of bravery and determination, one that revealed more layers to her character. Unfortunately, this bravery wasn't enough, as Meteora broke off her horn, a moment that serves to show the real stakes to Meteora's quest to reclaim the throne.
"Skooled!" was an exciting and explosive episode that shot some crazy stuff in our direction at breakneck speeds, building up to something even more exciting.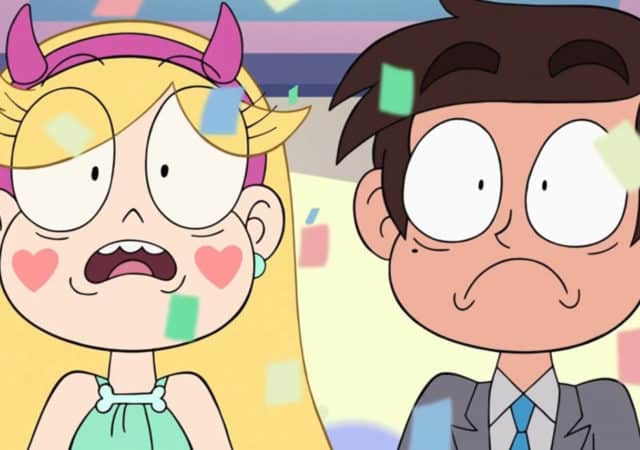 Our second episode was one that's sure to cause fevered fan discussion in the days leading to the season finale."Booth Buddies" was one of those Star episodes that checked all the boxes for a great story; it had well-written relationship drama, deep, relatable moments, and a climatic peak that shined a bright light on a long-building story element.
At the wedding of the Ruberiot and Foolduke, Star sees a photo booth and drags Marco in to take some best friend pictures. Marco begrudgingly complies, putting on fake faces which pushes Star to inquire what has changed since their last time in a photo booth. Marco reveals some feelings when the photo booth breaks down and traps them inside, and with the help of the photo booth repair goblin Ben Fotino (voiced by Alex Hirsch), the two start to work some things out. This results in a long-awaited kiss between the two that is caught on camera, but before the awkwardness can truly set in, Star gets a call from Ponyhead and she and Tom run off to help.
Though I wasn't a fan of the lead in, everything about this episode was on-point, from the relationship drama to the unique timing of the show's comedy. The way that Marco and Star talked about their feelings and their friendship felt so genuine. There were moments of silence where thoughts were being formed, moments that felt natural in their progression, and the dialogue felt like that of two confused teenagers trying to put their complex thoughts and emotions into words. Then, of course, there was the kiss, which was, in typical Star fashion, smartly not designed to be an endgame.
With most climatic story points in this series, the "end" is still just the beginning, and nothing is as simple as the happily ever after that Mewni's magical kingdom backdrop might imply. Star is with Tom, and Marco is Star's squire, there is awkwardness and tension and some happiness from the kiss, but it's still not the spark of a relationship. They are not dating now and there are more important things to take care of, so in a, once again very realistic way, Star and Marco put the kiss aside, either out of necessity or to push down their feelings.
"Booth Buddies," was an excellent episode with phenomenally realistic drama that made the whole things feel relatable and deep. It also helped set up what is sure to be a great season finale that I can't wait to see.
Star Vs. The Forces of Evil: Season 3, Episode 18
Summary
Even more secrets are unveiled to destructive results in this week's Star Vs. The Forces of Evil.