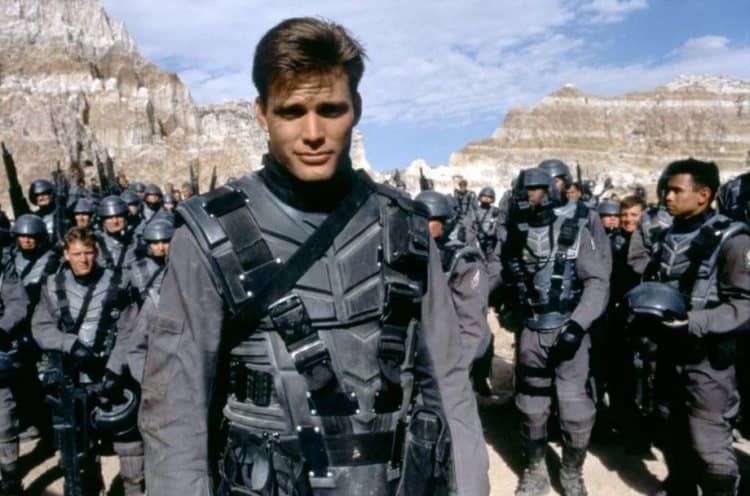 The way things have been worded it kind of sounds as though Casper Van Dien is all for a Starship Troopers TV show but also believes that the sequels to the first movie didn't really have the same heart that the original movie did. That's kind of odd since he was in the sequels, but oh well. As of now, he's pushing for the TV series to go forward and is thinking that he'd love to show up as "Old Man Rico", a grizzled war veteran that's likely to have accumulated a few battle scars and plenty of stories along the way. It feels likely that his original costars will probably be absent unless they have nothing else to do perhaps. But the likelihood of seeing Denise Richards, Jake Busey, and Neil Patrick Harris on this show, if it does move forward, is slim to none. Even a cameo sounds like something that would be more hopeful than anything. I'd even go a step further and say that Casper wouldn't last as long as he might want to simply because old men in a Starship Troopers story aren't bound to reach the end credits considering that the feel of it is that the young tend to take over pretty quick. The show could buck the trend though since Old Man Rico might be the kind of character that can help drive the story and create enough drama that might sustain a series for a while. This is what Casper had to say about it via MovieWeb:
"I think that Starship Troopers would be the best TV series right now. I think that it was such a cool first movie, and the other ones, they didn't have the heart that the first one had. I think a Starship Troopers movie, turned into a TV series now, everything that was in the original movie, would fit so well now with today's climate and everything. I think it would be nice to have old man Rico back. I think it would be fun to be in there and have some young blood in there, but still have one old, crotchety old man in there, like me… I think that would be a fun thing to shoot. I think with the political climate, and the place we're at today, it would fit so perfect."
One big issue though could be that it would become just another space-faring adventure since the initial movie had to wait a while to become a cult classic since it didn't do that well at the box office. Among the reasons why is that it is kind of a goofy space drama that just happens to feature a fight against an enemy that has overwhelming numbers and the kind of physiology that a human can't match one on one. There have been a large number of space-based shows, which would be why this one, which is based on earth, in space, and on other worlds, would need to find a way to differentiate itself from the pack in a big way and possibly go back to its roots just to get past the first season. Nostalgia might win out for a season or two, but if there's nothing else driving the story then it feels as though things might wind down quickly. It's always possible that those that are thinking up the idea could be coming up with something that might invigorate the series and could possibly push for something that might be new enough that people either haven't seen it or would at least be excited to see what might happen. One thing that will probably happen if things do move ahead is some sort of bug evolution since the introduction of new creatures and characters is usually wise to expect in a situation like this.
It's fair to say that if the show was picked up by a streaming site and given a chance that it could make it, and that it could benefit from a few different character arcs that might be able to push the story even further and give it a real kick that might be the beginning of something great. But if it took as long to become popular as the movie did then it's fair to say that it might be something that's considered a bust right away but has the potential to be greater as it goes along. With streaming sites, such a thing probably wouldn't work, but until we know more about it there's not a lot to be said about whether or not the story would be one that people could get behind. As of right now, there's not much happening with the show since Casper is still attempting to get it going, but it's easy to think that one way or another we'll know something before the year is over.