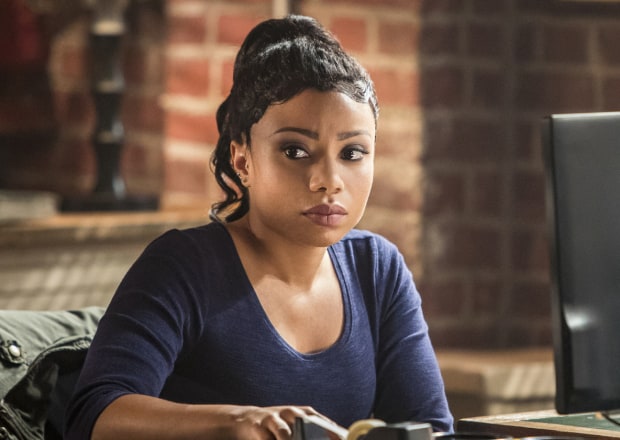 In the dramatic April 3 episode of CBS's "NCIS: New Orleans", Shalita Grant's character, Sonja Percy, decided to leave the PRIDE unit for a position with the FBI. Her mutually agreed upon exit was announced in January but fans will miss seeing Shalita every week on NCIS. Grant is excited about this next phase in her versatile acting career.
Here are five things you didn't know about Shalita Grant.
Performing Arts High School
Shalita Grant was born in Petersburg, Virginia in August 1988. With her parent's encouragement, she auditioned for Baltimore's School of Arts in Maryland. She asked her mom's advice for a play to audition with. Her mom suggested "A Raisin in the Sun". Instead of auditioning with a monologue, Shalita chose to play both characters in a scene. She chose the scene where Beneatha tells Mama she doesn't believe in God and Mama slaps her. Shalita slapped herself while playing the scene. The teachers were impressed and admitted her to the high school.
A scholarship to Julliard
Shalita proved her talented and versatile acting skills at Baltimore School of Arts. She won the YoungArts in Theater award and the Presidential Scholar in the Arts award. When she was in the 11th grade, a teacher suggested Shalita apply to the Julliard School. At the time, Shalita didn't grasp the fact that the Julliard School is the most prestigious performing arts college in the country. She did apply and earned a scholarship to Julliard. She graduated in 2010 with a BFA degree in Drama.
A Tony nomination
Shalita performed in short films and plays following her graduation from Julliard. While performing in Baltimore, she was invited to audition for Christophe Durang's play "Vanya and Sonya and Masha and Spike" in New York City. She won the role of Cassandre. The play went to Broadway and won a Tony Award for Best Play in 2013. Shalita was nominated for a Tony for her role as Cassandre. She won the World Award for Outstanding Broadway Debut.
LA
With a Tony Award nomination, Shalita Grant decided to move to Los Angeles to pursue a career in television or film. For the next year, she regularly auditioned for television and film roles but was disappointed. Running low on money, she worked as a bar tender to make ends meet. Finally, after one year, Shalita got guest roles on television shows including "The Good Wife", "Battle Creek", "Bones" and "Melissa and Joey".
NCIS
Shalita Grant took the role of Sonya Percy in 2015 on CBS's "NCIS: New Orleans". The part began as a recurring character. Percy was an ATF agent recruited by the NCIS PRIDE team. Sharlita loved playing the role of a strong, dynamic young black lady. In Percy's last scenes, she struggled with the fear of leaving her NCIS PRIDE colleagues to pursue a new career with the FBI. In 2016, Shalita played the role of Aurelia Johnson in the first season of the PBS Civil War drama "Mercy Street". Shalita is sad to let go of Sonja Percy but excited to continue pursuing her versatile acting career.
Tell us what's wrong with this post? How could we improve it? :)
Let us improve this post!