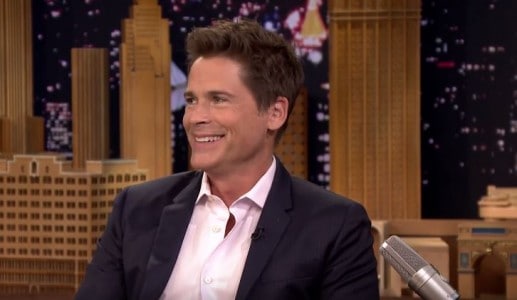 Rob Lowe has been called one of the most beautiful people in Hollywood for quite some time. For a while though his career was kind of in jeopardy since he had a serious problem with drug and alcohol abuse. While he was a certified star when he was younger the older he got things just started to take a downturn until finally it seems like he dropped off the map for a while. When he came back though it was to a grateful audience since his absence had been noticed by quite a few people and as such his re-emergence onto the scene was a welcomed thing to a lot of very happy fans. Since then he's been seen nearly everywhere he can be, be it in movies or on TV, and he's been doing great since. His stardom and his legacy have finally been assured and at this point he's one of the more prominent actors around.
Here are a few thing you might not known about Rob.
10. Rob is actually deaf in his right ear.
This happened due to a virus that hit him when he was a child. Most people likely don't know this since he doesn't really show any sign of it during his acting. But if you watch you'll notice every now and then that he has to tilt his head to listen, be it on or off screen. Sometimes it's used as part of the effect to make it seem natural.
9. He lost the role of Cal to Billy Zane for Titanic.
This isn't a big strike against him at all since Billy Zane is still a rather impressive star. But trying to picture Rob Lowe in Titanic it seems that he would have been better off as one of the kindlier older gentlemen that weren't as arrogant as Cal. Zane is kind of a great choice when you need someone that can do a pompous act since he's got that kind of flair that he can bust out, whereas Rob can be mean and cruel, but as he's gotten older he's shown more of a warm and compassionate side.
8. Mike Myers is credited with bringing Rob's career back.
His role in Wayne's World was a big return that took a lot of people by surprise but managed to get his foot back in the door when it came to popularizing himself with an audience once again. And from that point on it didn't matter what he played, he was simply welcomed back with open arms.
7. He left the show The West Wing.
It wasn't really clear why he left but some thought it was due to screen time or a dispute with the amount he was being paid. He did eventually come back though so the matter was dropped and things returned to normal.
6. Rob helped in Arnold Schwarzenegger's election to governor of California.
How he did this isn't really clear but he could have been helpful in a lot of ways. The one thing that is clear is that he was pro-Arnold the whole way and his help was definitely appreciated. After all, who would have thought that the guy that made Conan and the Terminator popular would have been governor of California one day?
5. He's still remembered as one of the nine original members of the 'brat pack' that dominated the 80s.
Along with Molly Ringwald, Judd Nelson, Emilio Estevez, Ally Sheedy, Anthony Michael Hall, Sean Penn, Andrew McCarthy, and Demi Moore he was one of the many that managed to make the 80s a great time for movies.
4. His hair started going gray at the age of 24.
If he doesn't dye it then it will go completely gray, but since people aren't ready to see a fully old and aging Rob Lowe yet it's easy enough to get it dyed and then keep up with the ruse every now and again so it looks natural.
3. He's only 7 years younger than Bo Derek.
Remember how they were supposed to be mom and son on Tommy Boy, despite really being husband and wife? The age discrepancy between them isn't that much to be honest so it wasn't exactly a huge fiction to play.
2. Rob rejected a role on Grey's Anatomy.
This might have bolstered his career a bit more if he'd taken the part, but he was more interested in taking on another project at the time and turned it down. Unfortunately the project he opted for didn't last all that long, and by the time it was over Grey's Anatomy had found their star.
1. He launched his own line of men's skin care products in 2015.
It might seem a bit over the top but Rob Lowe has been a sexual icon for a long time now and even to this day people are still in awe of his looks. So it's not exactly vanity when a big star like him goes in to create his own skin care products, it's more like investing in something he can really sell.
He's a legend and an icon, that's pretty obvious.
Tell us what's wrong with this post? How could we improve it? :)
Let us improve this post!