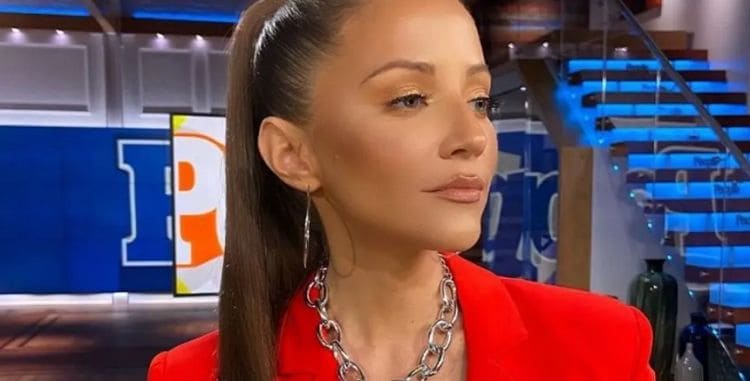 Sportscasting has always been a male dominated field, but Kay Adams doesn't let the guys intimidate her. She has been working in sports broadcasting for more than a decade and she has become a well-known and highly respected figure along the way. Not only does Kay know how to keep up with the best of them, but she also knows her stuff. Her knowledge of sports is deep and she has a genuine love for the game of football. Some people believe that Kay doesn't get the credit she deserves because she is a woman, but Kay is determined not to let any obstacles stand in her way. Continue reading for 10 things you didn't know about Kay Adams.
1. Her Name Was Not Inspired By The Godfather
When many people hear Kay Adams' name, the first thing they think about if the fictional character from The Godfather movies. Unfortunately to all of The Godfather fans out there, Kay Adams wasn't named with the movie in mind. The fact that she and the infamous character share a name is purely coinidence.
2. She's First Generation American
Kay was born and raised in Illinois to parents who immigrated to the United States from Poland. Kay speaks fluent Polish and is very proud of her culture. Like many people who moved to the United States for better opportunities, Kay's parents made sure they taught her the importance of a strong work ethic.
3. She Loves Spending Time Outdoors
Kay Adams is truly an outdoor kind of person. Spending time out in nature is one of the things that helps her feel rested and relaxed. When she has free time, you can almost always find her spending it outside. She loves doing things like going hiking and swimming.
4. She Developed An Interest In Media During High School
Finding the right career path can be a challenge that takes some people half of their lives to figure out. Kay is one of the lucky people who was able to discover what she wanted to do at an early age. She discovered an interest in working in the mediea when she was in high school.
5. She's A Very Proud Aunt
Kay doesn't share too much about her personal life, but one thing she has made very clear is that she loves being an aunt. She has a niece and two nephews and they all make very frequent appearances on her Instagram account. During her time off, she loves doing all sorts of fun activities with them.
6. She's Never Gone To A Bulls Game
As a diehard sports fan who grew up outside of Chicago, many would assume that Kay has gone to a few Bulls games here and there. In reality, however, that never happened. She told The Post Game, "I never went to a Bulls game and I grew up in that era. I still never went to a Bulls game, which is sad."
7. She Doesn't Like To Take No For An Answer
Talent has played a key role in Kay's success, but her perseverance is what really set her apart from other people who have chased the same dream. She always finds a way around anything that stands in her way and she doesn't let the word no stop her. She said, "It really comes down to a relentless (mindset) you have to have and a willingness to not care about the door getting slammed in your face. I, at one point, showed up to the local affiliate at NBC because they wouldn't answer my emails."
8. She's A University of Missouri Alum
Kay earned her bachelor's degree from the University of Missouri. Although she started her college career as a journalism major, it's unclear if that is what she ended up earning her degree in. Due to her financial situation she couldn't use her time in college to focus solely on school work. Instead, she had to get a job at a local sports bar to pay her way through school.
9. Her Voice Has Been In A Madden Game
There are still a lot of other things Kay hopes to do in her career, but she's already gotten a lot of cool opportunities under her belt. In 2018, her voice appeared in Madden NFL 19: Longshot Homecoming. If she continues on her current path, her voice will likely be in other games in the future.
10. She's A Big Music Fan
Kay's life may be all about sports, but she's also left some room for music. She has been a big music fan and grew up listening to all of the bands her older brother loved. She loves listening to bands like Guns N' Roses, Bush, and Weezer. Sometimes she even shares screenshots of the songs she's listening to on Instagram.