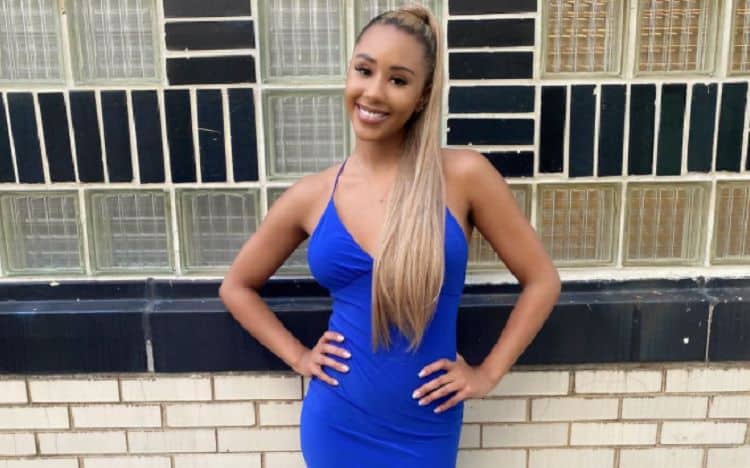 Anyone watching Matt James take on the role of the newest Bachelor in the Bachelor nation knows that he's got a lot of women to choose from. Just when he thought he was able to narrow things down after the second rose ceremony, they threw him a curveball and introduced five new women. Of course, by that time, some of the women he'd met already were gone. One such woman is Emani Curl. She met the new bachelor, but she didn't make it past the first week. She was sent home, rose-less and without the man she'd hoped might be the love of her life, and fans are dying to know more about her. Here you go.
1. She's Not Lovey-Dovey
She's a woman who knows who she is, and she's not lovey-dovey. She's loving and caring and she's happy to spend her life showing her future husband how much she loves him in many ways both big and small, but she's not a lovey-dovey kind of gal in an outward manner. She's deep, but she's not someone who is willing to be outwardly affectionate all the time.
2. She's 25
She's not the youngest of the women who got to meet the new bachelor, but she does fall right into the middle of the group of women who ranged from around 20 to around 30 give or take a few years. Her birthday was July 28, 1995.
3. She's from New Mexico
She's a New Mexico girl through and through. Her hometown is listed as Albuquerque, and she's proud of her home, her heritage, and the family she loves so much. She spends a lot of time with them, and we imagine she spends a lot of time at home these days if we had to guess. New Mexico has been on heavy lockdown for some time, so we imagine this is the life she's living right now.
4. She Has Her Career in Common with The Bachelor
When it comes to finding things in common with the man you're trying to date, finding something is important. The one thing that Emani and Matt definitely had in common is their career choices. They are both in the real estate market. She's a realtor at home, and she works hard to find families the perfect home in which to make memories.
5. She Enjoys Cooking
She mentioned that she's not an outwardly lovey person, but she does love to show her love through her cooking. She finds joy and pleasure in being in the kitchen working with food, and she will always happily cook a homecooked meal from the heart to show her love. We love that.
6. She's Not Into Instability
There is one thing that she's certain she wants nothing to do with in her life, and that happens to be instability of any type. She doesn't discriminate. If there is a place in your life in which you are not stable, you are not her kind of man. You need to be emotionally, mentally, physically, financially, personally, peacefully, and all the other things stable. She's not into anyone who can't get their life together. It's not a bad thing, either.
7. She's Very Close to Her Family
Her family is number one in her heart, so the man she falls in love with needs to remember that. He will need to love them as she loves them. She is very close, and a man who does not enjoy her family as much as she does will not make it far in her life. In fact, it's a deal-breaker for her if they don't like her family.
8. She's Sophisticated
What we particularly love about Emani Curl is that she has so many things in common with us. She loves a good bottle of red wine, she loves jazz and elegance, and she loves an intimate conversation that's both meaningful and interesting. Maybe she didn't find love on the bachelor, but she found potential new friends across the country.
9. She Keeps Her Life Private
It's not an easy job when you are a reality star, of course, but she's making it work in her own life. She's found a way to keep her private life to herself, and she works hard to never give too much away. It's a gift, and it's one we hope she's able to keep up with.
10. She's Still Looking for Love
As far as we can tell, she's still in the market for a man to love for the rest of her life. She doesn't seem like the type who is going to settle just because she's ready to find love and marriage and build a life, so there's a good chance the right man might just want to know this so he can head her way.