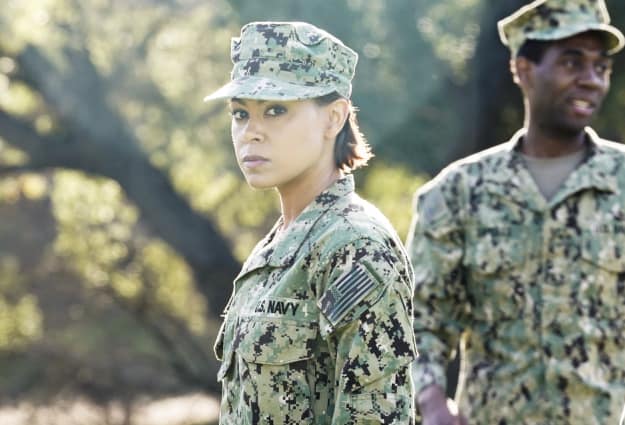 Talented, beautiful and oddly mysterious, Toni Trucks is a woman worth knowing more about. Because of her immense diversity, Toni's fans come from all over. Different generations and different walks of life enjoy her work in everything from The Twilight Saga: Breaking Dawn — Part 2 to Music and Lyrics, and of course, Seal Team. It's hard to find a celebrity these days who has such a good separation between her personal and professional life, but Toni manages to stay out of the spotlight when she's not on screen more often than not. We find this quality both admirable and all the more enticing.
1. Stats
Birth Name: Antoinette Lindsay Trucks
Hollywood cameras do a great job of making everyone look like they're at least six feet tall. Toni is actually 5'6 though she's occasionally mislabeled as 5'2.
She was born in Grand Rapids Michigan, on September 30, 1980, which makes her 38 this year.
She is related to Derek and Butch Trucks of the Allman Brothers Band.
2. International Experience
Toni travels all the time for work. Closer to home she splits her time between Los Angeles and New York. Coast to coast is one thing, but she has also mentioned traveling to Bulgaria for work at least once. In addition to her experience and training here in the USA, she traveled to London to study theater. We expect she may have made this dream come true by now, but in a 2012 interview, she mentioned how much she wants to someday travel to Japan as well.
3. She Can Dance
Growing up Toni always knew she wanted to become an actress. She studied theater, but she is also an accomplished dancer and singer. As performers go, Toni is marvelously well rounded. She has talked about how much actors and actresses need to spend time honing their craft. She believes in the 10,000 hours to master a skill theory.
4. Star of Stage and Screen
Toni may be in plenty of movies and TV shows, but she dreams of starring in a Broadway show. Her first role was on stage. She played in Sweet Charity when she was only seven years old. She's also been in such classics as Footloose, Two Gentlemen of Verona and West Side Story. Though she has yet to be nominated for any awards (we'll keep our fingers crossed for her) she has played roles in no less than 22 TV series. Some outstanding examples of which are Grimm, Veronica Mars, and CSI New York. When you add her ten feature-length film credits and one short film to the mix, it's no wonder this prodigious actress is such a fan favorite. She shows depth and range well beyond what more experienced actors produce being type cast time and again for the same types of character.
5. An Educated Woman
Like many modern actresses, Toni holds a degree. She received her BFA from the University of Michigan. Also, she has also studied at Interlochen Arts Academy.
6. Super Secret Private Life
Asking Toni about her private life is fruitless. She doesn't share what's going on with her life off screen very often, and almost never directly discusses any love life or personal dramas. Other than mentioning her pets, you might have seen a rare mention of her boyfriend, John Wernke on Twitter. Even that may no longer be the case since it's been some time since they mentioned each other and appear to have parted company. She has a brother named Clinton who is in movie production. He is a Producer/Partner at Type 55 Films according to his LinkedIn profile. Like his sister, he has a twitter account but doesn't otherwise make much of his private life accessible to the public.
7. Strange Facts
The actress is a bit of a foodie. She loves dim sum from Yank Sing in San Francisco and a fondness for cherry Italian sodas. Toni has two cats, both of which are rescues. Their names are Lady Chubby Muffin Chops and Kenan Ivory Wayans (obviously after the Wayans Brother of the same name). She has been on The Price is Right as a special guest star.
8. Supporting Roles
She helped to save the theater in her home town by starting a t-shirt campaign that donates 100% of the proceeds to the theater. The shirts bore the logo "Made in Manistee," and helped to showcase some of the local culture. Toni is a big supporter of her hometown. When it comes to charity work, her other favorite is Head Start. The Head Start programs all over America help prepare underprivileged children for school. She thinks the program is an excellent way to get early education to families who would not otherwise be able to afford it for their children.
9. Gratitude
Lots of actors and actresses forget (or ignore) the people who gave them their breaks. They don't appreciate the folks who contributed to getting them where they are today. Some even leave behind their friends and families for their fame. It's sadly common, but Toni Trucks isn't 'like that.' She knows how to keep in touch, and she clearly hasn't forgotten where she came from. The actress has said she calls her casting director from Barbershop every year on the anniversary of her audition to thank her again.
Fun fact: Toni says she'd never even seen the original Barbershop movie before she auditioned for the role.
10. Toni is NOT leaving Seal Team (as far as we know)
With the current drama (No Spoilers) going on with Seal Team and Lisa Davis' (Tonis') situation fans have been a bit concerned that she might be leaving the show. We won't run it for anyone who hasn't caught up yet, but there were heavy implications on the show that she might not be with the team anymore. Fortunately, for this season at least, the fears appear to be baseless. She will be with them for a while longer.
Final Thoughts
Now you have all our best Toni Trivia, what else do you want to know about this incredible actress? We're looking forward to more episodes of Seal Team for sure, but we also expect great things from this super motivated actress. Hopefully, someone will recognize how underused her talents are and pick her up for more roles. We'd also like to see a few more interviews if only so we could learn a bit more about the woman behind all the great characters she plays. For now, we'll have to settle for quiet fandom and keeping our fingers crossed for Seal Team to get picked up for a third season.
Tell us what's wrong with this post? How could we improve it? :)
Let us improve this post!