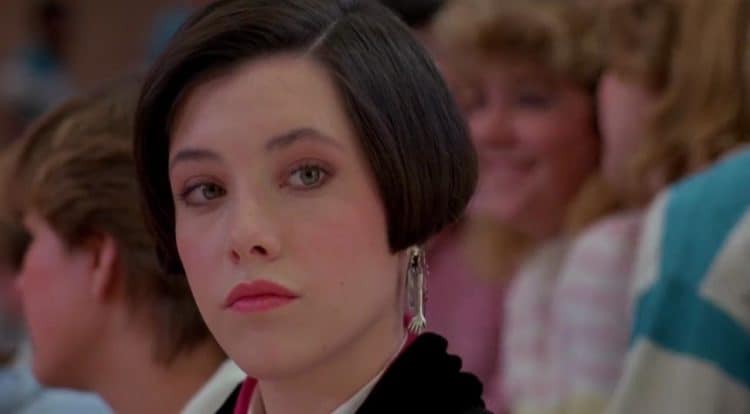 It's not often that one gets to star in two teenage movies back to back, but Annie Ryan is one of those that's done three, and three worthy of note no less. Apart from that her career, if it's still ongoing or not, as it's hard to tell due to a lack of information, is kind of hard to follow since the rest of her appearances are in movies that some folks might know about but are still just obscure enough to require such research. One thing about starring in teenage movies is that it can either give one a serious boost up in their career or keep them from advancing as much as they want, as many actors within recent years could attest to. Even with such titles as Lucas, Ferris Bueller's Day Off, and Three O' Clock High on her record it's fair to say that Annie Ryan hasn't really done much in the way of impressing upon people just why she's worth paying attention to as her career has continued to build. It is evident that she's stayed active throughout the years and could possibly still be acting, but again, without enough information on her there's not a lot that can be said with one hundred percent accuracy.
The reason some folks tend to trend at times can have something to do with the highlighting of other individuals since one might wonder what happened to this character and thus the actor that played them might come into focus for just a moment. It's usually not too hard to find the cast list of many a movie, but finding any information on a person after that can be kind of difficult. Some folks kind of go under the radar and treat acting as something that can be done to pay the bills without falling into it too deeply, or can possibly be those that like to hang around while doing the bare minimum to stay in the business. Looking at where Annie studied before becoming an actor it would appear that she might have been quite serious about it at one point, but then looking at her filmography it's also easy to think that she saw acting as something that could possibly serve as something that she might enjoy, but could have found out differently later on as life continued to go on and her name wasn't being splashed across billboards. It's also likely that she's more fond of the stage, as she's been a theater actress as well. Some folks do favor the stage a lot more than the studio, so it's likely that she could have found her way back to the stage in order do what she really enjoyed. As this is a lot of conjecture it's too easy to think that she might refute a lot of it were she to be contacted for an interview, but best guessing is sometimes about the only way that's left to go.
Not everyone enjoys the screen as much as others do, and some of them will actively try to get out of show business as much as they can, while others will make a gradual exit, coming back now and then due to some call that does manage to reach some people. It's a strange thing, show business, it calls to some folks and makes a compelling case as to why a person should take it up as a hobby or career, and yet for others it's something they might have only taken half-seriously but fell into in a big way. There are plenty of actors that never meant to get into the business but somehow found success and as a result just stuck around eventually became famous. Annie Ryan is a name you might not hear all that often unless you happen to enjoy talking about old movies and those who made an appearance back in the day. Three O' Clock High is likely the movie that she's known best for if only because she had a more pronounced role as a good friend of the protagonist and wasn't another bit-player as she was for Lucas and Ferris Bueller's Day Off. Of course when it came to Ferris, almost everyone felt like a bit-player save for Cameron, Sloane, and of course Mr. Rooney. One has to think that just being in those movies was a big up for any individual back in the day since the movies in question went on to become cult classics and even to this day are considered to be popular among certain crowds.
With some people that we might remember from the past it could take a little extra effort to find out what they're doing as of now, but just from the small amount of information on Annie Ryan it does appear that she's doing well and still doing what she enjoys.Three O' Clock High
Tell us what's wrong with this post? How could we improve it? :)
Let us improve this post!