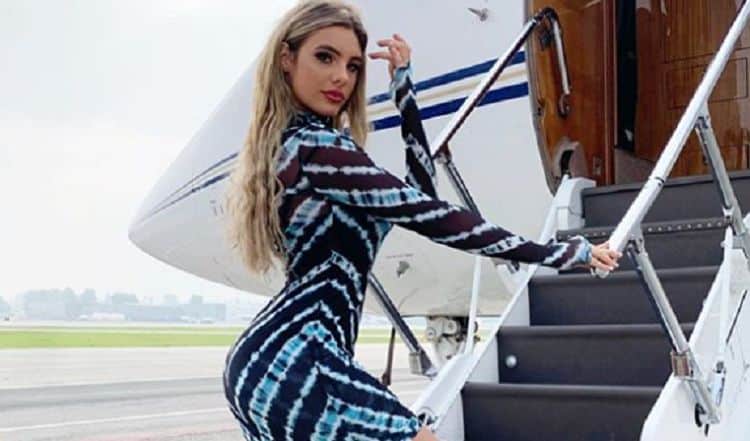 Social media has turned into much more than a way to pass the time for Lele Pons. The 23-year-old who began posting funny videos with her friends several years ago is now a bonafide Internet celebrity. Pons got her start on the now defunct platform, Vine, and and quickly became one of its most watched users. When Vine shut down, she took her talents over to YouTube. She has since started posting content Instagram and now Tik Tok. In addition to her social media success, Pons has also started her own jewelry line and even co-authored a book. Keep reading for 10 things you didn't know about Lele Pons.
1. She Dealt With Bullying
Lele Pons may have it all now, but that wasn't always the case. She dealt with a lot of bullying and said kids always made fun of her looks and her accent. In an interview with Forbes, Lele said, " It hurt when I was younger, but it also taught me a lot. I'm proud of who I am, and where I come from, and I think we should all be nicer to people; even if they're different than us."
2. She Speaks 3 Languages
While most people can barely master all of the rules and patterns of one language, Lele Pons is out here speaking three. Lele was born and raised in Venezuela. She learned Spanish as her first language. Italian was her second language and English was her third.
3. Chayanne Is Her Uncle
Latin music fans will be excited to know that Lele Pons is related to popular Puerto Rican singer, Chayanne who is married to Lele's aunt (her mom's sister). In addition to being Lele's uncle, Chayanne is also her godfather.
4. She Has Dyslexia
Having dyxlexia can present a lot of challenges when learning to read and write. This is especially true for people who are learning to read and write in another language. When Lele moved to the United States, she was struggling with dyslexia and had a difficult time learning and communicating. She said, "I was dyslexic. I didn't know how to read. I didn't know how to speak in English. I came here in the United States and had to learn how to learn, and then I learned everything else."
5. She Dreamed Of Going To Berklee
Becoming a social media celebrity wasn't exactly on Lele's to do list. She always had dreams of being a successful singer. She did a summer program at Berklee College of Music in Boston and was planning on applying there. Things worked out differently, though, and Lele never made it to college. However, she is still actively pursuing a career in music.
6. Shakira Inspires Her
Lele Pons is a very big Shakira fan and has been listening to her music since childhood. She says one of her favorite things about Shakira is the timeless element of her music. This is the same feeling Lele hopes to create in the content she uploads.
7. She Goes To Therapy
There's a perception that therapy is only for people who are going through something or are unhappy with their lives. Lele Pons is here to dispel that rumor. Despite having lots of money and success, Lele still goes to therapy on a regular basis. She explained her reasoning during an interview with Hola! and said that she goes to "A lot of therapy. Because I never give in, you know. And sometimes, they get to you. But you never stop getting help and I do like to have therapy or talk to someone that could help me whenever I have doubts because it can really get to you."
8. She Would Consider Being The Bachelorette
Lele Pons' current lifestyle doesn't always lend itself to a serious relationship, and she admits that she falls in and out of love very quickly. However she's still hoping that the right person will come along. She even said that she would be open to being the bachelorette as a way to find a potential bae.
9. She Wants To Have 2 Kids By 30
It doesn't look like Lele has plans to slow down any time soon, but she is thinking about what she wants her life to look like in the future. When asked where she sees herself by the time she's 30, Lele said that she would like to have two kids by then.
10. She Turns Her Phone Off A Lot
As a social media star, Lele's cell phone is a huge part of her job. In spite of that, she still makes it a point to turn her phone off and disconnect on a regular basis. She believes it's important to unplug every once in a while and not get sucked in by what's happening on the Internet.
Tell us what's wrong with this post? How could we improve it? :)
Let us improve this post!