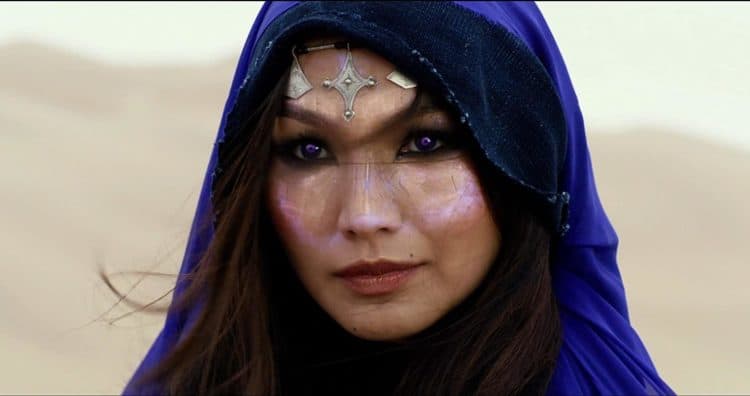 Gemma Chan is one of the most talented people walking throughout Hollywood at this point. If you read her list of accomplishments you might feel your eyebrows start to rise since she has done a bit already and shows no signs of stopping or letting up in the near future. Her career has been impressive but her accomplishments leading up to her acting career have been equally so. In fact if you really take a look at what she's done you might start to wonder at why she's not even more of a personality in Hollywood than she already is. Of course given how much talent there is in Hollywood at any given time that wonder might dampen just a bit, but when looking at what she's done and what she can do there's still a question of why she hasn't hit megastar status just yet. Perhaps it's coming and we just need to be patient, or maybe she's a lot more humble than many others and doesn't want to let it go to her head. Whatever the reason she's been one of those that you actually want to see more of for her ability and it's a little confusing as to why we haven't.
With one of her upcoming roles however it could be that she's about to blow the lid off of her career and really reach for the stars.
10. She studied law at Oxford University.
She's just as intelligent as she is beautiful to be honest and she even had an offer to go and work with a firm, but she turned it down to become an actor. Whether anyone disagrees or agrees with this decision she was very adamant about what she wanted and it's always possible that her studies in law could come in handy down the road. After all it's always great to have another skill to rely on just in case you happen to need it. Plus, all that studying can become useful if you ever happen to find yourself in a legal pickle that many people couldn't possibly think their way around. Then knowing various laws and policies could be very valuable.
9. She graduated from Drama Centre in London in 2008.
So honestly she has been through the paces and gained the needed experience that would propel her forward. Gemma hasn't been given anything that she didn't have to work in the first place. Many upon many actors have earned their spots rightfully and without the option of anyone going easy on them, but those that have gone through the schooling and didn't just get lucky enough to be handed a part are those that have managed to earn a great deal of respect for their time and patience as well. Both of those are still virtues after all.
8. Gemma was one of three models to reach Sky One's Project Catwalk.
This is the UK's equivalent of Project Runway in America. She was one of the three that made it this far and as a result she managed to find herself on magazines and in various ads that gave her the kind of exposure you can't buy as a young model. Her reputation continued to grow and grow as she continued to model and throughout it all however she still had visions of acting.
7. She worked as a model to fund her drama school training.
Now this is smart. She didn't invest in anything other than herself it sounds like and it has paid off at this point since she's on her way and doing great so far. It might seem a bit egotistical to say that one is investing in their own success but honestly and truly it's the wisest thing to do when you're seeking to make a career. By sinking your earnings into your own education and making sure that you're taking care of your own interests it becomes possible to reach for the stars without having just hopes and dreams to go on.
6. She's classically trained in the violin and piano.
This woman is just one skill set piled on top of another it seems, making her quite unique in that she can do so much and still decides to focus on acting most of the time. This is the kind of person that can't help but be interesting.
5. In 2012 she witnessed the murder of a homeless man.
She stayed with the man until police arrived, but unfortunately help came too late and he passed away in her arms. She then showed up to trial the next year when called upon to do so to offer testimony against the assailant.
4. She had a guest role on Dr. Who.
Playing the role of Mia Bennett on Dr. Who might have been a forgettable role to some people but for anyone that wants to be someone having this on their resume would be a serious bonus. You might not want to overplay it but the fact that it happened would still be worth a mention.
3. She was the main character in the TV show Humans in its inaugural season.
Anita was one of the synths that started up the series and the leading character that managed to garner the interest of the audience in the first place. Since then the show has kind of been up and down as far as being favored by viewers.
2. She had a role in Transformers: The Last Knight.
Despite the fact that the movie didn't get rave reviews there's still the part of Quintessa being the big bad that was kind of cool. It would have been better however had she been more of a fighter and not quite as limited. Hopefully we'll get to see what she can do in another film.
1. She will also show up in the upcoming Captain Marvel.
One of the many enemies that Captain Marvel has amassed in her years, Minn Erva is a Kree geneticist that has a deep hatred for the Captain and will hopefully be rendered from the source material as much as possible.
Her career is seriously on the rise right now.