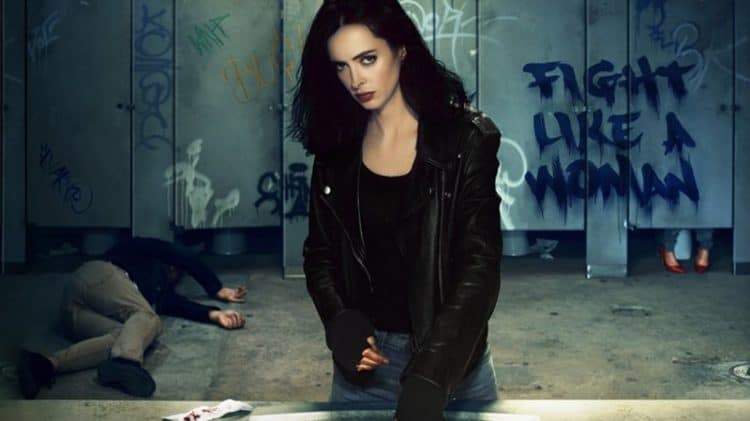 On TV Krysten Ritter is, so far, one of the most serious people you'll ever see since as Jessica Jones she's kind of a depressing but still empowering person that drinks too much and is somehow still a fan favorite since the character is someone that shows women that they too can be powerful. In her career thus far she's been quite successful since she's the kind of person that loves to stay loose and not too serious when she's off the set and is focused and intense when the cameras are rolling. Her on screen persona is definitely not who she is but all the same it's hard to not be impressed by what she does. In fact a lot of people would probably go by her role in Jessica Jones and her subsequent appearance in other MCU shows to really judge her acting and how well she stacks up with others.
Here are a few other things you might not have known about Krysten.
1. She wasn't allowed to ride a horse so she rode a cow.
Krysten was raised on a farm in Pennsylvania but wasn't allowed to ride a horse for reasons that are unknown. So she rode a cow instead, which isn't hard to see but is still kind of comical to think about when you really picture it. One has to wonder what the cow thought of it.
2. She writes music and plays in a band.
She plays guitar, sings, and writes for the band Ex Vivian and has even cut a few tracks that have been in productions she's been a part of. There are a few actors that belong to bands and do quite well, though obviously a lot of them are still known better for their acting roles.
3. Krysten was discovered at a shopping mall.
She was scouted by a modeling company and was eager to get up and go to the city for the chance of a lifetime that obviously helped to elevate her to where she's at now. The trip from her home would have been about 4 hours back and forth, but eventually she moved to New York in order to be closer and wound up staying in various apartments for a while.
4. She's also a writer.
Her debut novel came out 2017. This kind of wealth of talent makes a lot of people jealous to be honest since she can sing, play guitar, act, and now write, but honestly it's kind of impressive since it means her talent doesn't have just one avenue to travel down.
5. Krysten enjoys knitting as well.
Everyone has to have a hobby at some point in their lives and she's found hers it would seem. She enjoys it so much that she eventually created her own line of knitting kits. If she ever decides to quit acting she's got a wealth of skills that she can fall back on.
6. When she was younger she was picked on relentlessly.
Krysten was kind of the slim, gangly, nerdy kid that a lot of others would pick on, but the funny thing is that once we grow up and decide what we're going to be in our lives our bodies change and so do our attitudes as we realize that we're not bound by the past.
7. Her style preference is to be low maintenance.
She likes to be fashionable but she doesn't need to be easily noticed either as she enjoys being able to just walk about and not draw too much attention. Some celebrities don't mind being the center of attention but Krysten likes to go out and be comfortable with what she has on.
8. Krysten's parents had a desire for her to join the service.
Obviously that wasn't the first thing on her mind, though some parents are quite proud of their kids when they decide to enlist and serve their country. It might not be in the interest of the individual but a lot of people do take great pride in their term of service, and rightfully so. For some people though the drive to do this just isn't there.
9. She is more of a homebody and doesn't really leave the house unless she has to.
There are those that love to get up and go all the time as they either can't sit still or don't want to. Then there are those that are perfectly happy staying at home and kicking back when they have nothing else to do. Krysten is one of the latter obviously since she enjoys being at home.
10. Eventually she wants a family but she's having too much fun right now.
She has nothing but respect for those that have families and one day she has expressed that she does want a family of her own. But at this point she's got a career and is simply having a good time with her life.
11. She's also a model
Krysten Ritter is best known as an American actress, but there are a lot of things that she has done professionally. One of her passions has been modeling. A modeling agent scouted her at a shopping mall when she was just 15 years old. Krysten was attending a modeling event at the time. She began her modeling career while she was still in high school and made trips to New York City to model when she wasn't in school. She first signed with Elite Model Management agency and after this signed with Wilhelmina Models.
12. She appeared on television and print modeling ads
Krysten was on her way to reaching a degree of fame when she was just 18 years old. She moved to New York City to pursue her modeling career. She was successful, becoming an international model with ads featuring her appearing not only in print but also in television. She did runway work in Tokyo, New York, Paris and in Milan, as well as magazine and catalog work.
13. She's a native Pennsylvanian
Krysten was born in Bloomsburg, Pennsylvania. Her parents are Garry Ritter and Kathi Taylor. She enjoyed the rural upbringing that she received in her family who lived on a farm that was located outside of Shickshinny, Pennsylvania. She attended Northwest Area High School where she graduated in 2000. Her ancestry is English, German and Scottish descent.
14. Krysten is an animal rights activist
Krysten is an animal lover who does what she can to better the lives of animals who are abused and neglected. She has appeared in several PETA ad campaigns. She has also been involved in efforts to warn pet owners of the perils of leaving pets in their cars during the summer. She also joined in the protests against SeaWorld for keeping Orca whales in captivity.
15. She's going to have a baby
Krysten is no longer available. She became involved in a romantic relationship in August of 2014 with musician Adam Ganduciel. The couple made the announcement that they were expecting a baby recently in February of 2019. This will be Krysten's first child. She'll be able to put some of her amazing knitting skills to use making things for her new little one. She had recently shared that she was having too much fun to have children but the news was received with great excitement and anticipation.
16. She just added directing to her repertoire
Krysten Ritter has already done a lot of things in her life and now she's going to add one more item to the list. It's just been made public that she is going to direct an episode in season 3 of Jessica Jones. This will be her debut as a director and we all wish her well in her new endeavor.
17. Krysten hasn't been in that many relationships
When you look at Krysten Ritter, you see a beautiful and successful woman who has her life and her career together and going in the right direction. Now, expecting to have a family soon, she seems to be settled into family life. As we look over her past, we see that she was dating actor Ivan Sergei in 2009, and then Brian Geraghty in 2011, but the couple broke up n 2011. She's maintained her head and stayed focused on her career and she doesn't have a long string of lovers behind her, at least not when we compare her with many of the other celebrities. Adam is a lucky guy.
18.She's received tons of recognition for her acting roles
Krysten has received multiple nominations for her acting work. She was nominated for Teen Choice Awards TV in 2012, for a Dorian Awards TV Performance of the Year in 2016, 42nd Saturn Awards and again at the 44th Saturn Awards. She was the winner of TVLine's Performer of the Week, and the Webby Awards Special Achievement: Best Actress.
19. Krysten has thousands of followers
Krysten Ritter maintains a healthy social media profile and is very active on Twitter, Facebook and Instagram. On Instagram she has over 838,000 followers with 336,000 on Twitter and 359,000 on Facebook. Her fan base is immense, but it's not difficult to see why. She's a very interesting celebrity who is also down to earth and credible.
20. Her Net Worth
Krysten Ritter has made a lot of money through her wise career choices. Her modeling, writing and acting have all opened up good streams of income. She currently has a net worth of $7 million.
Krysten Ritter trying to teach Stephen Colbert how to knit is very amusing really. If you've ever had a grandmother, aunt, mother, or anyone in your family, female or male, try to teach you how to knit then you know the frustration. It's something you have to really concentrate on in order to get down, but once you get it your fingers seem to know the movements and can get into it through muscle memory. But until you get there it's simply too hard to really teach or learn without a few missteps. If you watch Ritter she's actually getting into it while they're talking, which is natural since she's obviously done it a few times. And then you have Colbert simply wrapping the yarn around the sticks until he has a rat's nest. Again though, it's not the easiest thing in the world to do, so if you're going to try then have someone at your side that can give you some kind of instruction. Also remember the pointy end of the sticks needs to stay way from anything sensitive.
On a different note, Krysten Ritter's career has certainly taken off in the last several years. She was on Breaking Bad at one point alongside Aaron Paul, but after that went on to other projects, notably Jessica Jones and then eventually The Defenders. Her role in those shows has probably been one of the highlights of the MCU considering that Daredevil and Luke Cage, despite have good showings initially, kind of went downhill after a while as the story continued to develop. Iron Fist obviously disappointed a lot of people, but Jessica Jones has managed to capture a lot of viewer's and hold their attention like nothing else has thus far. It's fair to say that her presence is a welcome change in the MCU from the normal fare that's been rolling through during the past decade, as she's given a different look into the world of heroes and villains than we're used to.
Plus it's nice to have women of strength in the MCU at this point since men have been so dominant for so long that it's become kind of a bore to watch and to think about. Women that can stack up to the men and in some cases even dominate have become more the norm since Jessica Jones and a few others have been announced. Her role in The Defenders was a bit lackluster at times but it's more her inclusion into the group than anything that has kind of dulled down her appeal just a bit. On her own, Jessica Jones is still a hard-hitting and very popular show. Keeping her at that level while still enabling her interactions with the others is a balance that's going to be kind of tough it would seem when it comes to maintaining her popularity.
But on the whole Ritter is doing great as her career has gone off in leaps and bounds, propelling her higher and higher as she continues to amaze her fans.
Here are five shows you forgot she was on
1. Whoopi (2004)
This is one of the first television shows Ritter ever starred on. Most people have forgotten all about it, largely because the show only ran for about one season, give or take a few episodes, and the ratings weren't very good to begin with. As a result, many might have forgotten that the show itself ever existed, much less who guest starred on it from time to time. With that being said, this project opened the door for her to go on to bigger and better things, and she has done exactly that.The accompanying link is from the episode she guest starred in, entitled "The Squatters."
2. Law & Order (2004)
She guest starred in an episode entitled "Everybody Loves Raimondo's," playing a character named Tracy Warren. It's a fairly big leap to go from guest starring on a TV show that is scarcely even remembered today, to getting a slot to guest star on a show like Law & Order, but that is precisely what she did. There is no doubt that people remember the show itself. However, some people might forget that she had that particular guest starring role, especially considering how many years ago it occurred.
3. One Life to Live (2004)
It seems that 2004 was a busy year for Ritter. During the same year that she guest starred on both Whoopi and Law & Order, she also landed a guest starring role on an episode of One Life to Live, the ever-popular daytime soap opera. While it's hard to keep up with exactly who has had guest starring roles on these soap operas, largely because of the sheer number of people who come and go, it's important to remember that many notable individuals have guest starred in at least one episode. She can easily check this one off of her to do list, as she completed the role roughly 14 years ago.
4. Jonny Zero (2005)
This is another one that people are not too likely to remember. It was a short-lived television show called Jonny Zero where she played a pilot named Quinn. Her guest starring role was memorable enough, but most people don't even remember the show ever aired.
5. The Bedford Diaries (2006)
Ritter actually guest starred in a couple of different episodes of this series as Erin Kavanaugh. Although most people probably don't remember the show, it marked another important milestone for her, as she was able to guest star in a role that was unlike anything she had done prior to that time.
Tell us what's wrong with this post? How could we improve it? :)
Let us improve this post!