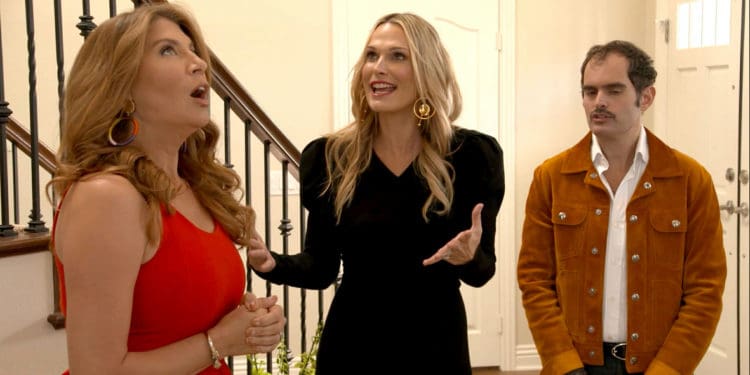 Bravo fans have a new favorite redecorating show with Best Room Wins. The show features a changing cast of top-notch designers. The looks are all class, but the budgets are dirt cheap and lowball, to say the least. It's the perfect skill challenge for designers who are accustomed to working with high-end clients. Replicating a million dollar look isn't difficult if you have the skill, but doing it on a dimestore budget is a different story.
1. You Can Watch it Free
While the episodes won't be available for free forever, you can test drive the show on your own time on Bravotv.com. They offer free episodes of most or all of their new programming for a limited time. Of course, you can also opt to support Bravo if you like their programming. You can purchase your favorite episodes or whole seasons to keep. We think it's great when people support the shows they love, but even better when you get to find out how you feel first.
2. A Chance to See How the Other Half Live
One of the fantastic features of Best Room Wins is that the rooms being redecorated aren't the only rooms you get to see. Lots of design shows take you to stores that have great products. You can catch glimpses of showrooms that are downright amazing. Seeing how things are put together professionally is a decent side benefit of watching design shows, and not just how designers reorganize the pieces they buy, but whole collections from everywhere. Best Room Wins takes it further with the inspiration homes. Designers and their clients, visit immense and incredibly tasteful homes in various styles, along with cameras that let you come along for the ride. Getting a real-life look inside a multi-million dollar home that's decor is second to none is amazing and BRW shows a new one every episode.
3. Guest Judges With Taste
With some shows, you never know what you're going to get. We've seen guest judges who were so far out of their depth on reality and competition shows that we literally don't understand why they were chosen. Other times we see judges we can't identify without a Google search. Naturally, no one can be an expert in everything, but judges with questionable credentials aren't exactly unheard of. Best Room Wins puts it all out front for you to see. The owners of the inspiration houses are the guest judges. Telling whether they have taste and know their subject is something you can do with your own eyes.
4. In the Business
Elle Decor's Editor-In-Chief Whitney Robinson helps judge the show. If you aren't familiar with his work, then suffice it to say that he deserves the job. He's written for years on decor and other fashionable topics for the New York Times Style Magazine and several other prestigious names. As judges go, he's certainly in a position to know what works and what doesn't.
5. Doing it All
Twenty-five thousand dollars to redecorate a room might seem like a lot. Genevieve used to do epic upscales for a mere thousand on her old show, but there's something you may not have considered yet. Sure a few thousand bucks will buy a lot of drapes and plenty of paint. However, when you plan to install new molding, rip up carpets, and put the marble on a room-spanning fireplace, things are a bit different. Most low budget shows don't expect their designers to undertake such ambitious projects with their small budgets.
6. Prize Spread
Most game shows feature a cash prize. Best Room Wins decided to take things in a slightly different direction. Two designers face off in each episode, and the winner doesn't take home a check. A glossy spread in a magazine to help increase their visibility and get them exposure as a talent to be reckoned with.
7. Clients Matter
Plenty of design shows go for surprise. Some have friends sign up, or strangers create rooms for each other. On some shows, they talk to the family briefly and then send them on some vacation only to come home to an entirely new house. Most of the time it's about as far from realistic as a decorating show can get. Not this show, Genevieve Gorder has made it clear that she expects designers to treat their clients as clients. Client satisfaction is a criterion for the judges.
8. Genevieve Gorder
The decor diva may be a judge on the show, but the show is not about her. This can be a bit of a letdown for fans. Genevieve is undoubtedly both talented and a lot of fun to watch. She still gets the occasional moment of show-stealing awesomeness, but you'll have to settle for watching her bring more of a tease of her personality on the show than a full force extravaganza like the designers do with their work.
9. Design Takes Center Stage
Just as Genevieve isn't the star of the show, the designers are almost secondary as well. The clients and cast all get opportunities to show a little personality, but the rooms are where it's at. You won't find lengthy interchanges or endearing quarter hour of sob story about why someone really needs a new room design. The designs and the inspirations behind them make up the majority of the story. If you're the sort of person who skips to the reveal, this is the perfect show for you.
10. It May Be TV but Things Don't Always Work Out
Lots of things hit the cutting room floor. Even the best show with gold in every shot can't put a week of work into an hour of TV. Rose tinted glasses can make for better shows, and removing the objectionable or difficult moments is common. On the other end of the scale are the shows that insist on squeezing every single drop of drama out of their cuts. BRW knows how to include a few dramatic moments without upstaging the beauty of what their designers have done.
Final Thoughts
We enjoy a good reveal, and Best Room Wins knows how to show off the goods while holding on to just enough of the drama for a nice reveal. The producers understand how to hold enough suspense over who is going to win without making it overly saccharine and unbelievable. Hopefully, now that you have a few of our favorite facts about the show, you can see it with a new set of eyes.
Tell us what's wrong with this post? How could we improve it? :)
Let us improve this post!