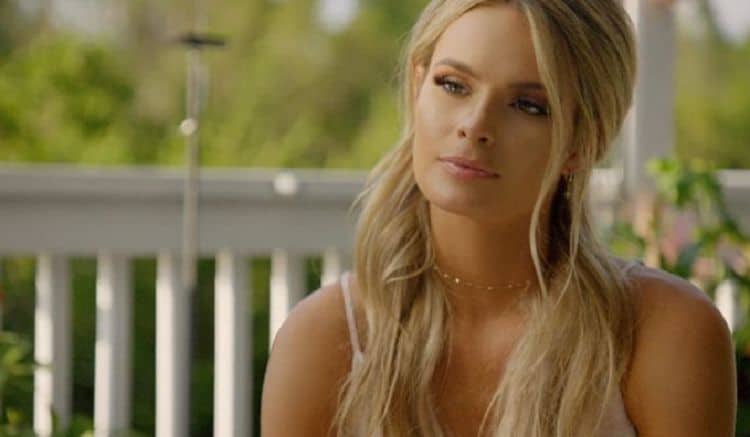 As we're sure you know, there are so many reality shows on television today it is hard to keep track of them all. From 'Housewives' to 'The Hills', and from 'Kate Plus Eight' to the Kardashians, our society is strung out on the 'lives' of others, and the trend shows no sign of slowing, even after so many years. In an effort to remain somewhat loyal to our societal fads and those readers among you who watch, we throw out the gratuitous '10 Things' list that is based on a celebrity from reality television. Today's list will take a deeper look at Juliette Porter from MTV's 'Siesta Key'.
'Siesta Key' has been on the air for three seasons, and focuses on a group of friends in the prime of life who reside on Siesta Key, and island of the coast of Sarasota, Florida. It first aired in 2017, and inspiration for the show came from 'The Real Orange County' and 'Laguna Beach', previous reality shows that proved popular as well. The third season began airing this month, January, 2020. Juliette Porter has been on the show all three seasons, and is one of the main cast members adding to the drama so many gather around the television to soak up. 'Siesta Key' was her debut project, and thus far it pretty much remains the only one she has done, aside from promotional appearances and the like. For now, Juliette will remain on the show, participating in romantic escapades, kitty bickering, and cat fights, and likely will continue until either something better comes along or the show runs its course. But you never know what tomorrow brings.
Let's get to know Juliette Porter a bit better, shall we? Some of you are die-hard fans, and likely already have a firm grip on her life facts. Others may have heard of her for the first time here today. Regardless of what category you fall under, there are things to be learned about this young star, and maybe familiarizing yourself with her past, personal life, and future goals will motivate you to check out 'Siesta Key' for yourself…and maybe not.
Oh, well…either way, read on to learn more about her, whether you do so out of devotion or just to pass the time. We'll never tell anyone you were here unless you want us to. We believe in keeping all of you to ourselves.
1. Early Life and Education
The French-American actress was born on July 7, 1998 an American father and French mother. The 21-year-old is close to her mother, but detailed information on her father is a bit evasive as far as his personal life is concerned. She has an older brother, Colin, who is also on the cast of 'Siesta Key'. Juliette is a Cancer born in the Year of the Tiger. Her parents groomed her for where she is now, according to Biowikis, so being in the public eye is not only something she hoped for, it was likely expected. She attended primary and secondary school in Florida before enrolling at Florida State University, which she currently attends as a senior. She states that after graduation she may look into furthering her education by studying either law or fashion.
2. Surprised By Television
Porter states that since she began taping the show, the thing that has surprised her the most about the entire television process is how much they actually tape, but how little of what they tape makes it through the cutting process and ends up on television. It sounds like being on television is very time consuming when it comes to actually putting the show together, both for the stars and all the people behind the scenes.
3. Reality Career vs. Career Realities
Currently, Juliette is managing to juggle both college and her television role, but she admits that she is a very busy girl. In an interview, she told Feeling the Vibe that life has been much more 'fast-paced and draining' since the show began. She also stated that she loves doing it anyway, and is happy to have her family and friends still in her life while she works. Well, a girl with that many irons in the fire likely needs a lot of support.
4. Personal Life
Porter's personal life, or much of it, anyway, is basically an open book for the world to see. As you likely know, she is not married and has no children, but she does have a very active love life. In the three seasons the show has been on the air, Juliette has been in a deep but volatile relationship with co-star Alex Kompothecras, which ended at one point due to physical violence. The couple subsequently reconciled, then split again due to infidelity on the part of Alex, but she kept a social media profile picture up with him in it, as well as other photos she had posted. Juliette began dating co-star Garrette, but the rocky relationship led to her seeing Robby Hayes of 'The Bachelorette'. She was also reportedly 'hanging out' with Kelsey Owens and Corey Brooks, and it was through Owens that she met Hayes. Confused? Don't feel bad. Her romantic life has been under scrutiny for some time. As of the date of this writing, she is still seeing Robby Hayes on the show. Between taping, college classes and studies, and her boyfriend troubles we can see why her hands are so full.
5. Net Worth
While Juliette's primary source of income is her role on 'Siesta Key', she also earns a fair amount of money from appearances, endorsements, and the like. According to Gossip Gist, Porter has an estimated net worth of around $400k. They also state that she makes approximately $35k per year, but we assume they mean per episode, as only $35k per year comes nowhere near providing her with a net worth of $400k. Obviously we can all do the math.
6. Zodiac and Star Sign Traits
As we mentioned earlier, being born on July 7 makes Juliette a Cancer. Cancer women are said to be very sensitive most of the time, both to her needs and the needs of those around her. When making a point to a female Cancer, one should be cautious as to not hurt her feelings, as she may take any type of criticism personally, and such an offense is not easily forgotten by this particular sign. She was also born in 1998, which means she was born in the Year of the Tiger. Those born in this year are children of the Earth Tiger, specifically. This means they are very level headed, and tend to have both feet on the ground. On the other side of that coin, some of them have a tendency to live dangerously, which gets them into trouble. They also tend to have tunnel vision and see things one way only, and they also seem to often be suspicious of those around them, which doesn't do their relationships any good. They seem to do well as cops or in the military, as firemen, bosses, or instructors. When properly focused, those born under the Earth Tiger sign can achieve great success.
7. Social Media
As most fans of Juliette's likely know, she is very active on social media, and uses her presence there to keep fans up to date on 'Siesta Key' and what is going on in her life and her relationships. If you aren't already following her, she can be found on Instagram under @julietteporter, where she has more than 470k followers. On Twitter she is at @juliettep0rter, and on Snapchat look her up under 'juliettep0rter'. Juliette likes to add to her followers, so feel free to tag along.
8. Robby Hayes vs. Juliette's Friends
It is more than likely that viewers are familiar with the fact that Juliette's friends showed little to no support when it came to her dating Robby Hayes. As a matter of fact, the pair has actually been excluded by her pals when they are hanging together (though Juliette, on her own, is not). According to Hollywood Life, the issue is a question of Hayes' character. Friends say he is only dating Porter to make a name for himself, and this has caused friction between the 'Siesta Key' star and her close chums. The outcome of this particular issue is set to be carried out on the January 21st episode.
9. And Robby vs. Alex
What is to become of her relationships then? Well, nothing good can really result from shifting from boyfriend to boyfriend, and that is what viewers are anticipating from program previews that have been shown. Some kind of face-off or confrontation is expected between Hayes and Porter's previous boyfriend Alex. Robby said that he expected to get flack from Alex, but he thought that anyone she was dating would face Alex's wrath, as he seems to be the jealous and possessive type. Fans have this to look forward to in the near future.
10. What Does Juliette Want In the Future?
Well, when it comes to her personal life, we can all guess that she wasn't to be content, secure, and happy. Professionally, however, Juliette would like to continue on with 'Siesta Key' for as long as possible, but in the event that the show is discontinued, she does have other plans, mentioned above. She has made it fairly clear that she would prefer a permanent career in entertainment, so how it pans out for her will be interesting for fans. Whatever happens, we hope she finds what she is looking for romantically at last.
Juliette Porter is another reality star who has been hit all at once with big-time popularity, fame, and financial prosperity. One can truly hope that she has been given the life training to deal with such heaviness in a manner that is conducive to a good outcome, because show business can take a toll on anyone, as most of us know. She is a very attractive young lady who obviously has what it takes to build a large fan base, but such fame can be so fly-by-night, so maintaining it is hard. Thankfully, she is attending college, so she will have something to fall back on when and if the time comes. Best of luck to her in all she puts her hand to.