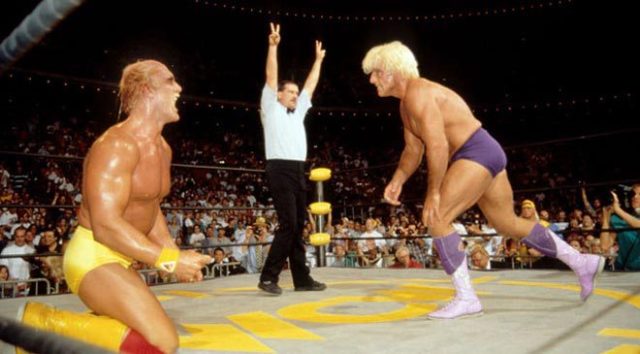 What is left for a disgraced 64 year old former WWE wrestler to do than try and get into the ring one last time against an equally big name opponent who just happens to be 4 years his senior? Apparently nothing, based on an interview with Hulk Hogan with a Tampa Bay ABC news affiliate. Hogan was sporting his trademark head gear during the interview as he talked about being ready to ruble for perhaps the last time.
The "disgraced" part of the Hulkster comes from a video that was secretly taped and clearly shows Hogan in a racist tirade talking about the man his daughter was dating. That action got him banned from the WWE so this is an equally clear attempt to get back into the WWE before his wrestling days permanently come to an end. Since the ban, other WWE wrestlers have stepped up and said that basically the past is the past, he apologized for it, and let's move forward and give the fans what they want.
Why Ric Flair for the match? First, they are former WWE rivals and that in itself is likely to draw the interest of many classic WWE wrestling fans (who are likely in their 40's and 50's now). Another reason is that fans are likely to look the other way when it comes to Hogan's public indiscretions beyond the racist remarks — the airing of a video where Hogan is having sex with his (former?) friend's wife. Third, Hogan and Flair have become best friends, so there is little chance of either one of them making a major mistake and getting seriously hurt.
While Hogan admits he would like to get back into the WWE, he does not see it as something that is a must-have for the event to take place. He believes the fans want it more than the WWE promoters, who might shy away from such a spectacle due to the ages of Hogan and Flair, and also because of the potential backlash in this period of political correctness. The outcome will likely be a draw in any event.
At the beginning it was asked what else is left for Hogan to do if he is not wrestling. One alternative was discussed during the ABC interview — politics. That may sound a bit weird given all the negative press he got from the secretly taped video, but given the current state of American politics, anything is possible. However, Hogan slammed the brakes on any potential run before rumors even had the chance to start. Living in Florida, he classified himself as "a full time beach bum" even though he claims he regularly works out.
He made reference to the Steve Scalise shooting in June of last year, saying he has no interest in being shot at. His terse answer was, "No chance." That would seem like Hogan would run on the Republican ticket if he ever changed his mind. He claims he has had offers made from political interests to pursue a career in politics, but rejected them outright. But nothing like running for president. His first stop would likely be for the Florida Senate to gain some experience with the political chaos currently dominating the country.