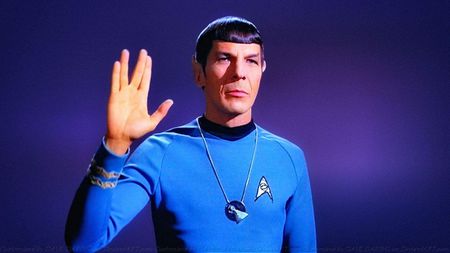 A lot of people are already stating that joking about the coronavirus is not a good idea as of now, but it's hard not to when a Star Trek gesture is being touted as a useful, preventative measure when greeting another person. The Vulcan hand sign that Spock uses on the show and in the movies has been jokingly talked about on social media as one of the better ways to avoid touching people while still greeting them, but in a way it kind of feels like the biggest joke of all thus far. Trekkies have got to be loving this as Billy Givens of We Got This Covered states in his own words, but to the rest of the world it might become another way of showing that we're ready to live in fear and resort to being standoffish given that we're too afraid of catching something that's been hyped up beyond belief. It's very true at this time that the coronavirus has indeed infected a massive number of people and it's also the unfortunate truth that it has claimed thousands of lives, but like many diseases that have come and gone throughout the history of humanity it's something that, when latched onto by the media, is bound to be used as a means of creating fear and the kind of hype that is likely to keep people from living their lives due to being afraid of catching the disease and possibly dying from it.
One could throw every possible statistic they want at people at this point and it would make little difference since many individuals feel that they're informed enough if they listen to the news media and take what they have to say as gospel. Unfortunately that's basically shirking any personal responsibility when it comes to finding out the truth by actually doing the research or at least attempting to find anything that might keep a person well-informed in a reasonable and rational manner. On top of this, a lot of people can't perform this gesture without forcing their hands into the awkward pose, but the implication of it is the most important thing after all since contact with other people is seen as risky at this point, especially since the personal hygiene of others is hard to determine and impossible to figure sometimes. But like it or not, this is yet another attempt to get people to stop living their lives the way they feel is right. So yes, the coronavirus is spreading, and yes, washing your hands and keeping clean shouldn't be a trend. That's a confusing one to be honest, but at the same time living in fear of being around people and even making contact with them has the makings of a preventative measure that might one day become just as harmful as the virus itself.
There are a lot of people that won't be seeing it this way and will be doing whatever they can to avoid contact, though a little more reading and studying up on what the virus does, who's most at risk, and how it can be prevented or guarded against might be the trick. The old 'live long and prosper' hand sign isn't bound to be enough, but in the in spirit of being preventative and being quirky it might be something that catches on to a greater extent. Joking about coronavirus at this point is something that is easier to take on an individual basis since some folks take it entirely too seriously and others don't take it seriously enough. The blame for this rests largely on the fact that the scare tactics that are used on a common basis, as it's been seen with many other diseases and epidemics, are designed to get people to worry obsessively about things that may or may not be true. Naveed Saleh of MDLinx has written something that might be worth reading. The virus is real of course, as are its effects, but whipping the public into a frenzy is hardly ever a good idea, though it's what has happened thus far as stores selling out of items because people are buying up items such as hand soap, toilet paper, and bottled water. No matter how serious this disease is, the public paranoia is typically high enough and always ready to be tipped over should anyone come along with anything that presents a problem and induces a panic. For years now there's been something that's bound to 'kill us all' and it's varied between diseases, ideals, and even been predicted by using a Mayan calendar, which has been debunked a few different ways.
But the Vulcan greeting is one that might be amusing, even though it's no less depressing to think that the state of our society is currently based on how much spin the media wants to use to manipulate the mindset of the masses. Charles Creitz of Fox News has more on this.