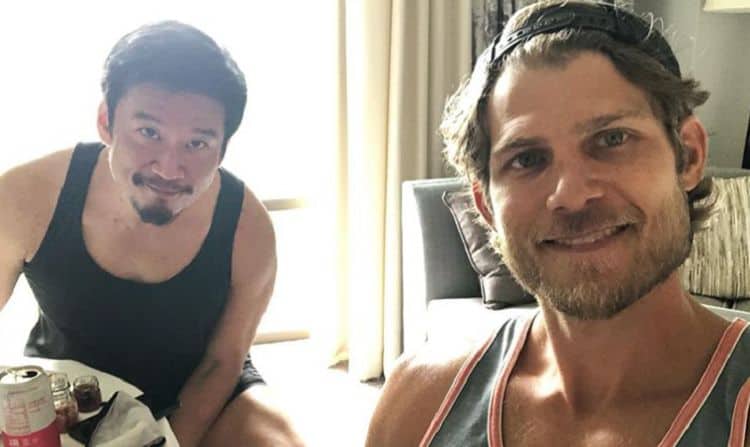 With more than 50 acting credits on his resume, Travis Van Winkle has had a career that has been both consistent and diverse. Since making his debut on screen appearance in 2004, he has found opportunities on the big and small screens. Most people will know him best for his role as Danny Green in The Last Ship, however, that's about to change. It was recently announced that Travis will be joining the cast of the popular Netflix series You for its upcoming third season. Fans are already excited to see what his character will be like, and if we know one thing about Travis it's that he won't disappoint. Keep reading for 10 things you didn't know about Travis Van Winkle.
1. His Dream Was To Play In The NFL
Travis has always been a very active person and sports played a major role in his life. He played football for many years and had dreams of eventually making it to the NFL. However, that dream was crushed when he began his college football career and realized that he simply wasn't good enough to turn football into a career.
2. He's A Proud Uncle
Travis is a family oriented person who has always had a close relationship with his loved ones. He hasn't started a family of his own, but he is thoroughly enjoying his role as an uncle. He has an adorable little nephew who he loves to hang out with as often as he can.
3. He Practices The Bahá'í Faith
Several years ago Travis was introduced to the Bahá'í Faith by one of his good friends. According to its website, "Bahá'ís believe the crucial need facing humanity is to find a unifying vision of the future of society and of the nature and purpose of life. Such a vision unfolds in the writings of Bahá'u'lláh."
4. He's Starred In A Music Video
Most of Travis' acting experience has been in films and TV shows, but in 2008 he got to have the cool experience of being in a music video. He was the love interest in the video for Julianne Hough's single "That Song in My Head". The video currently has more than 9.9 million views on YouTube.
5. He's An Outdoors Kind Of Guy
Travis spends a lot of time at work, but when he does get the chance to take a break you can usually find him enjoying the beauty of the great outdoors. Travis loves to be outside and some of his favorite things to do include activities like hiking, surfing, swimming, and scuba diving.
6. He Always Brings A Piece Of Himself Into Every Role
There are some actors who love to completely separate themselves from the characters they play, but that isn't how Travis operates. He may not always have a lot in common with his characters, but he always finds something he can connect with them on. During an interview with Daily Actor he said, "No matter what, I'm always going to bring me."
7. He Is "Addicted" To Helping Others
Doing charity work isn't anything new for actors. In fact, there are even lots of celebrities who have set up their own charitable organizations. Still, there aren't many people who can say they're as passionate about helping others as Travis is. While speaking at a Bahá'í event, Travis said that he is "addicted" to helping other people and he genuinely finds joy in doing things for others.
8. He Studied Business Management
Travis attended college at the University of West Georgia. After he quit football during his freshman season, he decided to focus entirely on his school work. While there he majored in business management, but he dropped out after three years to pursue his acting career.
9. He Was In An Episode Of That's So Raven
Throughout his career Travis has gotten the chance to be a part of all sorts of projects. One of those opportunities came in the form of a guest appearance on the Disney sitcom, That's So Raven. He played a character named Ben in an episode in 2004 titled "Double Vision"
10. He Is A Very Active Pet Parent
Travis is a proud dog dad, but he isn't just any dog dad. He and his dog Nina, who he named after his grandmother, have a very close relationship and he's able to walk her without a leash. When his dog was a puppy, Travis went above and beyond to make sure that she got the best training he could find. Not only did he hire a traditional trainer, but he also brought in a trick trainer.
Tell us what's wrong with this post? How could we improve it? :)
Let us improve this post!