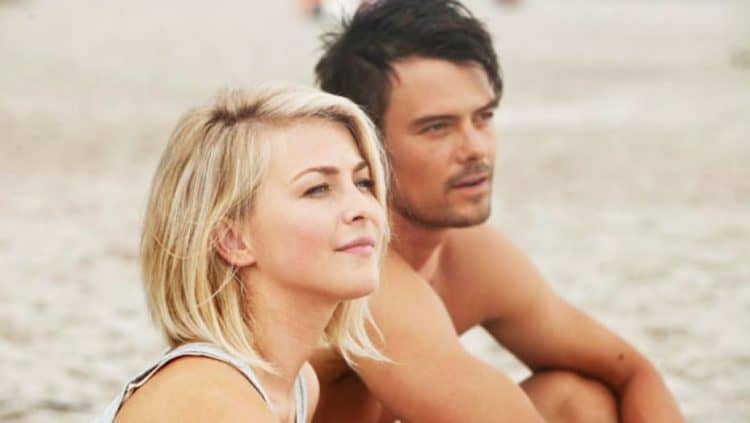 Julianne Hough is the kind of actress that some look at and see classic beauty and talent that is present in abundance and could carry her quite a ways, while others might be doing the normal thing and looking for controversies that could arise from her career. Well the interesting thing is that both sides of this issue have been satisfied at one point since she's been seen to be a very astute actress but has also been seen to bring about controversy when she decided to dress up one Halloween as Crazy Eyes from Orange Is The New Black, complete in blackface that sparked a great deal of outrage and was met with her apology not too long after as Marc Malkin of E! News wrote. Apart from that she's been doing her own thing in Hollywood just like anyone else and has continued to further her career in the best way she knows how.
Here are the five best movies from her career.
5. Dirty Grandpa
You kind of feel for Jason since he has an entire life mapped out and knows what he wants to do with his life up to a point. When he drives his grandfather to Boca Raton, Florida following the passing of his grandmother though his priorities begin to reorder themselves in a big way as he finds a woman that almost makes him completely forget about his fiance, Meredith, who is more than a little controlling and is the kind of woman that a lot of guys would love to be with but might find out too late is really a holy terror that goes postal if she doesn't get her way. Strangely enough this movie wasn't a big hit, but it was still pretty funny.
4. Rock of Ages
Playing the part of an Oklahoma girl with stars in her eyes and a mind to gain that uncertain prize Hough takes on the role of Sherrie, a young woman wanting to be famous despite the fact that things don't exactly go according to plan. But that seems to be the way of things in the movies, things don't always go the way they're desired, but at the same time if one is in the right spot at the right time they might find that things happen as they need to, not as people want them to. Sometimes that seems to be the best way to have things happen, naturally and with as much randomness as one can handle.
3. Burlesque
A lot of the movies she's featured in seem to have something to do with attachment, love, and drama in a big way. That seems to be the type of movie that Hough is attracted to and in a way it does seem as though it's what she's best at since she can do the dramatic flair and create a character that people will notice and possibly care about even if she's not the main star. Georgia isn't exactly some jumped-up extra since she's the dancer that leaves due to becoming pregnant and leaves a vacant spot for the main actress to fill eventually. But given how often she shows up in these movies it's easy to see Hough as a dramatic actress primarily.
2. Safe Haven
This is a movie that could have just as easily landed on Lifetime or Hallmark since it stars Hough as a woman on the run from an abusive spouse. She eventually finds herself in a small town where she begins her life over under a new name and finds work, a home, and people to care about that care about her in return. The only problem is that her jealous and dangerous ex, who happens to be a detective. When he tracks her down chaos ensues again as he tries to bring her back only to eventually be killed in the process. What's great about this movie is the twist that the main character's neighbor is the ghost of the woman that was married to the man that's fallen in love with her, and that she was watching over all of them.
1. Footloose
It's fair to say that this remake of the original movie didn't do all that well since more people seemed to hold onto the idea that Kevin Bacon's original movie was better and more suited for its time. But with that in mind the cast of this movie and the return to an idea that music and dancing was somehow a bad thing, but was bound to be rebelled against by those that were fully down with the idea that music and dancing were to be used as they were intended, as a fun and engaging time. Why it didn't do that well is hard to say, but overall this movie was still pretty fun and didn't really step on the toes of the first.
She's got a lot of talent, but she does seem to get typecast a lot.