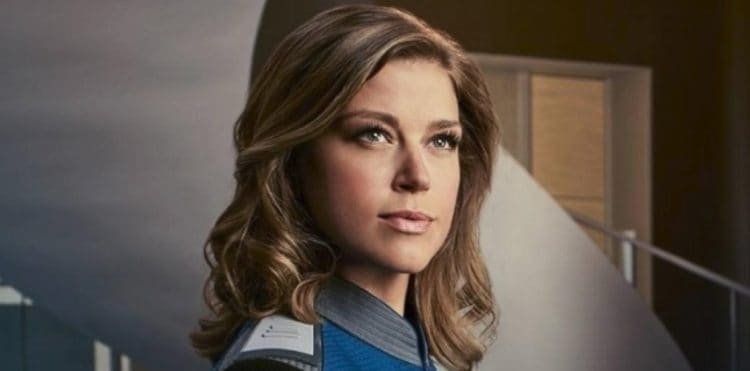 Adrianne Palicki's story isn't exactly rags to riches but it is something interesting enough to tell since like a lot of people she's had to work her way up and become the star she wanted to be from the get go. You might recognize her or you might not since it's all a matter of what you watch and whether you've seen something she's in. But Adrianne is someone that does know how to get in and work even if her work isn't always noticed either because it's something that didn't get the final nod or because people just aren't watching the material. In any case she is a celebrity and she has turned in some very notable performances.
Here are a few things that people might not know about her.
10. When she first came to LA she was a sandwich maker.
She worked at Togos when she first came to LA and as a job it's not the worst, especially when you're looking to keep yourself in a home while attempting to become a famous actor. Everyone's got to start out doing something to pay the bills.
9. She has a tattoo of her parents' names on her arm.
This could be for sentimental reasons since a lot of people that get names tattooed on them are attempting to remember someone for one reason or another. The idea is to remember them and hold their names close, which a tattoo certainly does as it won't just come off anytime soon.
8. Her older brother is a comic book writer.
She actually collaborated on a comic book with her brother at one point which is kind interesting. There's more that goes into a comic book than just drawing and writing though, it's a whole process that a lot of people don't seem to fully understand.
7. She tried to see a play every week when she lived in New York.
Adrianne was convinced that this was what she wanted to do so going to see as many plays as she could was a good way to research and to enjoy the experience that might one day be hers. A lot of people still enjoy the lively nature of the theater since it's a lot more engaging than watching a movie most times.
6. Adrianne would have starred in a couple of DC series that didn't get picked up.
She was going to star as Nadia in an Aquaman TV series but it was aborted before it could go anywhere, and then she was going to play Diana Prince/Wonder Woman, but that show didn't get picked up either.
5. She was engaged to a stuntman for a while.
One has to think that it might difficult to be engaged to a stunt person if only for the fact that their job is inherently dangerous and there's no way to know if they're going to get seriously injured on the job or even killed at times. It's one of those moments when you really need to be aware of what a person does and the risks they take on a regular basis.
4. She suffers from celiac disease.
This is a rather painful disease that can cause malabsorption as well as damage the lining of the intestines. There are a lot of cases reported each year as it's something that's fairly common but not fatal.
3. Currently she's been starring on The Orville.
Fans are obviously not of the mind that The Orville is that great or that terrible since the moment it came out it was embraced by some and ignored by others. The whole idea is that some people think it's a big Star Trek knockoff while others just don't care and will watch it or not.
2. You might have seen her in Legion and G.I. Joe: Retaliation.
Legion is one of those end of the world movies that could have been slightly better but was okay for what it was. The whole idea is that God sent a plague of angels to eradicate humanity and only one child can act as humanity's salvation. The film wasn't horrible but it failed to turn a lot of heads. G.I. Joe: Retaliation was something that probably could have used a little more work on the plot since its hype was a little too much for the film to really keep up with. The fact that he COBRA took over the White House and the US was a bit much, but it was aimed at creating a big moment in the franchise that kind of fell through.
1. She's done quite a bit throughout the years.
Just between TV and films Adrianne has really managed to establish herself as an actress and has done a great deal of work since her emergence in 2003. It's easy to think that she might do even more moving forward.
She's got the talent and the look to become someone even bigger than she already is, so it might pay to keep an eye on her.
Tell us what's wrong with this post? How could we improve it? :)
Let us improve this post!