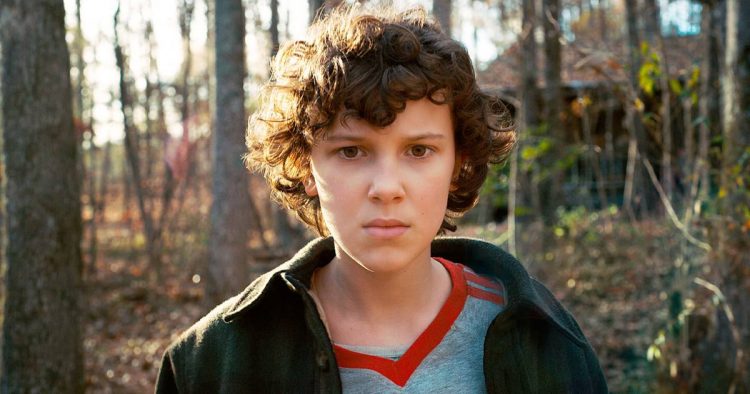 You know her best as Eleven from Stranger Things but Millie Bobby Brown is making a big noise as she continues to build her career and it's safe to assume at this point that the impact she's making is going to be felt for some time to come. When she first started out she was something of an unknown that a lot of people couldn't have really picked out in a crowd. But now that she's been the star of one of the most watched and anticipated shows on Netflix you can guess that her star has been on the rise with the kind of intensity that is usually reserved for those that have done something epic. Eventually we're going to get to see her in the upcoming film Godzilla: King of the Monsters, and while the immense beasts that are going to go to war will be the biggest stars, she'll still be one of the most noticeable.
Here are a few things you might not have known about her.
10. No one had any doubt of her acting ability when they first saw her.
Millie had agents falling over themselves trying to represent her when she first came on the scene. There was no shortage of people that wanted to present her as the next big star, and there was good reason for this obviously as she's been one of the best to come along in a while.
9. She made her acting debut in Once Upon A Time in Wonderland.
This was a spinoff of Once Upon A Time that didn't do quite as well as the parent show. She had the role of young Alice, which didn't last as long since in the timeline of such shows the younger counterparts either kick things off, like Henry did in Once Upon A Time, or they're just used to show flashbacks.
8. Millie auditioned for the role of Laura in Logan.
Chances are she probably could have nailed this role just as easily as the young lady that got it, but obviously someone thought that she wasn't quite suited to it just yet. For some reason it seems sound enough to say that she looks a little too friendly even when she's mad, as the girl that played Laura got the whole Wolverine aspect down pat.
7. It's been stated that she looks like a young Carrie Fisher.
You can kind of see it, and there have been those that would love to discuss what this could mean for the Star Wars franchise if it was ever deduced that a young Princess Leia would be needed. It would likely be a much better option than CGI.
6. She's actually deaf in one ear.
It's unknown as to why she's deaf in one ear but she still functions just as well as anyone else. For anyone that's known a person in their life that's deaf in one ear however you might find it easy to understand just how such a difficulty can really affect people.
5. Her mother picks out all her outfits to wear on set.
That's the mark of a concerned and protective parent, but in all honesty she hasn't gone so far overboard as to keep Millie hidden away from the world, though she has done what she can to make sure she's dressed appropriately. That's called good parenting.
4. She is a bit afraid of the dark.
Whether that fear is going away gradually as she gets older is unknown but it's not an uncommon fear to be honest since a lot of people well into their adult years are still very pensive about the dark.
3. Millie is a big Jodie Foster fan.
She tends to talk a lot about Jodie Foster and Kristen Stewart and how she would love to form a small group with them, perhaps to act or just hang out who knows, but it would be an interesting mix to see these three in a movie.
2. She bonded with Winona Ryder on the set of Stranger Things.
As you can guess on a show where a group of boys and one young girl are the main characters the differences between them can become a little pronounced at times. She's admitted that on days the boys were being a little too out of control and annoying the heck out of her it was common to seek out Winona in order to just sit and relax, which the older actress seemed inclined to do on occasion.
1. She'll be making around $350 thousand per episode for season 3 of Stranger Things.
When you figure that she started off at less than $50 thousand per episode and that she'll be making $3 million for her role in the upcoming Godzilla movie you can see that her acting ability has paid off in a big way.
Millie seems to be just hitting her stride, or perhaps getting close to that, and what comes next is anyone's guess.
Tell us what's wrong with this post? How could we improve it? :)
Let us improve this post!