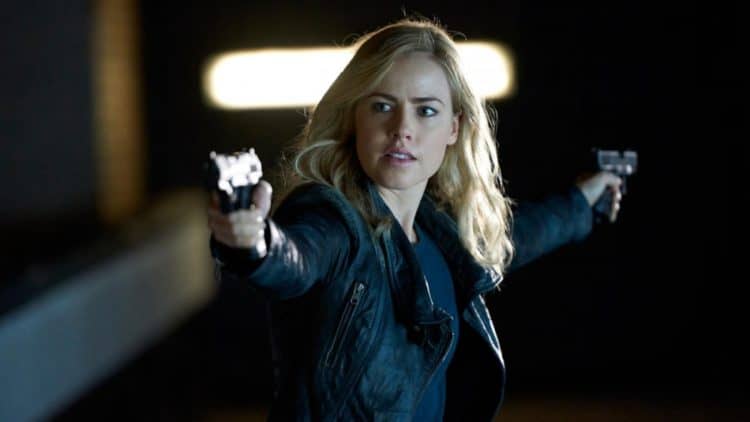 Landing a role is an accomplishment in itself, but landing a role in a successful project is even better. Amanda Schull has been fortunate enough to be part of several successful series throughout out career. She's appeared on shows like Suits, One Tree Hill, and 12 Monkeys. Amanda has played a wide variety of characters that have allowed her to share the truth depth of her skills. Whether she's playing a doctor or an attorney, Amanda brings something special to every character. As we get further into the 2020s, it'll be interesting to see what else character has in store. Keep reading for 10 things you didn't know about Amanda Schull.
1. She's A Ballerina
Amanda has been a performer for most of her life, but performing didn't always mean acting. Prior to getting serious about her acting career, Amanda was a professional ballerina who was part of the corps de ballet with the San Francisco Ballet. She ultimately chose to leave ballet to focus on acting.
2. She's From Hawaii
For most people, Hawaii is one of the most beautiful vacation spots in the United States – and maybe even the world. However, for Amanda Schull, Hawaii is simply home. She was born and raised in Hawaii and attended high school at Punahou School in Honolulu.
3. She's A Wife And Mother
In addition to being a ballerina and an accomplished actress, Amanda is also a wife and mother. She married George Wilson in 2011 after the couple met while she was filming a movie in Australia. The couple has one child together. Amanda doesn't share much about her personal life, so there isn't a lot of information on her husband and son.
4. She Went To College At 17
By the time Amanda was in high school, she was such a talented dancer that she was beginning to attract lots of attention from colleges and universities. She was offered a scholarship at Indiana University and she enrolled in the school when she was 17. Two years later, she began studying at San Francisco Ballet School. It's unclear whether or not she completed her studies at Indiana University.
5. She Appreciates The Value Of Criticism
Being an actress means that people will constantly have opinions on your work. For many people, it can be draining to constantly be criticized. However, Amanda sees this type of feedback as a great opportunity. If she could give young actors one piece of advice, it would be this: "Criticism is just as valuable as a compliment. Develop some thick skin; learn from the rejections. It's OK to get upset, but move on quickly—and stay determined."
6. She Loves The Beach
As a Hawaii native, Amanda loves spending time at the beach. When the weather is nice, you can usually find her hanging out by the water or going for a swim. She doesn't just like to enjoy the beaches though, she also likes to make sure they're taken care of. She is passionate about beach clean up projects and has dedicated some of her time to cleaning sections of her favorite beach.
7. She's An Animal Lover
Amanda is very passionate about animals and her love for her furry friends goes beyond being a dog mom. She is a big advocate for pet adoption and has even donated money to local animal shelters so that adoption fees could be waved for people who were interested in adopting an animal.
8. She Loves To Hike
Ballerinas have a reputation for being delicate and dainty, but Amanda isn't that type of person. She doesn't mind getting her hands a little dirty and she likes to spend time outside enjoying the beauty of nature. One of her favorite things to do is go hiking and taking in the stunning views.
9. Meryl Streep Is Her Favorite Actress
Meryl Streep is one of the most legendary actresses of her generation. The 3 times Academy Award winner has had a very successful career that likely won't be stopping any time soon. Amanda is a huge fan of Meryl's work and says, "I could watch Meryl Streep all day long and not get tired. I think she seamlessly disappears into each and every character she creates, which is such an amazing feat."
10. She Didn't Initially Audition For Jody In Center Stage
Amanda's first role was in the 2000 film, Center Stage and her portrayal of Jody Sawyer got her a lot of attention. However, Jody wasn't the character Amanda initially wanted to play. Amanda was hoping to land the role of Maureen and that was the part she went in to audition for.
Tell us what's wrong with this post? How could we improve it? :)
Let us improve this post!