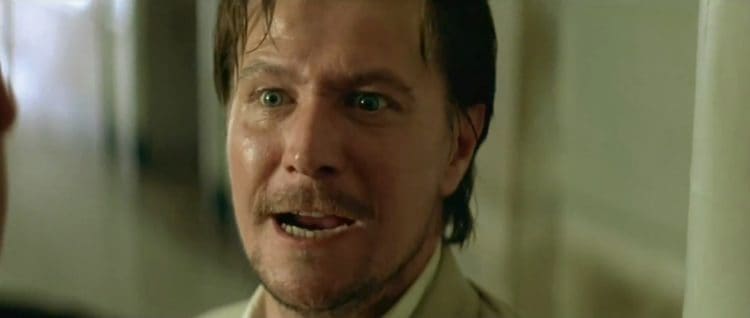 Ask anyone who the greatest actor of all time is and they'll probably drop several names. But in my opinion, Gary Oldman should be at the top of that list. If you film buffs out there have kept up with his lengthy history in movies, you'll understand why. I mean, how can you possibly argue that this man hasn't had an impressive career? You can't. You just simply can't. And if Tom Hardy, who has established his status as one of the greatest actors of this generation, calls Gary Oldman the greatest actor of all time, you know that's saying something. Call it one man's opinion, but every time Gary Oldman takes on a role, he becomes an entirely different character. Heck, the guy even voiced Viktor Reznov in the Call of Duty franchise, so he's contributed to the video game community as well.
But wait, would you even be able to recognize that was actually him with that very convincing Russian accent? Probably not, but you Gary Oldman fans have probably seen him play the psychotic Russian terrorist in Air Force One. Just close your eyes and listen to him voice both characters back-to-back. You won't be able to sense a difference. But if that's not enough to convince you of this man's incredible talent, go watch some of his other movies. Where do I even begin?
You can go back and watch some of his earlier movies, such as The Fifth Element or True Romance. He plays the villain in both of those movies and a very convincing one at that. But on top of that, he is more than capable of playing a very convincing hero. The best example is when he played James Gordon in Christopher Nolan's Dark Knight trilogy. That's probably his best protagonist role and he has got to be the best live-action James Gordon we have ever seen in a movie. But of course, all the Harry Potter fanatics out there will probably argue that his role as the heroic wizard Sirius Black is his best protagonist role. You can make an argument for both, but I think that just shows how great of an actor he is.
And that's only a taste of the amazing career Gary Oldman has made for himself over the years. So can you imagine if he were to call it quits in the near-future? Oh, I certainly wouldn't want to imagine, but apparently he has other plans. Yes, Gary Oldman does have retirement plans. In a recent interview with Deadline, he does plan on going out with a bang and says that he sees retirement on the horizon. So what exactly does he mean by "on the horizon"? That could either mean sooner than expected or several years from now. Personally, I hope it's the latter.
I just can't imagine a world without Gary Oldman being in movies. During his interview, he expressed how he hopes to keep playing Jackson Lamb for the Apple TV series Slow Horses for a while. According to him, he sees that role as a fitting way to end his acting career. But let's be honest, I think he has way more to offer, even at 64 years of age. I have little knowledge about the upcoming Slow Horses series, but I'll watch anything with Gary Oldman attached to it.
Now do we really think Gary Oldman is serious about this? He probably is and to be honest, he really doesn't have anything else to prove. The sad thing about this news is that if he does actually retire, it will be a major loss for film buffs. You can definitely call him a method actor and he's probably one of the best to ever do it. When he can totally alter his appearance with every character he plays and you can hardly recognize him, you know he's committed. And even when he looks like regular Gary Oldman, he's still phenomenal. Want an example? Go watch him play corrupt cop Norman Stansfield in Leon: The Professional. That's just regular Gary Oldman playing another sinister villain, which he excels at.
If this is indeed the end of Gary Oldman's long-appreciated career, we should just cherish the multiple phenomenal performances he has delivered over the years. What has always impressed me about his acting is that he can play both heroes and villains. He doesn't often play a leading heroic character, but the best example of when he does is Winston Churchill in 2017's Darkest Hour. If it was good enough to earn him an Academy Award, then that proves his range as an actor.
Boy, it's just so hard to decide which he is better at. Honestly, it doesn't matter, because everything he has done has been an example of what every actor should strive to be. Multiple actors, such as Brad Pitt, Christian Bale, and Johnny Depp, have cited Gary Oldman as one of their biggest influences. It's not hard to understand why. The man is just one of the best to ever step in front of the camera. I really hope he doesn't retire, but if he does, then we certainly wouldn't blame him. We should always appreciate the career he has made for himself and there will never be another Gary Oldman. Period.