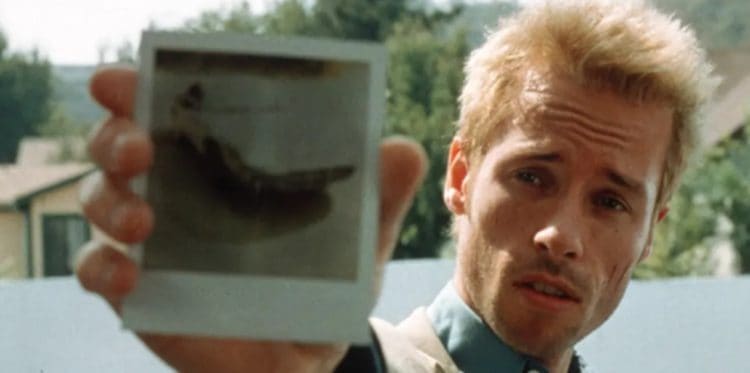 In 1998, Christopher Nolan came out of the gate hard with his super short, but a compelling feature, Following. The filmmaker was hailed a star on the rise and Nolan would end up proving the critics right by continuously releasing features better than the last. These days, Christopher Nolan is considered one of the best filmmakers in the world. This list will highlight the five best characters from the writer/director's filmography. The only feature exempt is the Disney Channel film, Going to the Mat, as Nolan only shares writing credits for that feature. Let's get started with the first name.
Bill
Nolan's first-ever film was a little indie thriller called Following. It's about a struggling young artist who follows strangers around the streets of London to find inspiration for his first novel. At first, Bill's pursuits are nothing more than an innocent watch until a man in a dark suit notices that he's been stared at by Bill. Known as Cobb, the man in a dark suit reveals that he's a serial burglar and invites Bill to accompany him to various burglaries. Following was made on a tiny budget of $6,000, and unfortunately, you'll notice that as we don't really get a good chance to dive into the characters because the film is only about 70 minutes long. Still, Bill is a fascinating being who opts to follow random strangers throughout London. The stakes only grow once Cobb convinces him to break into houses to get a better intimate portrait of people, as well his mental psyche of believing that there could be no harm in invading others' privacy. If possible, it would be cool if Nolan revisited this film into a lengthy character-driven piece as Following is a good little film despite the lack of budget.
Will Dormer
Al Pacino is one of the greatest actors of this generation. The veteran has notably been a gangster, but also a closeted bank robber, and a police detective who's notably losing his mind. If you notice during Nolan's earlier days of filmmaking, his features are more character driven than his big budget spectacles, which is why most of his early work is spotlighted here. The mental strain that the police detective goes through in his cat-and-mouse battle against the late and great Robin Williams is an engrossing study on an everyday man slowly going mad. Dormer daydreams, has hallucinations, and flashbacks that contribute to his deteriorating illness. Insomnia is a slow burn, but well worth the watch time, especially due to the incredible performance from Pacino. Of course, that performance wouldn't have been possible if Nolan didn't pen such a great character.
Leonard Shelby
Nolan gained notoriety from mainstream audiences because of the masterpiece, Memento, and it features one of the most complex characters he's ever written. What seems like a simple revenge tale of a man looking to avenge the death of his wife turns into this twisty, mindf**k about a man who suffers from anterograde amnesia. Nolan expertly plays with audiences' expectations on the human mind and how it can shape and distort your view on the world. Leonard's illness is taken advantage of on multiple occasions, turning him in several different directions. Since Leonard's worldview becomes so jaded and untrustworthy, his conclusion that finding his wife's killer being the only purpose in his life is quite sad because he's such a damaged human being. Sure, Leonard is a villain as he'll be killing innocent John G's, but the ending highlights just how bad a mental illness can get if it isn't treated.
Natalie
Natalie is the true definition of a fem fatale. Understandably, the waitress wasn't so happy to see that Leonard was the man that showed up in her drug dealing boyfriend's car; however, Natalie's ultimate goal became to use Jimmy's amnesia to her advantage. Her manipulative tactics are indeed twisted, but it also makes for an interesting and entertaining character to watch. It also does get you wondering how Natalie got involved in such a dangerous world. Granted, the simple answer could be that she's attracted to bad boys, but given the fact that Natalie was quick to abuse Leonard's amnesia means that there's more layers to her than that simple reasoning.
Joker
While not one of Nolan's original characters, the filmmaker's take on the classic villain is simply perfect. Of course, most of the credit should go to the late and great Heath Ledger, a tremendous actor who simply vanished into Gotham's Prince of Darkness. Joker isn't simply a madman. He's a smart, devious, and dangerously quirky (who wears a nurse's outfit after blowing up a hospital?) and easily the reason why many consider him to be Batman's greatest foe. The levels of story involving The Joker was brilliant, it's just a shame that the story between him and the Dark Knight didn't get the conclusion that it deserved.
Tell us what's wrong with this post? How could we improve it? :)
Let us improve this post!