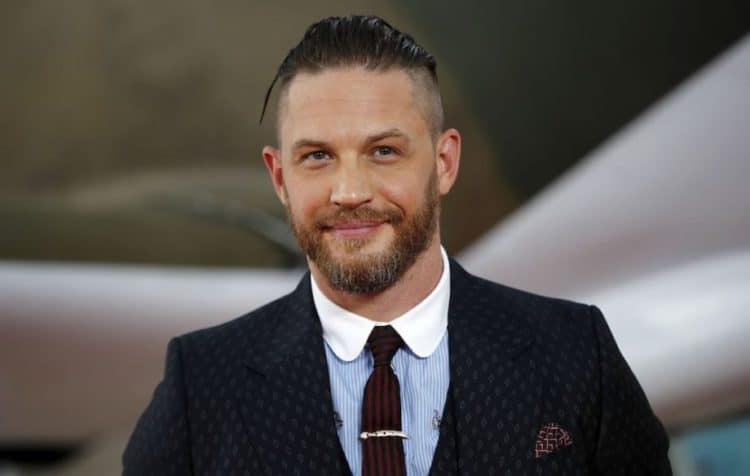 All that anyone who doesn't even know who Tom Hardy is has to do to fall in love with this guy is watch him in any of his works. Whether it is a blink and you'll miss it role from his earlier days or a full-fledged negative portrayal, no matter how you see Tom on screen, you are bound to sit up and take notice, and eventually, fall in love. That's the magic that Tom brings to the screen. And just one glance tells you that there's a lot more to this man. And that's exactly what we've got you here! In bringing out some of the most endearing qualities of Tom Hardy as well as some of the stories that truly make him a hero in our eyes, we hope we're able to tell you just how amazing a person this quirky Brit is, so that you, just like the rest of the crowds, can fall in love with him too!
Tom Has Always Been a Go-Getter
Did you know Tom Hardy was a contest-winner when he was still giving modeling a try as one of the ways to explore the choice of careers available to him? Well, he's always been a go-getter that way, and even as early as that — Tom had only just got out of his teen years when he had taken part in the competition — you can see the absolute confidence he carries. And a quick look at the competition will tell you that the winner's trophy could have been just about anyone's! But no, it was Tom Hardy's to take home! After his brief stint as a model, and of course, his win at The Big Breakfast's Find Me a Supermodel contest, Tom went on to study drama at the Drama Centre in London, a course he gave up on to play the role of Private John Janovec of the US Army in the HBO-BBC war mini-series, Band of Brothers. One could say that Tom's success in the US film industry was a matter of destiny, considering how his very first role was that of a US citizen! Well, it's been a long journey since then but the one thing that remains constant is Tom's work ethic that always has him giving his best no matter what he does. Ask his co-stars, his directors, and just about anyone he has worked with. You may stumble upon complaints of Tom working a bit too hard but will never have anyone say that he didn't really give his best. And that's Tom Hardy's hardworking and go-getter attitude for you right there!
Tom's Works Have Always Been Beyond Brilliant
When someone is only just beginning his career in the film industry and pulls off a performance that is right up there among the best delivered by the stalwarts of the industry, you know that this actor was always destined to find a place among the best out there. And one look at Tom Hardy's role as Stuart Shorter in the BBC One television drama Stuart: A Life Backwards will tell you just that. Playing the role of a homeless young man, Tom's brilliant portrayal sent fans into a tizzy, with some even wondering why the biggest awards in the industry did not already have his name on their lead actor trophies! Heartwrenching and heart-touching to the core, even this early work from Tom showed the grip he'd always have on a character, making it his own, or vice versa. Later, even as he made his way into mainstream cinema, it is this commitment to a role and the addition of his own brand of quirkiness to each of these roles that would make him stand out no matter who he shared the frame with. Whether it was a role in a television series, a work on the stage — yes, Tom has experimented with theater and has to his name quite a few notable roles too — or cinema, Tom has always been able to deliver performances that have been out of the ordinary.
Tom's Quite Quirky At Times!
Although Tom seems to be at his quirkiest best during interviews, a closer look at his work will reveal that there is always a unique and quirky Tom Hardy element in everything he does. Whether it is his ability to deliver the most poignant of emotions and replace long, heavy lines with only a well-timed grunt, or his wayward attitude that gives us the feeling that he isn't really paying attention when all he's doing is just that, there are certain quirks that only Tom can pull off. And the audiences love him for it! Well, interviewers may complain all they want but hey, even they'd have to agree that when they're interviewing the Mad Max: Fury Road actor, they can always expect something that's out-of-the-box! As for his fans, we just love everything he does, so there's no doubt that we love his quirkiness too!
Tom Does a Lot of Good
One look at Tom's life will tell you that he has struggled, and struggled a lot. From his early drug addiction problems to his constant struggles with fitting in, Tom is used to creating a life that has him fighting his own fights. And whether it is these struggles or simply his beautiful heart we will never know but Tom Hardy's name has been synonymous with a lot of good work that impacts people's lives in the most positive ways. For one, Tom is an ambassador of the youth charity, the Prince's Trust, a charity that works closely with the youth of the UK in offering them training and mentoring to put their lives back on track. He is also a patron of Bowel Cancer UK. His love for Jiu-Jitsu and knowledge of how the martial art helps in building physical as well as mental strength inspired him to become a part of the Reorg Brazilian Jiu Jitsu Foundation that works in tandem with The Royal Marines Charity to help serving and veteran marines fight against their physical and mental struggles.
Tom's Got Quite a Few Tags to His Name
On the career front, Tom Hardy already has to his name several tags — an actor, a producer, a writer, and a model. And he carries each of these tags with aplomb too! On the acting front, we all know how most of his works have been acknowledged as brilliant ones. As far as his role as a producer goes, he has donned several hats there too, from being a hip hop producer under the name Tommy No 1 to his productions and co-productions ranging from A Christmas Carol to Legend. As a writer, Tom has to his name two brilliant titles — Venom: Let There Be Carnage, for which he was a co-writer as well as producer, and Taboo, for which he was the co-creator. And of course, we all know of Tom's early beginnings as a model, where he scored a hit as soon as he took off, winning The Big Breakfast's Find Me a Supermodel contest! In addition to these titles, Tom has also been bestowed with the honor of being appointed Commander of the Order of the British Empire (CBE) for his services to drama. In 2016, Debrett's list of the most influential people in the UK had Tom's name on it and the previous year, GQ magazine had tagged Tom to be among the 50 best-dressed British men.
Tom's Struggle with his Darker Days Makes Him Even More Relatable
Tom Hardy has never tried to hide the fact that he has struggled with drug addiction during his days of youth. And although it is painful to hear him speak about it — his expressive face gives away the angst of it all — one can't help but wonder at how Tom managed to convert his darkest days into inspiration for a life that is extraordinary and accomplished in every way. And to think that most of these struggles occurred because of the dysthymia he suffered from, and not because he wished to experiment with drugs. Accepting that he was leading a life that was "out of control", Tom made a deliberate and concerted attempt to change his lifestyle and turn his life around. And boy, has he succeeded! As one fan puts it, "He's such an inspiration, been to the depths of hell and came back stronger than ever." This backstory associated with Tom's life makes him even more relatable to his fans. Most of us have had our share of bad days and one look at this strong and successful human being's life tells us that we can always turn things around too!
Tom's So Cool He Even Made Friends with Charles Bronson!
Tom Hardy is the coolest guy around and going by what we have seen so far, he absolutely isn't the judgmental kind! And what makes us make this claim? Well, during the preparations for Bronson, Tom, who of course played the main character, visited the infamous Charles Bronson in prison quite a few times. The two seemed to hit it off quite well and soon became friends. In fact, Charles Bronson, probably in an attempt to give his blessings to Tom, even shaved off his mustache and had it sent across to Tom to use in the film! Although the movie was surrounded by controversy, with a voice recording of the convict making its way into the premiere of the film without the knowledge of the HM Prison Service, Tom's portrayal was highly appreciated from all quarters. Yet again, Tom showed us that he wasn't just able to look beyond the obvious wrongdoings of a person but even has the heart to embrace them as a friend!
Oh, and Tom's a Real-Life Hero Too!
Of course, Tom's works of charity and his association with charitable organizations and charity programs make him a real-life hero. But did you know of that one incident where Tom took on a fleeing motorcycle thief in London? Well, it turns out that Tom Hardy happened to be around the vicinity when he noticed a motorcycle thief trying to escape. he just couldn't stand around of course, and in true action-hero style, gave chase. Eyewitnesses say the chase saw Tom running hard and even scaling fences. And how did the chase end? Well, of course, it ended with Tom apprehending the suspect and handing him over to the cops! And now that we know this story, we know we can count on the heroics of Tom in real life too!
Tom is Loved by His Coworkers
In the film industry, it's mostly about competition between stars and fake friendships, but when it comes to genuine people, even the most elusive of stars find it easy to strike genuine relationships. And that's how it has been with Tom Hardy! Despite all the negative news you hear — the world of entertainment always tends to exaggerate the bad and play down the good — Tom has struck genuine friendships with almost everyone he has worked with and almost every celebrity has nice things to say about him, as a person as well as an actor. From Christian Bale and Cillian Murphy to Leonardo Di Caprio, the biggest stars out there have had nothing but good to say about Tom. Leonardo even took the decision of bringing Tom on board his Oscar-winning saga The Revenant, after working with him in Inception. And the role of the ruthless John Fitzgerald got Tom an Academy Award nomination too!
Tom's Presence Just Makes Everything Better!
Check out just about any episode of Peaky Blinders that has Tom Hardy in it and you'll what we mean when we say Tom's presence just makes everything better! It's one thing to have Tom lead the way in a movie or a television series, and absolutely another to have him play a supporting role. While the former has him tearing down just about everyone else on screen, well, the latter pretty much has him do the same too! No matter who Tom shares the screen with, and what the shades of his character may be, the audiences will always pay more attention to Tom. Even with Cillian Murphy's top-class acting in the Peaky Blinders, one can't help but pay more attention to Tom whenever he's part of the frame. And this has been the case in every title until now! Whether it is the brilliant Leonardo Di Caprio, the versatile Gary Oldman, or the flamboyant Christian Bale, Tom has this uncanny way of unsettling the audience and drawing attention to himself. And for this nuance of simply making every scene a better one, we love him even more!
And That's Why We Will Always Love Tom Hardy!
Well, we didn't really need all these in-depth reasons to fall in love with Tom Hardy but now that we do know more, our love for this man has only increased. In addition to his works that include top-notch projects such as Inception, The Revenant, Mad Max: Fury Road, RocknRolla, Warrior, Bronson, Lawless, The Dark Knight Rises, Venom: Let There Be Carnage, Taboo, Peaky Blinders, Tinker Tailor Soldier Spy, The Long Red Road, Dunkirk, and more, we are just happy to know that behind all those stories we've heard, there's a man who despite his strong physical presence, has a heart of gold!Tom Hardy