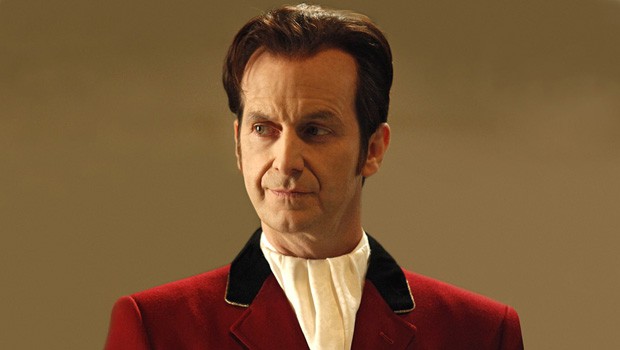 Denis O'Hare is an award-winning actor who is known for his roles in stage, film, and television. He began his career in 1982, and some of his best-known films include 'Dallas Buyers Club', 'Milk', 'Charlie Wilson's War', and 'Changeling'. In terms of his television career, he is usually associated with the supernatural and horror genres. In total, he has appeared in 34 feature films, seven television films, and 18 television series. There are some roles that O'Hare played that stand out from his other television appearances. Here are Denis O'Hare's five best television roles in his career so far.
5. Liz Taylor- American Horror Story: Hotel
'American Horror Story: Hotel' was aired on FX between October 2015 and January 2016. The storyline for this series is interconnected with 'American Horror Story: Murder House' and American Horror Story: Hotel'. Many of the cast members who had appeared in previous 'American Horror Story' series returned to make this series, including Sarah Paulson who is the only person to have appeared in all the stories in the franchise. Denis O'Hare received great critical acclaim for his portrayal of Liz Taylor in this series. Liz Taylor is the eccentric transgender bar tender who works at the hotel in the Blue Parrot Lounge and was formerly known as Nick Pryor. Denis O'Hare portrayed this character for eleven episodes.
4. Stanley- American Horror Story: Freak Show
'American Horror Story: Freak Show' was aired between October 2014 and January 2015. In this series, Denis O'Hare was nominated for an Online Film & Television Association Award for Best Supporting Actor in a Motion Picture or Miniseries for his portrayal of Stanley, the character he played in ten episodes. He also received a second nomination for a Primetime Emmy Award for Outstanding Supporting Actor in a Miniseries or Movie. Stanley is a conman who is posing as a Hollywood executive. He wants to murder the freaks from the freak show and sell their bodies to a museum.
3. Spalding- American Horror Story: Coven
In 'American Horror Story: Coven', Denis O'Hare played the role of Spalding for ten episodes between 2013 and 2014. Starring alongside O'Hare in this series were Sarah Paulson, Taissa Farmiga, Frances Conroy, and Evan Peters. The series is set in New Orleans and is about a coven of witches. Spalding is a mute butler who looks after The Academy where the coven of witches lives.
2. Larry Harvey- American Horror Story
Denis O'Hare was nominated for a Primetime Emmy Award for Outstanding Supporting Actor in a Miniseries or Movie for his portrayal of Larry Harvey in 'American Horror Story'. This anthology horror series was created by Brad Falchuck and Ryan Murphy. The series was first broadcast on FX in 2011. Larry Harvey has a facial disfigurement and he is the former resident of the mansion at the center of the storyline. O'Hare played this character for eight episodes.
1. Russel Edgington- True Blood
Between 2010 and 2012, Denis O'Hare appeared in 20 episodes of 'True Blood' in the role of Russel Edgington. 'True Blood' is a dark fantasy horror series that is based on the series of novels by Charlaine Harris, 'The Southern Vampire Mysteries'. The series was created by Alan Ball and starred Anna Paquin, Stephen Moyer, Sam Trammell. Ryan Kwanten, and Rutna Wesley. The series was broadcast on ABC for seven seasons from September 2008 to August 2014. O'Hare's character was the primary antagonist for season three and the secondary antagonist of the series for season five. The character is the 2,800-year-old vampire king of Mississippi.
Thanks to Wikipedia for the TV citations.
Tell us what's wrong with this post? How could we improve it? :)
Let us improve this post!