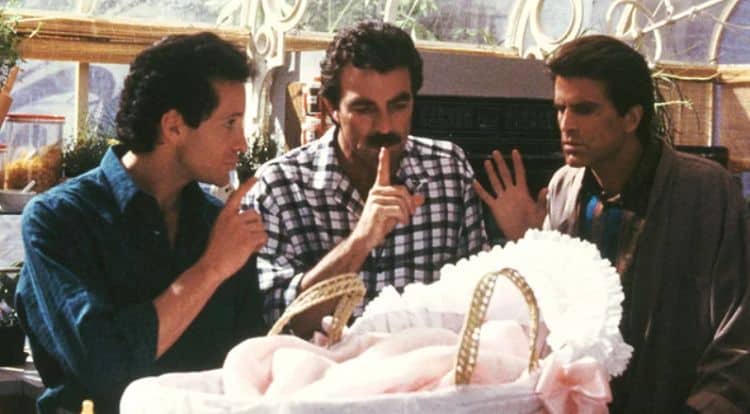 When Three Men and a Baby was released in 1987, the movie became a box office hit. In fact, it ended up being the biggest movie of the year. Starring three of the biggest actors of the decade, the movie followed a group of single men who had to step up to become fathers after one of them gets a woman pregnant during a one night stand. Their inexperience with taking care of children lent itself to lots of comedic moments. Now considered a classic, it's no surprise that a reboot is on the way. The reboot is being produced for Disney + and will star Zac Efron. Even though remakes and spin-offs have become very popular over the last several years, we aren't so sure if this one is a good idea. Keep reading to find out why we think the Three Men and a Baby reboot is a mistake.
1. The Reboot Seems To Be Aimed At A Younger Audience
Even though a baby was at the center of the original Three Men and a Baby, the movie was actually made for young people. Instead, it was aimed at an adult audience and lots of the humor reflected that. The Three Men and a Baby reboot will be released on Disney + which means that it will likely be geared towards younger viewers. This could result in the comedy being watered down and the overall tone of the film being changed. There's a good chance that the reboot will have to rely on cheesy humor which we know doesn't tend to work well. Of course, most younger viewers will never have seen the original, but what good is a reboot if it doesn't capture the same essence?
2. The Concept Won't Seem As Interesting To Modern Audiences
In 1987, a movie about three men raising a child without the help of a woman was a little ahead of its time. While men raising children on their own still isn't the norm, the overall idea isn't really anything groundbreaking. For that reason, today's viewers may not be as interested in the concept. Some people might actually think its kind of odd that three grown men have absolutely no idea how to take care of a baby.
3. The Movie Won't Have The Opportunity To Be A Box Office Hit
As mentioned earlier, the original Three Men and a Baby was a huge box office hit. It brought in $240 which greatly exceeded the movie's budget of $11 million. The reboot will never have the chance to do that seeing as how it will only be released on Disney +. Even though original films on streaming services have improved greatly over the last several years, they often still fall short compared to movies that were made for the big screen. In many cases, when people see that a movie is streaming only, they tend to view it on the same level as a direct-to-video movie. While there are some great streaming-only movies, a lot of them do tend to fall short. We can only hope that won't be the case with the Three Men and a Baby reboot.
4. It Doesn't Seem That People Were Really Asking For A Reboot
To be honest, the fact that they're even doing a reboot of Three Men and a Baby is a little surprising. From what we can tell, there doesn't appear to have been a huge demand for it. In fact, it's unclear whose idea it was to remake this movie in the first place. However, since it doesn't seem to be something that fans were asking for, Disney might have to work a little harder in order to get people interested. On top of that, film reboots tend to be a little less exciting than reboots of TV shows. Remakes of films typically follow the exact same storyline as the original. At least with TV shows, there's much more room to expand and introduce new plots.
5. There's Already Been A Show Based On The Movie
It's been more than 30 years since Three Men and a Baby was released, but there was a TV show inspired by the movie that just went off the air four years ago. ABC Family (now Freeform) series Baby Daddy was loosely based on Three Men and a Baby. In the series, a man has to step up and be a full-time parent when his baby daughter is dropped off at his doorstep. The show was fairly successful and lasted for six seasons. That being said, it seems a little soon to bring this concept back to the screen. Although there are some themes that can be used over and over again, this might not be one of them.