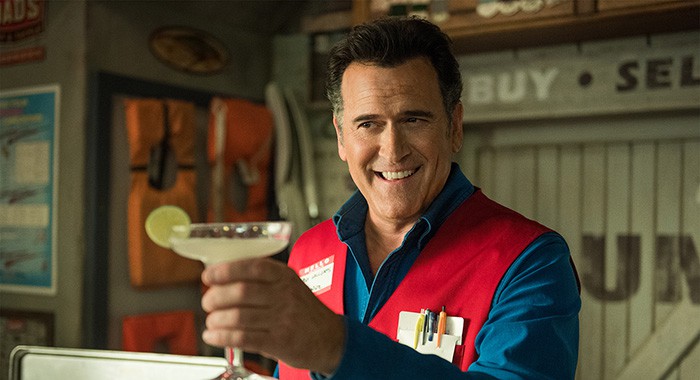 Bruce Campbell has been announced to be joining the cast of "AP Bio" and we recently got a trailer that featured him. Normally, Bruce Campbell is not the kind of name that comes to mind when thinking of the strange sort of off-brand workplace dark comedy that "AP Bio" is starring Glenn Howerton and a group of partially misfit kids that he transformed into his minions. While the show does come off as a little supernatural with that description of kids becoming minions, it isn't as strange as it seems. At the core of "AP Bio", Howerton's character is diminished to being a high school advanced placement biology teacher in Toledo when he knows nothing of the subject. Upon entering the school and taking this job, he had already started plotting his revenge to get hired as a psychology professor again. Over the course of the show so far we have seen him come to face to face with his rivals and meet love and knock a few smaller high school teacher down a few pegs along the way as well. Now, as the show is set to enter its fourth season and we have seen that Glenn Howerton's character is not one for family, especially his own. So with the recently announced addition of Bruce Campbell as role of Howerton's father, we're going to discuss the actors and possible chemistry it'll add to Peacock's "AP Bio".
AP Bio
If you've never seen "AP Bio" or have watched it and couldn't find it on TV anymore, it's because the show got moved from NBC's live broadcast channels to their newer streaming service Peacock. The upcoming season of "AP Bio", set to feature Campbell in a new role, is the fourth season overall and the second to premier in its entirety on the streaming service. Personally, I would have been very disappointed to see Howerton and Patton Oswalt leave these roles behind as they fill them so well. The rest of the cast is incredible all on their own from the other staff, to the students and just about everyone else that gets caught up in the schemes.
Glenn Howerton
Glenn Howerton is most known as creator, producer and main cast member of "It's Always Sunny in Philadelphia" along with other actors to create a group of friends and Howerton and his character's sister's father that are quite the odd group. From doing crack to accidentally falling out of buildings and driving a car into the ocean, plenty of insane things happen in Always Sunny. Glenn Howerton is also seen in recent projects such as the comedy-horror film "The Hunt", 2020's "Archenemy" and work on TV with his run on "Fargo" and some voice work for "Family Guy" over the years, Glenn Howerton appears to do it all. Always Sunny itself has been running for an upcoming fifteen seasons and doesn't appear to be going anywhere soon as it's an FX staple. Glenn Howerton's character specifically in "AP Bio" is just as cunning and manipulative as his other roles. Compared to his completely outlandish and uncontrolled anger in Always Sunny, "AP Bio" demonstrates a much more calm but equally manipulative person. Bruce Campbell is sure to add an interesting dynamic to "AP Bio" regardless of what personality his character has and how horribly he clashes with Howerton's character.
Bruce Campbell
Being the detached loner that "AP Bio" has shown Howerton to be, it should be very, very interesting to see Bruce Campbell play his character's father in the upcoming season, premiering September 10th. Bruce Campbell is known most from his role in the "Evil Dead" series as Ash Williams but as he's expected to play Howerton's father, I expect there to be much manipulation. While Bruce Campbell has joined other shows and movies in his career such as "Fargo", "The Grudge 2" and "Burn Notice". We can be sure that Bruce Campbell's character won't be anything horror related but I expect him to unleash a very special side of his son.
The kids from Howerton's class are very loyal to him, more or less, with some of them truly wanting to learn and not just be a minion for his dirty work in order to become a professor again or taking his nemesis down. The show is already hilarious and surprisingly serious at times with the current cast members including Oswald and others to make quite the ensemble cast. Other actors making up the cast include Overall, Bruce Campbell is sure to add a very interesting dynamic to the show and while we don't know if he's a mainstay on the show, I do hope this isn't temporary. When the series premieres its fourth season September 2nd when Bruce Campbell joins "AP Bio" in his new role as Howerton's father, anything could happen.The Hunt
Tell us what's wrong with this post? How could we improve it? :)
Let us improve this post!