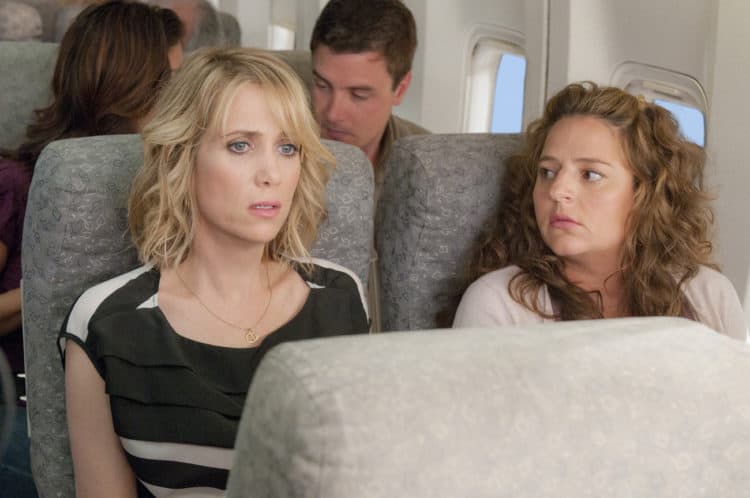 In 2011, an all female-comedy snuck up on audiences during the summer and made stars out of Kristen Wiig (Ghostbusters, Wonder Woman 1984), Rose Bryne (I Am Mother, Spy), Ellie Kemper (Sex Tape, 21 Jump Street), and Melissa McCarthy (Can You Ever Forgive Me?, The Heat); Bridesmaids is about a single woman whose life is a mess; however, her best friend is engaged, thus she's forced to serve as the maid of honor. Despite being broke and loveless herself, Anne is determined to make sure that everything is perfect, even if the path leads to wild and strange events. The summer comedy managed to become a critical darling by scoring 90% on rotten tomatoes out of 293 reviews, and the film was even nominated for Best Performance by an Actress in a Supporting Role (Melissa McCarthy) and Best Original Screenplay at the 2012 Academy Awards.
The accolades and high praise that Bridesmaids has received are well-earned because the film was a truly refreshing comedy that hit theaters in 2011. Comedy is arguably the hardest genre when it comes to film and television because it's such a hard beast to pull off in order to please most of the masses. Prior to Bridesmaids, raunchy comedies were specifically tailored for men, with movies such as Animal House, Clerks, American Pie, and Superbad being just some examples. The success of Bridesmaids opened the doors for more raunchy female comedies but more importantly, it presented a different side of women that was rarely seen in media. I'm gonna tell you a shocking and unbelievable secret that will absolutely blow your mind: I'm a guy. I know, I'll give you a minute to gather yourself. However, my point in revealing such a stunning revelation was that I was able to identify with the female-centric comedy. Unfortunately, I haven't had the honor of being a bridesmaid or taking a dump in the middle of the street in a wedding dress; however, I can relate to being down on my luck and trying to fit in with a different crowd.
Bridesmaids fires on all cylinders not because it's a raunchy comedy featuring all women, but due to the fact that it places story and character development over telling a crude joke first. Too many times, comedies are guilty of focusing on a string of jokes (I'm looking at you Movie 43) over telling a cohesive narrative, which derails the momentum of said film and the comedy actually suffers for it. Bridesmaids is the perfect female comedy because we as the audience get to see a different viewpoint that's rarely presented to us and the film never bashes its audiences in the head with its message or themes. Of course, the most important thing about a comedy is well…the comedy and characters. Kristen Wiig's Annie is relatable and Paul Feig does an excellent job of basing the jokes around her misfortune. The biggest standout in the film is Melissa McCarthy's brash Megan, who pretty much steals every scene that she's in. Whether she's flirting with an air Marshall, slapping the pity out of Annie to stealing a bunch of adorable puppies, Megan isn't just some raunchy loud mouth as she's also the heart of the film.
Rose Bryne's Helen is the perfect rival for the protagonist. A stuck-up, rich girl who believes she's better than Annie. The big outburst at the wedding shower is a great character moment for both Helen and Annie. Kristen Wiig loses her s**t and destroys a giant cookie and fountain of chocolate while Helen's character is finally confronted about her b.s. The scene is equal parts compelling, funny, and heartbreaking, and Paul Feig does an excellent job balancing the drama without the comedy weighting down the seriousness of Annie's meltdown. However, the entire core cast blends well together because of the well-timed jokes and the strong chemistry between the leads. Arguably one of the funniest moments is the gang on the airplane, which allows everyone to shine here and provides one of the most awkward, yet riotous moments in the entire film. Since Bridesmaids, no other female comedy has been able to match the heart and laughs that the 2011 film provided. Bridesmaids is essentially a perfect female comedy that all men, women, and puppies can enjoy.